News
Toy Story 4: Release Date, Trailer, Cast, Plot, and News
Toy Story 4 is almost here! Here's everything you need to know, from the release date to all the trailers and teasers.
Toy Story 3 was supposed to be the end of the saga that gave the world Buzz Lightyear, Woody, and the rest of Andy's toy chest gang. But while Andy is finally all grown up, the story lives on with Toy Story 4, a film that will continue the tale of the very first Pixar phenomenon from 1995 about what happens when you leave your toys alone…
Josh Cooley will be taking over directing duties as well for Toy Story 4. This will be the first Toy Story movie not directed by some combination that featured either John Lasseter or Lee Unkrich. However, Cooley was story supervisor on Inside Out and directed the related short, "Riley's First Date."
Toy Story 4 Release Date
Toy Story 4 opens on June 21, 2019.
Toy Story 4 Trailer
The toys are going on a road trip in the second official trailer for Toy Story 4. Watch it below! 
Here is the previous trailer.
You can also check out the first teaser for Toy Story 4…
Toy Story 4 Cast and Characters
Toy Story 4 will see all your favorite toys have their familiar vocals reprised. Tom Hanks will always be Woody, Tim Allen is Buzz Lightyear, Annie Potts is returning to the role of Bo-Peep after sitting out Toy Story 3, Joan Cusack is Jessie, and even Jeff Garlin and Kristen Schaal are reprising their Toy Story 3 roles of Buttercup and Trixie, respectively. The new main additions though are Keanu Reeves as a toy of beloved Canadian stuntman Duke Caboom, Christina Hendricks as a nefarious doll named Gabby, and Jordan Peele and Keegan Michael-Key as a pair of carnival prizes named Ducky and Bunny.
Pixar has released further details below.
Gabby Gabby (voiced by Christina Hendricks) is described as "an adorable, talking pull-string doll from the 1950s. But unfortunately for her, a manufacturing defect in her pull-string voice box has left her sounding anything but adorable. She has spent more than 60 years forgotten in the depths of a jam-packed antique store—her only companions are a band of voiceless ventriloquist dummies. Gabby Gabby knows someone will want her if only she can find a working voice box to repair hers."
Duke Caboom (voiced by Keanu Reeves) is "a 1970s toy based on Canada's greatest stuntman. Riding his powerful Caboom stunt-cycle, Duke is always prepared to show off his stunt poses with confidence and swagger. However, Woody learns quickly that Duke has an Achilles heel: He has never been able to do the awesome stunts advertised in his own toy commercial. For years, Duke has been sitting in an antique store, constantly reliving the failures of his tragic past."
Toy Story 4 Story
Here's the official synopsis, courtesy of Disney…
"Woody has always been confident about his place in the world and that his priority is taking care of his kid, whether that's Andy or Bonnie. But when Bonnie adds a reluctant new toy called "Forky" to her room, a road trip adventure alongside old and new friends will show Woody how big the world can be for a toy."
Forky is voiced by Tony Hale, and he's a key player in Toy Story 4. "It's a huge thrill to be part of the Toy Story family," Hale said. "But it's going to take a while for it to really sink in."
Given our own experiences at Pixar visiting the making of Toy Story 4, we can confirm the heart of the movie though will be Woody reconnecting with Bo Peep later in their lives and nine years after she left Andy's house and became a lost toy.
Toy Story 4 Poster
A new Toy Story 4 poster arrives, showcasing a reunited trio of Bo Peep, Woody and Buzz.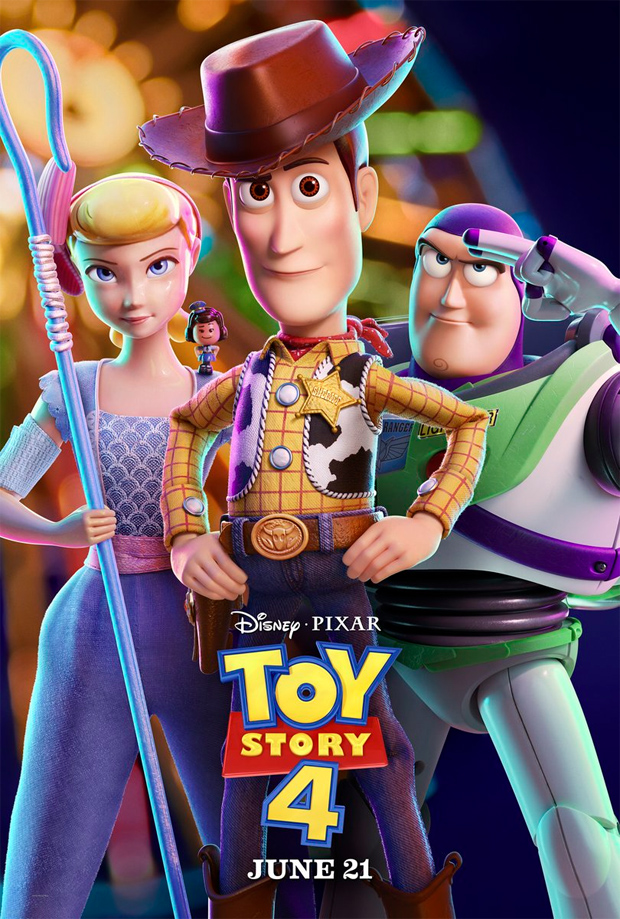 Here's the first proper Toy Story 4 poster, this one aimed at international audiences, teasing a new destination in the background.
further reading: The Must-See Movies of 2019