News
Toy Story 4: How Keanu Reeves Became Duke Caboom
Director Josh Cooley and Pixar producers reveal how Keanu Reeves revealed himself to be the perfect Canadian stuntman toy, Duke Caboom.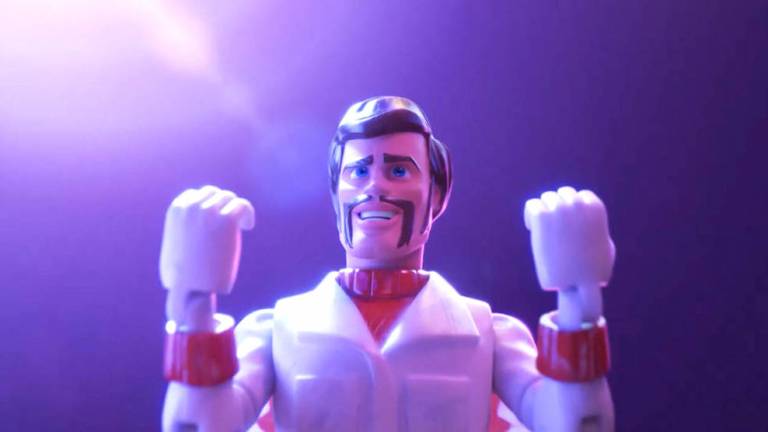 Celebrity casting for animation can be a double-edged sword. Popularized in Hollywood by the euphoric combination of Robin Williams and a magical Genie in Disney's original Aladdin, many studios afterward would pursue stunt casting regardless of how befitting it was for a character. Pixar is a little different though. While major stars have often appeared in Pixar films, going back to casting Tom Hanks and Tim Allen in the original Toy Story, Pixar Animation Studios just as frequently will go for character actors in lead roles if they think it best serves the project. Hence when they find the need to cast a celebrity, it is usually a match made in casting Heaven. Casting Canadian Heaven in the case of Toy Story 4.
That fourth installment of Pixar's original franchise comes with a lot of expectation, not least of all because it is the return of Bo Peep, but the film also marks the chance to meet new faces and voices, and perhaps none have a bigger following than Keanu Reeves who has been introduced as Duke Caboom, a doll of a Canadian stunt man turned alpha toy.
In the film, Duke Caboom is something of a god among insects, at least in his own mind. The would-be proprietor of a pinball machine in the back of an antique store, he has turned the old school arcade appliance into a ritzy nightclub for lost toys and jaded antiques alike. One animator compared the locale to us as the toy version of Saturday Night Fever. It's also vaguely suggested that Duke Caboom and Bo Peep have some sort of history that will likely make Hanks' Woody jealous of a toy that is modeled after motorcycle daredevil Evel Knievel, Burt Reynolds, and well… good old fashioned Canada with his Maple leaf attire.
"We created Duke Caboom [first]," director Josh Cooley tells a group of journalists during our visit to Pixar earlier this year. Noting that the character comes before casting, the question quickly then became who had enough swagger to go ca-boom. "We went after Canadian actors," Cooley says, "and [Reeves] was the first one on our list, and I'm so thrilled that he said yes. He came here first just to meet with us before even signing, and we're down in the atrium, and he's like, 'You know, what do you think he sounds like?' And I'm like, 'Uh huh!'"
read more: Toy Story 4 – Inside the Most Important Day of Woody's Life
Despite the joy Cooley and producers Mark Nielsen and Jonas Rivera visibly take in getting Reeves to sound like, well, John Wick—they even recall how Reeves hinted he'd kill a guy with a book in John Wick: Chapter 3—the enthusiasm Reeves brought to the role was uniquely tremendous.
Recalls Cooley, "He completely won me over to the point where we were talking about the character and just getting deeper about 'what do you think drives him.' So at one point, he just got up on the table, like imagine sitting down there and eating lunch with everybody and he goes, 'Hooh hah, hooah.' And he's just doing poses and stuff, and I'm like, 'This is it, this is incredible.'"
In retrospect Reeves always seemed like the top candidate for Duke Caboom, even before the Toy Story 4 filmmakers realized Reeves himself owned his own line of motorcycles. But as producer Rivera points out, when they offered to change the doll Duke Caboom's toy motorcycle to one that mirrors Reeves' own, the emphasis on character came first from Reeves himself.
"We even said maybe we should do the Caboom-Cycle like one of yours," remembers Rivera, "and he's like, 'No, the Caboom-Cycle is perfect.' He was even protective of the Caboom-Cycle."
And you'll be able to see it go caboom on-screen soon, as Toy Story 4 opens June 21, and tickets have just gone on sale today.