News
Toy Story 4: How Bo Peep Changed the Movie's Plot
Pixar filmmakers behind Toy Story 4 reveal how the film went from a rom-com to an adventure story where Bo doesn't wait for life to happen.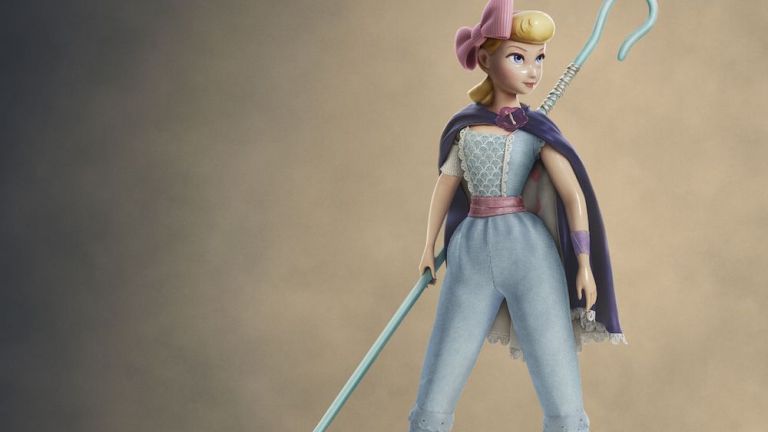 Bo Peep was always going to have her moment in Toy Story 4. As Story Supervisor Valerie LaPoint explicitly said during our visit of Pixar Animation Studios, she's the very "reason to make this movie." Yet an interesting thing became clear to us as we met the animators and artists working to make Toy Story 4 a worthy successor of the trilogy that came before: in doing Bo Peep justice, she changed the very direction of the film.
It is not a spoiler to say that Bo Peep has never been given her full due in previous Toy Story movies. Despite being one of the legacy characters from the original 1995 movie, and one with a crackling personality in large part thanks to Annie Potts' vocal performance, she only has a few minutes of screentime in the first two films before being written out entirely of Toy Story 3. Hence why Pixar from the beginning was dedicated to developing a group across all fields in developing a Bo who was more dynamic than what we first remember.
"Team Bo is what we called them, the kind of group within the team," producer Mark Nielsen says during a Q&A. "Folks from Story and from Art and from Animation, and Cloth, that really rallied around the idea of keeping Bo as a really special and unique standout character that didn't fall into tropes or anything you'd typically see in an action film." The result was a radically redefined Bo. While she remains true to what you remember from the early Toy Story movies, the fact that she hasn't been in a film for 20 years gave the opportunity to enhance her design from the original 1995 picture.
"She just shows up in the first one and second one, and gets mentioned in the third one, but the audience didn't see her in the third one so we get a little more freedom in redesigning her," says Character Modeling Artist Tanja Krampfert while noting that she grew up loving the character, considering it an honor to reinvent her favorite Toy Story character. Thrilled when a clay replica of Bo's facial designs from the original '95 film came over from archive, she was "geeking out" over seeing it with her own eyes. "We wanted to be true to how the audience remembers her but still give her a more modern, more dynamic look."
The result is a Bo is more physical than Woody and also more versatile than almost any toy we've seen. While she retains her hoop dress, it is now a Robin Hood-styled cloak, and her shepherd's hook is a martial arts staff. With a physicality that was at least partially inspired by Geena Davis in A League of Our Own, the Bride in Kill Bill, and Aly Raisman on the uneven bars, she comes like a blast out of the past into Woody's life as an ex-flame who teaches him the beauty and joy in what he once used to fear—that of being a lost toy.
But it wasn't always the case, originally conceived as a romantic comedy crux, the Toy Story 4 originally being whispered about at Pixar five years ago (back when its codename was "Peep") appeared quite different than what is in the finished film.
"It was sort of rooted in its romantic comedy roots," producer Jonas Rivera tells me of early memories of the project. Director Josh Cooley recalls that era and how he quickly veered away from it.
"So there's definitely an element of that, but it was clear that it couldn't just be that," Cooley says. "It'd become a tiny people movie, as opposed to a Toy Story film. So there's a ton of adventure in it, I kind of think of it as Raiders of the Lost Ark isn't a love story, but it has that great romantic element in it." Nevertheless, there was confusion where Bo would even intersect back into Woody's life—with early plans considering whether she might instead embrace her "porcelain" side by enjoying becoming an antique on a shelf within the film's antique shop, as opposed to being a toy or a child's nightlight accessory, as she was originally imagined.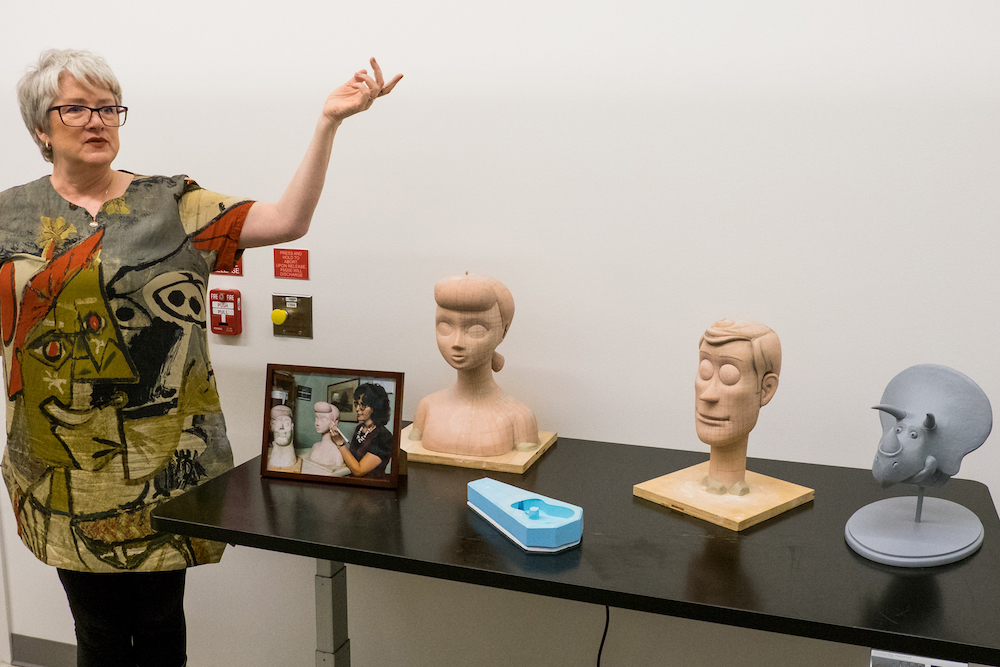 "That decision came down to really two things," explains LaPoint, who is also a leader of Team Bo. "The obvious [is] who is the Bo Peep we want to see? Who's entertaining and fun to watch, and what's our hope for her? And the second, the story reason, which we of course find very important here, is her overall character arc. So Woody's the main character, and he's going to evolve and change through this film, and she will as well. So where do we want them to be at the end? And really that decision and where we're taking Woody informs the decision of what we make her and their relationship together. So we decided what Bo would be, she goes from a baby lamp to an appliance toy, to a lost toy."
And thus as her personality became more clearly defined, so too did the direction of the movie.
As explains Story Artist Carrie Hobson, "We decided she's a character who didn't want to sit on a shelf and waited for life to happen. She takes chances and is somewhat more unpredictable than Woody and who doesn't play by toy rules. So she can literally change her default toy mode. Which means when a kid picks her up, she can change what pose she's locked into, which enables her to be a different toy depending on the kid that's playing with her."
The result is a film that becomes as much about Bo's growth as Woody's—and how that changes Woody's life. As Cooley relays to me, it was Rivera who summed up what this movie should be: "Once we figured out that was the place to go, I think Jonas, you coined this, if you were to ask Woody as a character what was the biggest moment of your life, it would be when I met Bo Peep for the second time. So that was our goal for this film."
read more: Coco Directors Talk Timeliness of Coco's Mexico Set Adventure
The end results seem to have pleased the original Bo Peep herself, as Annie Potts has already seen the movie.
"We got to show the film to Annie Potts recently," Nielsen says. "And her reaction to seeing Bo was so strong, she was so happy with the way this character turned out and the way she's represented in the film."
Fans will get to see that, and Bo Peep get her due, when Toy Story 4 opens on June 21.
David Crow is the Film Section Editor at Den of Geek. He's also a member of the Online Film Critics Society. Read more of his work here. You can follow him on Twitter @DCrowsNest.