Reviews
Torchwood season 2 DVD boxset review
With a few spoilers, Jack checks out the muddled second series of Torchwood, and wonders whether the boxset is worth picking up.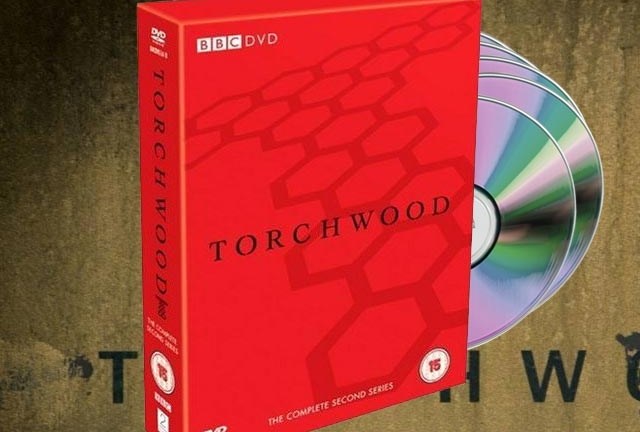 The news that the next series of Torchwood is to consist of just five episodes telling one long story adds further weight to the growing suspicion that its producers have yet to crack exactly what this series is about.  Certainly after watching the most recent run, we're no closer to finding out what a good episode should look like.  That's not to say that there haven't been good Torchwoods, but rather you get a sense that if the writers sat down with the expressed intention of devising a "perfect episode" there would be little consensus.
Before transmission the rumblings were that the criticisms levelled at series one had been listened to.  Gone was the incessant infighting in the ranks, and gone too was the outrageously bad sex that had been bestowed on the show in what seemed like nothing more than a blatant attempt to get a 15 certificate.
Instead we were promised a Torchwood that was less angst ridden and more at ease with itself.  With the arrival in the first few minutes of episode one of a gag that blew a raspberry at the whole show, here was a confident statement of intent that after thirteen episodes in which the show had run not hot and cold, but cold and colder, someone had taken hold of the reins for series two.
But although "Kiss Kiss Bang Bang" was a reasonable season opener it wasn't spectacular, offering instead, as one paper put it, "knockabout fun." The second show, "Sleeper" seemed to borrow a concept from Doctor Who's "Human Nature" (that of the protagonist not knowing their true identity), but played with it reasonably well, at least until the third reel.  In fact if there is a consistent criticism that can be levelled at this most inconsistent of shows it's that it all seems to go a bit mental in the last act.  
The consensus seems to be the best episode series two was JC Wilsher's "Reset".  Best known for Between the Lines, this was a robust story in which the slant from reality at which Torchwood presides remained consistent all the way through, not something that's a given in this show.
Of course this was also the episode in which Owen was killed.  Here was one of the major arcs of this series, and in the main it was pretty well developed.  Not in the episode "Dead Man Walking" though, in which Owen took on, and beat, the Grim Reaper.  However, the following episode, "A Day in the Death" was an interesting examination of Owen's condition, albeit the conceit of Owen talking down a would-be suicide victim wasn't quite as emotional and heart warming as it was clearly meant to be.  Some complained that after this Owen pretty much returned to normal, but the odd mention of his undead state was well handled, and Burn Gorman turned a character who had previously been Torchwood's most unsympathetic employee into something – ironically – far more human.
Another big story this year involved Rhys being let in to the whole Torchwood thing.  This allowed lots of opportunities for Eve Myles and Kai Owen to workshop drama school style improvised arguments, but in the main having Rhys run alongside Captain Jack and the rest worked well.  In fact, "Something Borrowed", in which Gwen and Rhys got hitched was a surprise series highlight.
Conversely "From Out of the Rain", an episode with a brilliant title and a first class pedigree (its script came from legendary Sapphire and Steel creator PJ Hammond), was a major disappointment.  There have been tales that the production of this series was fraught with difficulties and the cast and crew pushed to breaking point.  If that is true, then here is the episode where the strain most obviously shows.  The premise of acts from a travelling circus stepping out of the cinema screen into the real world is terrific, and the costume and make up excellent, but the execution failed to deliver.  Somehow what should have been chilling came across as flat, rushed and a little bit silly.
Torchwood lacks the care and attention lavished on the parent show's every shot, and you sense that some of these scripts (for example "Adrift") would really sing if given the Doctor Who treatment, but here they don't quite work, whether it's more time, or money that's needed, or both is difficult to say.
The series ended with Captain Jack coming face-to-face with Gray, his long-lost brother.  Barrowman's natural charm is at its very lowest ebb when he has to play emotional scenes, and unfortunately for him this episode was full of them.  Back in 2005, Jack was a smooth conman, whose heart was ultimately to be in the right place.  Unfortunately, neither Jack nor John is built for emoting wildly, and it was difficult to really feel the gravitas of the Captain's family reunion.  Elsewhere in this episode, the cast and crew coped manfully with a storyline that exceeded the production's ambitions, but earned some respect from this viewer for at least having a go.
Torchwood still seems to be a work in progress.  Perhaps a limited run next year will give everyone a bit of time to reflect on exactly what it should be about.  For me, I still think it would make a great out-and-out kids' show.  The introduction in this series of pre-watershed repeats has definitely been a step in the right direction, but that aside, the show's ultimate destination still remains maddeningly unfathomable.
DVD Extras:Aside from the usual collection of outtakes, missing scenes and  Torchwood De-Classifieds there is a 20 minutes featurette discussing "The Lives & Deaths of Captain Jack", which distinguishes itself by covering his time in Doctor Who.  The Face of Boe anecdote, told jointly by David Tennant and John Barrowman, is a particular highlight.
Series Two:
Extras: