Reviews
Top Gear: The Challenges 2 DVD review
Ryan's capable of withstanding Jeremy Clarkson's endless macho posturing... are you?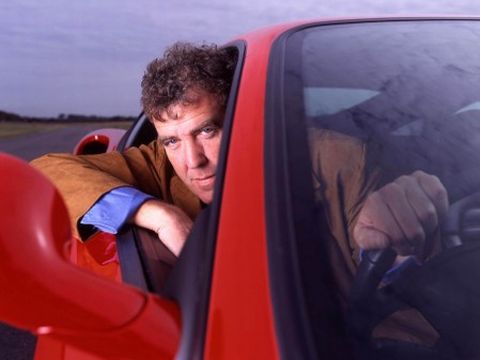 The way I see it, car related television programmes now fall into two categories. In the first, we have the rather sedate consumer affairs type format, where a journalist drives around in the latest Nissan Micra and waffles on about fuel economy, boot space and optional extras.
In the second category we have the shoutier, overtly macho car show Top Gear, where men with paunches drive Ferrari 360s backwards into bends while screaming 'TORQUE!!!!' at the top of their lungs. Nissan Micras are dismissed as 'girly' and smashed with big hammers while caravan parks are napalmed and traffic wardens are hunted on quadbikes (or something like that).
Here, Jeremy Clarkson, James May and Richard Hammond return for another collection of contrived mishaps and public school boy bonhomie. Makeshift amphibious vehicles are navigated across the Channel, various modes of transport are raced across London, motorhomes are driven to destruction and so on.
Towering over the proceedings like the colossus of Rhodes stands Jeremy Clarkson's ego; he invariably ends up in the fastest vehicle in any given task, while his co-hosts putter along behind on tiny ride-on lawnmowers. In fact, your enjoyment of these Challenges is largely dependent on how much of Clarkson's ranting self-importance you can stomach.
Of course, anyone who's seen Top Gear will know this already, and those who enjoy the show's testosterone-fuelled mayhem (as I must guiltily admit, I do) will probably like this collection of tyre-squealing moments, though even they may feel more than a touch of deja-vu: there's nothing here that hasn't been aired on television already, bar a couple of extended interviews tucked away in the otherwise empty extras sub-menu.
Still, there's no denying the quality of Top Gear's filming and editing – Lord knows how much money the BBC must lavish on each episode – and at over two hours long, there's plenty of entertainment here for petrol heads. And while one or two of the challenges fall a little flat (funky camera angles and pounding music fail to liven up a dull race between a Fiat 500 and some BMX bikes, for example), the concluding 24 hour race at Silverstone is a surprisingly tense affair.
In short, this collection is entertaining enough, with the affably eccentric James May and the hapless Richard Hammond providing a welcome counterpoint to Jeremy Clarkson's alpha (middle-aged) male posturing. Whether The Challenges 2 is something anyone will want to watch over and over again is debatable, particularly when one considers the paucity of out-takes or unseen footage.
Top Gear fans who don't have access to the Dave channel (where Clarkson's exploits appear to be on show twenty-four hours a day) will probably want to add a couple of extra stars to my score.