Features
Top 50 sexy sci-fi costumes
Outfits from a zone where cotton is as rare as spice but slinky spandex is abundant...
Part 1 Part 2
About this listIt's time to glam up or shut up. This is a costume event, not a list of 'all-time hotties', so those wearing casual attire/combat fatigues/nothing at all will be turned away at the door.
Where are the fellas?My original intention with this list was to have it 50/50 boys and girls, but I ran into a number of problems in research: hardly any of the very few appropriate lists or postings that I found cited the costume as a major factor in sex-appeal, with the notable exception of Adam West's Batman, Edward Scissorhands and a whole bunch of almost identically S&M-type roles, at which point it was getting a bit 'specialist'. The appeal of classic sci-fi swooners like Mr. Spock were usually unrelated to their attire. Coincidence or culture? You decide. Also, most of the sources seemed to think TV and films were invented in the mid-nineties (even for the 'all-time' lists). So I invite our female readers (or any readers) to nominate their sexy male sci-fi costumes, and we'll put that list out too…
About the paginationThis is a long article and exceeds the limits of our content management system for a single page. I've therefore had no choice but to split it into two.
---
50: Farrah Fawcett – Saturn 3 (aka Saturn
City, 1980)
Designer: Anthony Mendleson (
The Keep
;
Krull
;
Dragonslayer
)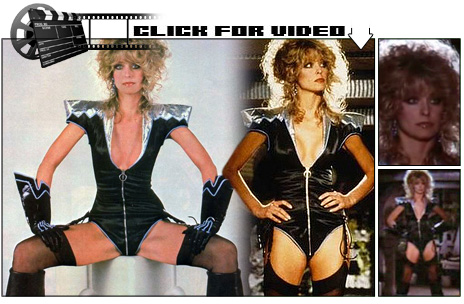 When producer Lew Grade's Raise The Titanic went over-budget, some of the resources were sapped from this Alien clone conceived by Superman/Star Wars art director John Barry, but filmed by Stanley Donen after Barry's death at the age of 43. Having hired one of the great sex-symbols of the 1970s, the producers were reluctant to keep her in the baggy jumpsuits of the experimental base on Tethys, and devised a dream sequence where Fawcett is wearing a space-bathing-suit so outrageous it would have been rejected for that year's Flash Gordon (see below). At this point the stories as to why the space-vixen outfit was ultimately nixed vary from source to source; some contend that Stanley Donen fought the exploitative costume, others that Farrah was not happy with it, as it had never been mentioned at the contract stage. Stills of the actress looking uncomfortable in the outfitwere widely used to promote the movie, though it never appeared in the film itself, and the accompanying video shows the only footage currently available of the costume in use on set.
49: Morena Baccarin – (Adria) Stargate SG-1/Ark Of TruthDesigner: Christina McQuarrie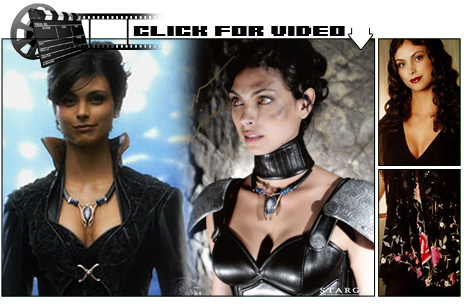 The 'adult' Adria of the
Stargate
franchise frequently lived up to her name, particularly in the above-middle outfit with the armoured shoulder-pads, leather brassiere and choker, and the ever-present pendant. The attached clip shows just how hot she can get, though whether Jessica Alba failed to have the same influence with better VFX on
Fantastic Four
is a matter of taste, I guess…
48: Sybil Danning – Battle Beyond The Stars (1980)Designer: Durinda Rice Wood (The Vanishing; Mulholland Drive)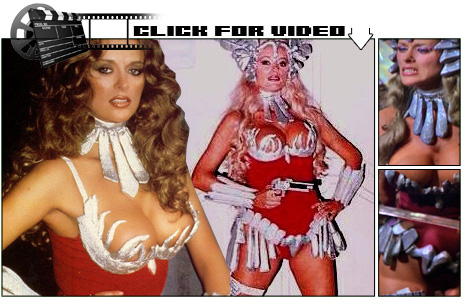 Jimmy T. Murakami's sci-fi retake on The Seven Samurai/The Magnificent Seven was produced by Roger Corman and Aliens' Gale Ann Hurd, amongst others, and featured emerging 80s sex symbol Sybil Danning as the improbably named 'St. Exmin', a roving warrior prone to thrills, suicidal missions and dares. St. Exmin is featured in two costumes in BBtS; the strip-ribbed second outfit caused the actress some difficulty in taking a rest break, as she had to be sewn into it at the start of shooting, but it's the Nordic fantasy (pictured above) we first see St. Exmin wearing that is perhaps the more memorable of the two. "I had to be very careful with it," Danning told a magazine in the 1980s. "The Valkyrie outfit had breast-plates which were supposed to look like metal fingers holding the breasts." These supporting structures were actually made of Styrofoam, and threatened to raise the PG rating of the film several times. "What was happening," Danning recalled. "was that my nipples were coming through the breast piece! [the cinematographer] had the wardrobe girl take me out and she asked if we could do a glue job there because that was the only way to cover the nipples while I was moving. Once I was glued in, it was no problem. NBC ran it on TV and they rotoscoped another outfit I wore into battle. It was called 'The Dart' because it had little oval darts cut out of the spandex all over it…it was apparently too revealing of my breasts for TV, so they rotoscoped it out.".
47: Femi Taylor – Return Of The Jedi (1983)Costume designers: Aggie Guerard Rodgers / Nilo Rodis-Jamero.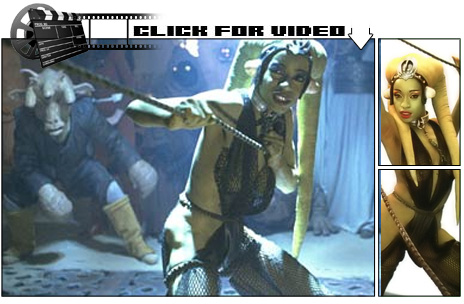 After Carrie Fisher's 'Slave Leia' costume (see part 2), slave dancer Oola's get-up in Richard Marquand's Star Wars entry is arguably the most iconic and copied, and certainly the sexiest. Oola is of the Twi'lek race, schooled in dance on the planet Ryloth, and the popular and distinctive anatomy design on the head (the appendages are called ' Lekku') returned again for the all-too-brief appearances of Amy Allen as Aayla Secura, one of the betrayed Jedi in Star Wars Episode III: Revenge of the Sith (2005). When Femi Taylor was asked to shoot additional scenes for the dance in Jabba's palace for the special edition of Jedi 14 years later, she was so remarkably unchanged as to be able to not only extend the dance sequence but do some close-up inserts for the sequence where she is confronted with the Rancor. The wide-holed net costume is barely held together by narrow leather strips, and several 'slips' occur in Jedi. Is it a coincidence that the sexiest ever episode of the Star Wars saga coincides with the year George Lucas divorced his first wife? He certainly does seem to be under no kind of domestic constriction in this film…
46: Sandra Dickinson – The Hitch-Hiker's Guide To The Galaxy (UKTV, 1981)Designer: Dee Robson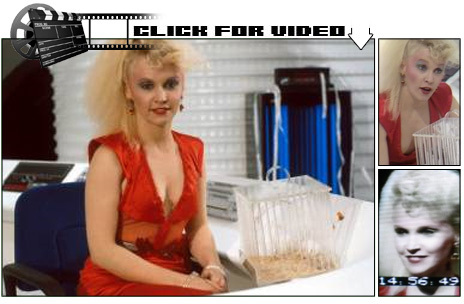 Dee Robson specialised almost exclusively in sci-fi regalia, having contributed costumes to Moonbase 3, Blake's 7 and Doctor Who, besides the BBC's enjoyable if underbudgeted adaptation of Hitchhikers. The show is full of the white plastic which had taken over from trimmed aluminium as the clear sign of future technology, but Dickinson's space-vamp costume is Barbarella on a budget, and there wasn't the correlative indication in Adams' original text (or radio show) that Tricia McMillan was going to be quite this sexy. The costume itself seems made of the kind of Christmas-costume plastic that isn't intended to last further than boxing day, and….ah. Now I get it.
45: Rose McGowan – Planet Terror (2007)Designer: Nina Proctor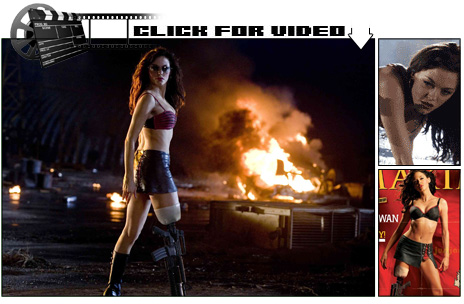 Rose McGowan's turn as pole-dancer Cherry Darling in Robert Rodriguez's extended Grindhouse spin-off required a fetching leather skirt and boob-tube to be CGI-augmented with a powerful machine-gun to replace her missing leg. The vibe of exploited-woman-bites-back is pretty explicit here. In a genre that loves girls and guns, Cherry Darling is the ultimate fusion of male lusts. In an interview with MoviesOnline, McGowan said: "I was wearing a really heavy grey cast with LED lights, and it wasn't the most high-tech thing, because when Robert wrote it, the technology wasn't there to do it…it was quite uncomfortable. There's a little ball bearing on the heel, because if you were resting on the end of a machine gun leg or a hospital table leg, it would be very small and round and kind of tippy. And so my toes pointed in the air, my heel was on the ground, and on the other side, I had a four-inch high heel boot. So it was…No. If you're going to save the world with a machine gun leg, make sure you wear a high heel, at least on one foot. "
44: Faith Domergue – This Island Earth (1955)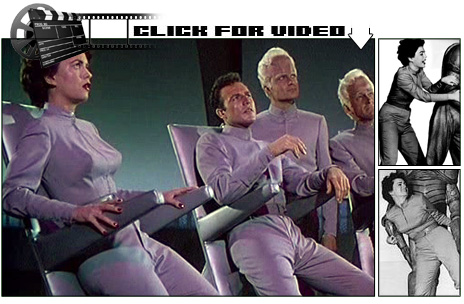 Since costume designer Rosemary Odell is only credited for having done 'gowns' in Joseph Newman's innovative sci-fi actioner, it's not clear who came up with the jumpsuit that Domergue wears on her way to Metaluna with Jeff Morrow. It should be a drab and utilitarian affair, but some subtle styling around the bust makes it quite clear that this is not an off-the-peg number. Domergue herself noted that the legs of the suit were so tight to her body that she could not wear underwear, and had a female assistant to help her in and out of the costume. The ambitious budget for the proposed sequel, Aliens In The Skies, caused studio head Edward Muhl to axe the project, sadly. Domergue was a Howard Hughes protégé and was portrayed by Kelli Garner in the 2004 Hughes biopic The Aviator.
43: Adrienne Barbeau – Escape From New York (1980)Designer: Steven Loomis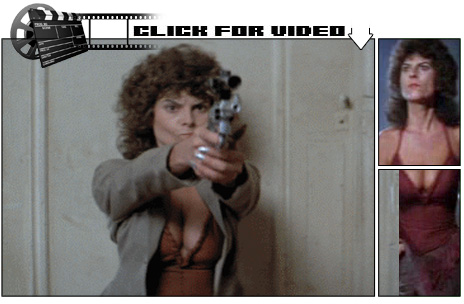 The costume designer on John Carpenter's dystopic actioner is only credited with two other films, Carpenter's The Fog and the 1981 Richard Pryor comedy Bustin' Loose. The idea with Barbeau's hippy-gypsy get-up seems to be that the haute-couture of prison-island Manhattan will be a charity-shop concoction of past fashions. In truth, since the film is set in the late 1990s, Barbeau's character would probably be attired in moon-boots and shoulder-padded jackets. It's amusing to hear Kurt Russell trying not to enthuse over the character's appearance as he joins friend – and Barbeau's then-husband – John Carpenter for their typically enjoyable commentary for the film,
42: Raquel Welch – Fantastic Voyage (1966)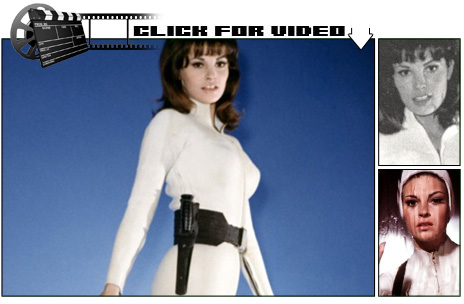 The very minimal credits for Richard Fleischer's sci-fi yarn – about miniaturised scientists healing the human body from inside – do not disclose the wardrobe people or costume designer for Fantastic Voyage. Raquel Welch's 'furry bikini' in Hammer's One Million Years B.C. a year later was to make not only her biggest impression on the film-going public but a dent in the iconography of the 1960s. However ludicrous One Million Years B.C. is, it's not sci-fi, and Voyage is, so we'll content ourselves with the re-modelled white leather diving-suit that Welch uses to go and clear the vents of the Proteus from antibodies towards the film's end. In his excellent memoir Tell Me When To Cry, director Fleischer recalls the difficulty of staging the scene where the male members of the cast had to clear Welch of the choking antibodies after she re-enters the ship; "I called 'Action' and Stephen Boyd, Arthur Kennedy and Donald Pleasance went to work on the antibodies…maybe a rehearsal would have been a good idea after all: the actors were being gentlemen. No-one wanted to be the first to make a grab for Raquel's splendid boobs, so they grabbed everywhere else." A few instructions were issued for a second take, whereupon the actors "all made a dive for Raquel's tits…they looked like a pack of lustful scientists gone mad with sexual desire. They also looked ludicrous." Finally Fleischer had to choreograph the scene, assigning sections for the individual actors to clear.
41: Jolene Blalock – Enterprise (US TV, 2001)Designer: Robert Blackman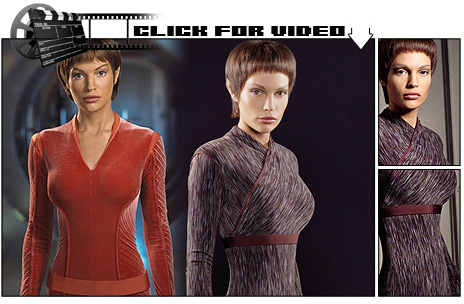 The third-season addition of Jeri Ryan's Seven-Of-Nine sex-borg to Star Trek: Voyager was a ratings revelation that seems to have informed the approach to Sub-Commander T'Pol in this wavering pre-boot. T'Pol is Seven Lite; she's as remote as any other Vulcan, but not pathologically disinterested. Also, her jewellery comes off without surgery. The typical costume designer's ploy for a particularly heavenly body on nineties/noughties Star Trek iterations is to give the actress the same costume as others might be wearing, but two sizes smaller than necessary. It worked for Jeri Ryan and did no harm to T'Pol either, though she wore less spandex in general.
40: Diane Lane – Judge Dredd (1995)Designer: Emma Porteus (Aliens; No Surrender; Supergirl)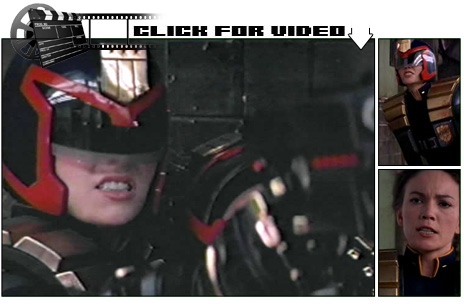 It was no doubt a decision made almost at the executive level, but designer Emma Porteus stuck very closely to Carlos Ezquerra's original designs for 2000AD comic's antihero. The two most famous female judges of the Dredd canon at the time were Judge Hershey (Lane's character) and Judge Anderson from MegaCity One's PSI division; Ezquerra, Bolland et al certainly did seem to enjoy drawing these tightly leather-clad working women in the early years of the comic. The fidelity of the costumes to the original is one of the reason's attributed – by Sylvester Stallone and others – to the failure of the film; the costumes are exaggerated whilst the over-emphasised physical characteristics of the original characters have, of course, been toned down to human-level. Ultimately the blunt edges and sharpness of Lane's costume only serve to emphasise her marketable features, and if you like powerful women, you could do a lot worse. Optional accessories include a twenty-pound helmet, a gun that talks and a bike the size of a tractor.
39: Sally Knyvette – Blake's 7 (BBC TV, 1977-78)Designer: Rupert Jarvis et al.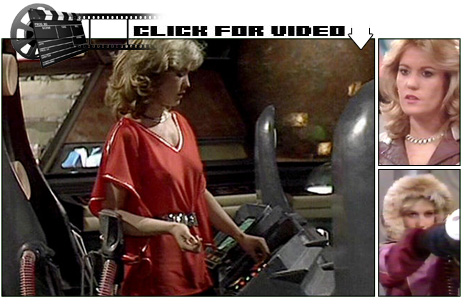 It's not clear, even from reading an in-depth work like John Kenneth Muir's A History And Critical Analysis of Blake's 7, exactly why a popular, strong and sexy female character like Jenna Stannis (Knyvette) was routinely sidelined and left tending the teleport controls while the others beamed down into danger. The same deferment had happened to Alexandra Bastedo in The Champions ten years earlier. Perhaps it was too early to have really strong women characters break out in sci-fi (unless you can count Emma Peel), since Ripley was a year away when the series launched. By the time Alien was revising film feminist theory, Knyvette had had enough, citing a lack of interest in playing 'space-crumpet' anymore. The female action was left to Cally (Jan Chappell), and – in a far stronger incarnation – Soolin (Glynis Barber in the improvised fourth series). One of the mysteries of Blake's 7 was where all the money and clothes came from; there was apparently a well-stocked room of riches on the Liberator, but we never got to see it. It was here presumably that Knyvette's character went to make costume-changes so frequent as to challenge the upcoming Dallas and Dynasty. In the costume pictured here, Jenna keeps sci-fi's oft-used 'Roman' theme going with a charming little red number, with airy access and easy drop, off-set by the fetching gathered waist and…silver space grenades?
38: Connie Booth – The Strange Case Of The End Of Civilisation As We Know It (1977)Designer: Hazel Pethig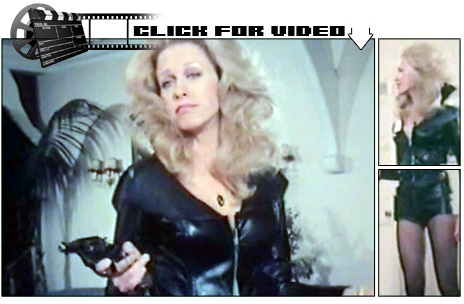 Pethig was a Python stalwart, and came up with a fairly absurdist world super-villainess outfit for Connie Booth for this interstitial pause between the two series of Fawlty Towers. John Cleese and Arthur Lowe are the Holmes and Watson descended into the Bond age, which is pretty appropriate for this scene.
37: Prunella Gee – Kinvig (UK TV, 1981)Designer: Sue Formston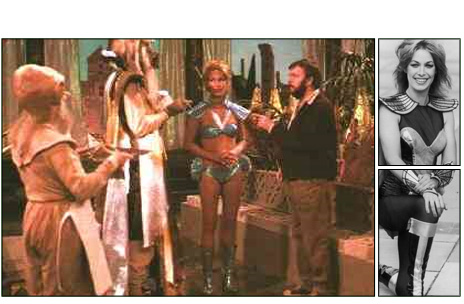 The huge success of science-fiction in general in the late 1970s, and the particular success of the BBC's Hitchhiker's Guide To The Galaxy led ITV to develop a number of sci-fi sitcoms in the early 1980s, including Bill Oddie and Graeme Garden's Astronauts. Quatermass writer Nigel Kneale conceived and wrote this off-beat entry, a Walter Mitty-like affair which revolved around down-at-heel Tony Haygarth being recruited into the service of Prunella Gee, a visiting alien from Venus who might or might not be a figment of his imagination. Pictures of Gee in the costume were heavily used to promote the show, which ran only for an initial seven-episode series. Kneale was a sci-fi genius, but he was no Douglas Adams.
36: Valerie Leon – Zeta One (aka The Love Factor, 1969)Designer: Colette Du Plessis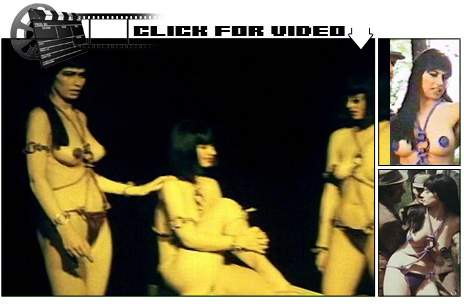 Glamorous Valerie Leon was seconded into this exploitational low-budget sci-fi movie, which amazingly managed to attract star comedy names such as Charles Hawtrey and the legendary James Robertson Justice. All concerned deserved better than this shabby tale of large-breasted aliens kidnapping earthlings to repopulate their planet, though it has gathered many fans over the years. In our interview with her, Leon recalled: " We were the Amazon race of women, or something. My main memory of that is being freezing cold. That was an odd film…I found this extraordinary photo of me where I am dressed in a white cat suit with ropes going round my body and through a leather triangle; I think there's another photo somewhere with just pieces on my nipples or something. That really is so long ago, but it turned out to be a sort of spy sci-fi spoof, didn't it? and it has been described, I think, as soft core porn "
35: Caroline Munro – Starcrash (aka The Adventures Of Stella Star, 1979)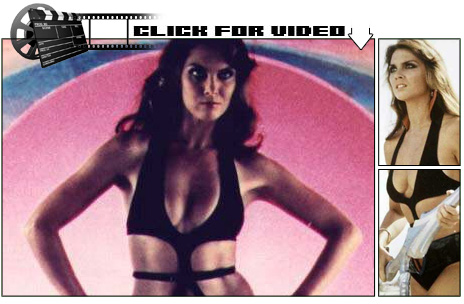 Considering the very particular work that went into the costume design of Luigi Cozzi's low-budget Star Wars cash-in, it's outrageous that the designer is not credited. Caroline Munro – who chatted briefly with us about Starcrash and other projects, was the Lamb's Navy poster-girl ubiquitous in 1970s Britain, and made a sensational and popular Bond girl as helicopter-flying 'Naomi' in The Spy Who Loved Me (see below). Later on we'll get to Barbarella, but the costumes in Starcrash follow that film's secondment of function to glamour, with this 'leather-bra' costume being the best-known of those in the movie. Munro was cited many times in the 1980s as a potential assistant in a proposed Doctor Who movie that never got off the ground, and also turned down the Vampirella movie – which we'll come to – first mooted in the early seventies, because of the nudity required (Munro never appeared nude in her films).
34: Persis Khambatta – Star Trek: The Motion Picture (1979)Designer: Bob Fletcher (Star Trek III: The Search for Spock; Star Trek IV: The Voyage Home)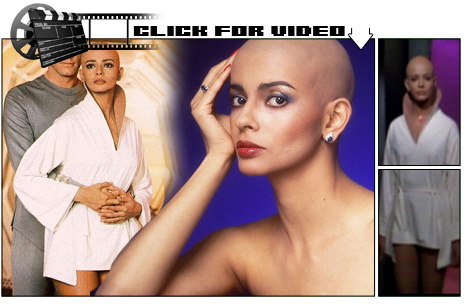 Bob Fletcher had already clad Khambatta in far more familiar-looking starfleet garb for the never-filmed Star Trek New Voyages: Phase II, the putative TV series which developed into ST:TMP, and for the transformation into the regenerated Ilia chose a kimono-effect cut off as drastically as the severest mini-skirt. The production design of the film deliberately restricted itself to a muted and cream/white colour palette, with the notion that the garish colours in TOS would look distracting in Cinemascope. Director Nicholas Meyer was to restore normal colour in Wrath Of Khan two years later, but here we find the late Khambatta in an ethereal and other-worldly white outfit that makes the most of her amazing legs.
33: Linda Harrison – Planet Of The Apes (1968)Designer: Morton Haack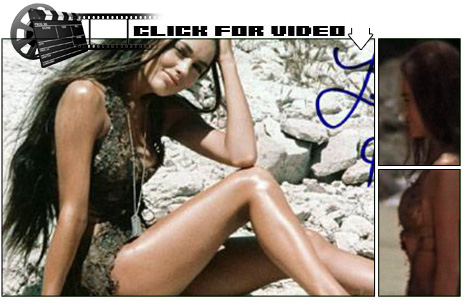 Haack is following in the footsteps of Carl Toms' work on the 'furry bikinis' for One Million Years B.C. two years earlier, but in truth there were plenty of conveniently-covered cave girls around in the years after Raquel Welch set the trend. As 'Nova', Charlton Heston's wordless companion in Franklin J. Schaffner's sci-fi hit, Harrison made an enduring impression, returning not only for the sequel Beneath the Planet of the Apes but for a cameo role in the less well-received Tim Burton remake. Harrison was only a couple of places away from Raquel Welch in GQ's 25 Sexiest Women In Film Ever.
32: Anne Francis – Forbidden Planet (1956)Designer: Helen Rose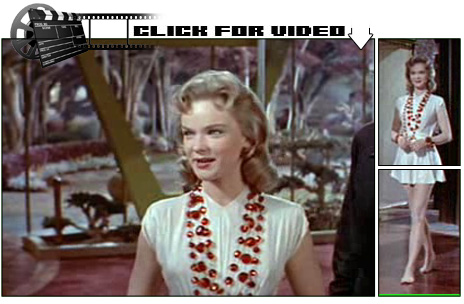 There's an unusual concentration in the script itself regarding Francis' wardrobe for Forbidden Planet. The very short skirt that she greets the visiting astronauts in is frowned upon by old fuddy-duddy Leslie Nielson (the captain who is actually protecting his romantic designs on her). Francis' character orders Robby The Robot to run her up a nice new number with a rather more modest cut. Forbidden Planet was an admitted influence on Star Trek creator Gene Roddenberry, who would go on to fashion many of Kirk's away-mission romances on the naiveté of Francis' sheltered character.31: Tricia Helfer – Battlestar Galactica (USTV, 2003)Designer: Deborah Everton
Recognisable glam-wear makes quite an impression in a semi-industrial science-fiction context, as Jacqueline Pearce had discovered 25 years earlier as gown-clad despot Servalan in the BBC's Blake's 7. The straps on Helfer's stunning red number are so lateral to the design as to look cosmetic, and the whole affair looks quite perilous. The rib-exposure at the extreme edges of the upper section precludes the dress being modelled by size-zero food-phobics, and further reinforces the tentative structure of the upper section. In this much the costume obeys the unwritten law of William Ware Theiss's "Theiss Titillation Theory", which proposes that there is a proportional relationship between the apparent fragility and the manifest sexiness of a costume.
30: Karen Carlson – Buck Rogers In The Twenty-Fifth Century (USTV, 1979)Designer: Al Lehman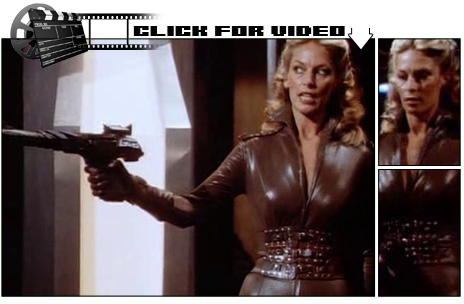 Planet Of The Slave GirlsIf ever a sci-fi character had a self-explaining name, it's 'Stella Warden', Karen Carlson's character in possibly the most well-known episode of this disco-loving sci-fi glamfest. Warden is the traitorous character helping Jack Palance enslave women on his planet, and here sports an unusually well-cut standard leather number with optional sci-fi collar. We've not seen the last of Buck Rogers in this piece.
29: Mindy Clarke – Return Of The Living Dead Part III (1993)Designers: Jananicole Mincer (costume)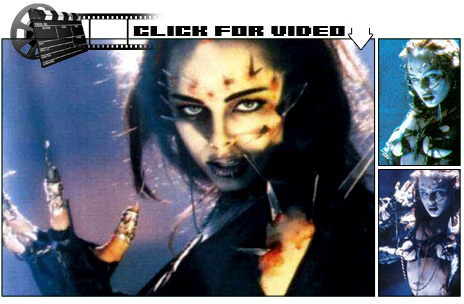 It's wrong, really, but Mindy Clarke's turn as zombie-to-be Julie Walker in Brian Yuzna's underrated sequel to the Dan O'Bannon classic is without doubt the sexiest zombie yet committed to screen. Additionally she probably holds the record for most-protracted transition from human to zombie, lasting almost the entire movie. The couture is a cross between Hellraiser's cenobites, Mad Max and tramp chic. You really need attitude to carry this kind of thing off, and Clarke demonstrates it in abundance. It's not clear from the large list of prosthetic designers who else had a major hand in conceiving zombie Clarke, but the production designer was Anthony Tremblay.
28: Jane Badler – 'V' (1983)Designer: Brienne Glyttov.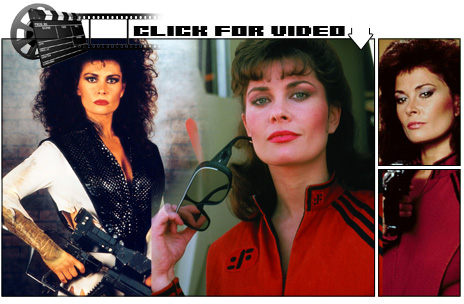 Lizard-queen Badler provided one of TV's biggest shocks in the 1980s when she engorged her throat to accommodate a snack-hamster in Kenneth Johnson's hugely-successful sci-fi mini-series. Designer Brienne Glyttov has toyed with the alien-fascist motif that even Ed Wood had a crack at in Plan 9 From Outer Space, but gets the proportions right. The colour is a sexy orange-red and the concealment of the upper chest area is off-set by the very form-hugging nature of the underlying jumpsuit. This is a costume designed to show off the rear and legs, and is particularly well-served by Badler in this respect. Diana (Jane Badler's character in the two mini-series and subsequent TV series) was voted at No.5 in TV guide's list of 25 Greatest Sci-Fi Legends in 2004. We were lucky enough to have a chat with Jane last year.
27: Barbara Bach – The Spy Who Loved Me (1977)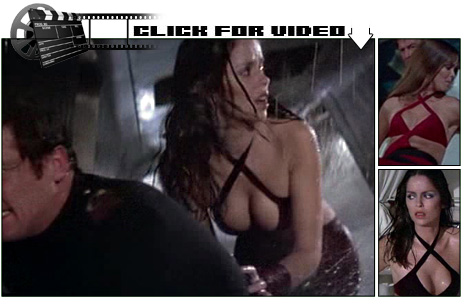 Not all Bond films are sci-fi, but about 50% are, and – what with the submergible city – Spy is second only to Moonraker for sci-fi battiness. Bach's costume is very modest, at least in terms of material used. There isn't much to say about it because there isn't much of it, though we note that the elegance of the criss-cross bust wraps is rather killed by the flares. Though the legendary Ken Adams is the production supervisor on Spy Who Loved Me, no individual credit is given for the costumes.
26: Kelly Le Brock – Weird Science (1985)Designer: Marilyn Vance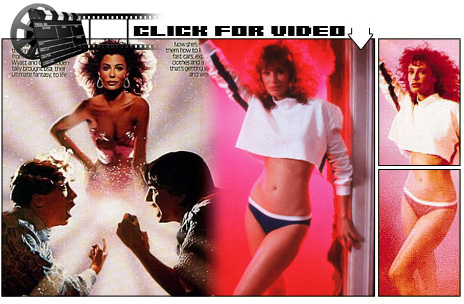 I can remember a lot of odd fashions from the 1980s, but I can't remember Kelly LeBrock's hyper-truncated football sweater ever hitting the high street. The mechanics of Anthony Michael Hall's science project (wherein he and fellow loser Ilan Mitchell-Smith assemble the perfect woman from a bunch of well-thumbed playboy mags, some electrodes and some of the worst computer interfaces ever to curse the silver screen) are risible, but the results memorable, and I suppose it's appropriate that LeBrock's top is so crudely remodelled from the base ingredients of Hall's bedroom. It's a look that predates and exceeds the noughties fashion for midriff-baring, and it stamped itself indelibly onto the psyche of a whole generation of geeks. 

Click here to see the second and final part of the Top 50 sexy sci-fi costumes…
---
TOP 10 EXPLODING PEOPLEStand well back, as we run down some of the least stable characters in sci-fi and horror movies….
TOP 10 MINDFUCK MOVIESWith more spoilers than Formula One, Martin gets out of the shower to find it was all just a bad dream…
TOP 150 ACTORS THAT RESEMBLE EACH OTHERTake the Den Of Geek eye test with a mammoth round-up of celebrity doppelgangers…