Features
Top 10 wrestlers who turned to acting
When the stresses of the ring take their toll, some wrestlers turn to acting. Here are 10 wrestlers who've made the tricky leap to movies…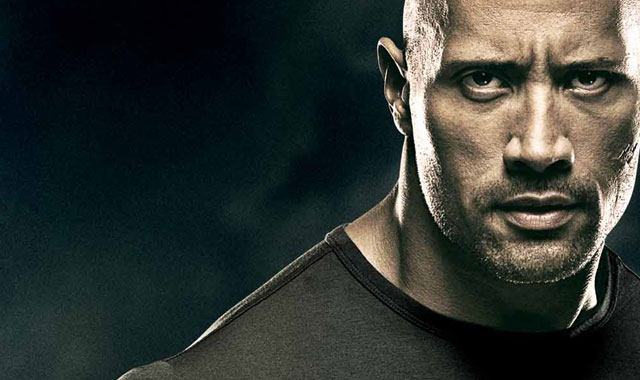 As WWE's weekly 'Do not try this at home' messages like to remind us, "What entertains us tears their bodies apart".
Yes, life can be tough as a professional wrestler, on the road for more than 200 days a year with no holidays, and taking bumps most of those nights. It's little wonder, then, that after a time some wrestlers try their hand at a different kind of entertainment – usually acting.
You can see the appeal. Less travel, and less chance of injury. They're used to acting out a character on television every week, adored by a legion fans. It's a sure thing – mainstream stardom and millions in box office returns must only be a matter of time, right? 
For some, though, the path to a Hollywood mansion can be as perilous as a steel cage match. Here's a list of ten wrestlers (or sports entertainers as they're now known – I do wonder who thinks this stuff up sometimes) and the varying fortunes they've experiencing when making the leap from ring to film. It should be noted that none of the films mentioned here come from WWE's own film division, a bunch of movies designed to promote WWE itself and are so bad that not even the most die hard wrestling fans watch them.
10. Chris Jericho
Poor old Chris Jericho. Opting not to renew his contract with WWE in 2005, the self-proclaimed "ayatollah of rock and rolla" knocked on the movie business door with hopes aplenty. Unfortunately, Albino Farm answered. Also going under the name Wrong Turn 4 in some parts of the world, Albino Farm was another entry in the increasingly tired horror sub-genre of 'teens take a road trip, teens get in trouble, teens end up dead'.
Jericho was cast as Levi, a reckless teen (even though Chris was at least 35 at the time of filming) who leads a group of friends to their ultimate doom. The little marketing the film received promoted Jericho as the star, presumably because he was more recognisable than the girl who used to be in Home & Away. 
Funnily enough, Jericho moved away from acting after this debacle, concentrated on his heavy metal band Fozzy, returned to WWE and competed on Dancing With The Stars, the US version of Strictly Come Dancing. Which was probably a good deal more terrifying than Albino Farm.
9. Triple H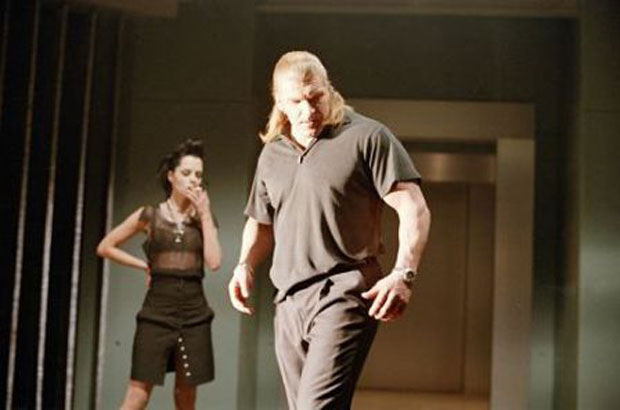 It's a good job that Hunter Hearst Helmsley married WWE head honcho Vince McMahon's daughter Stephanie, thereby assuring his legacy with the company, because after his showing in Blade: Trinity, it's hard to imagine any casting agents calling anytime soon. There were only a few good things about the third entry into Wesley Snipes rogue vampire killer series, and HHH wasn't one of them.
At least he had a cool sounding name though. As Jarko Grimwood, Helmsley was one of big bad Parker Posey's vampire henchmen, a role which dealt him some memorable dialogue, none of which can be revealed here – this is a family site, isn't it? Aside from uttering obscenities, The Game engaged in a showdown with Ryan Reynold's Hannibal King and generally had his ass handed to him.
Tinseltown subsequently informed Triple H it had nothing further for him and, to use his own catchphrase, told him if he "Wasn't down with that, we got two words for ya – suck it!" 
8. Bill Goldberg
In the late 90s Goldberg was World Championship Wrestling's powerhouse guy, and built like a brick shit one at that. Famous for his undefeated streak and lack of sense of humour, Bill took a time out in 1999 to star opposite Jean Claude Van Damme in Universal Soldier: The Return. When Dolph Lundgren opted not to return for the sequel to the 1992 original (yes, I know he was dead, but that didn't stop him coming back for Universal Soldier: Regeneration a couple of years ago), Goldberg was handed the role of top bad dog Romeo and the chance to make his mark on the movie world.
Unfortunately for Bill, the film didn't exactly set the world alight, grossing $10 million at the box office and presumably only seen by those curious to see Van Damme vs Goldberg. Still, its heavy metal soundtrack kicked ass.
Goldberg's other notable film role came in 2005, playing a character that was sure to warm hearts everywhere: Santa Claus. However, this Santa was a far cry from Miracle Of 34th Street. The movie was called Santa's Slay, in which Bill, as St Nick, was a demon who mercilessly slaughtered everyone, naughty or nice. The film has become something of a cult curiosity and is well liked in horror circles. It is also notable for featuring a pre-Lost Emilie de Ravin, whose acting career improved. Bill Goldberg's did not. 
7. Rowdy Roddy Piper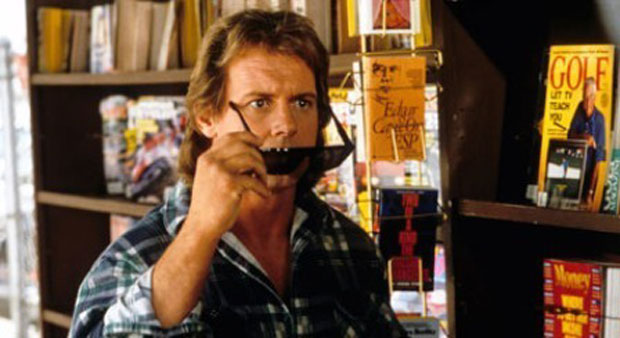 The Hot Rod only has one film to his name worth mentioning, but when that film is a cult sci-fi classic directed by a master of the horror genre, it means he is certainly worthy of inclusion on this list. Following a meeting at Wrestlemania III, terror auteur John Carpenter chose to cast Roddy Piper as the lead in his 1988 movie They Live.
A media satire crossed with an alien invasion movie, Piper's Nada was the wise cracking, gun-toting hero who discovered that aliens walked among us – by wearing a pair of sunglasses. 
It's better than it sounds. Most reviews of the film are kind, and Piper's on-screen fight with co-star Keith David has been ranked highly in polls concerning these things. The film didn't give Roddy Piper a successful movie career, but given the level of popularity the film has achieved over time, he should perhaps just be thankful to have been a part of it. 
Plus, he can go to his grave knowing he got to utter the line "I have come here to chew bubblegum and kick ass… and I'm all out of bubblegum."
6. Macho Man Randy Savage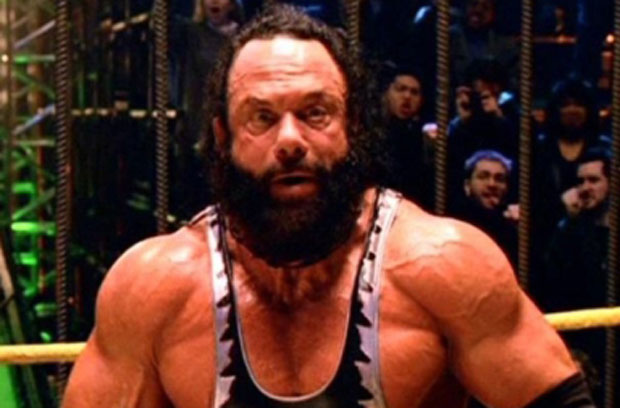 With his promo cry of "Ooooooooh yeah", Randy Savage was one of wrestling's most larger than life characters, and that's up against some pretty stiff competition.
On the big screen, Macho made his presence felt too. Or in 2008, he at least made it heard, when he voice Thug in Disney's successful animation Bolt.
Randy Savage's brief movie career will undoubtedly be remembered for a role in which he essentially played himself. It was a role though which formed an integral part of the evolution of one of geekdoms all-time favourite characters – Spider-Man. In the comic, the wrestler whom Peter Parker defeats shortly after the radioactive love bite was known as Crusher Hogan. Savage played him in Sam Raimi's 2002 Spidey movie as Bonesaw McGraw. It's a memorable performance in which Randy threw some old-fashioned wrestling moves and talked trash on the mic, and one which feeds directly into the wall crawler's legend.
5. Hulk Hogan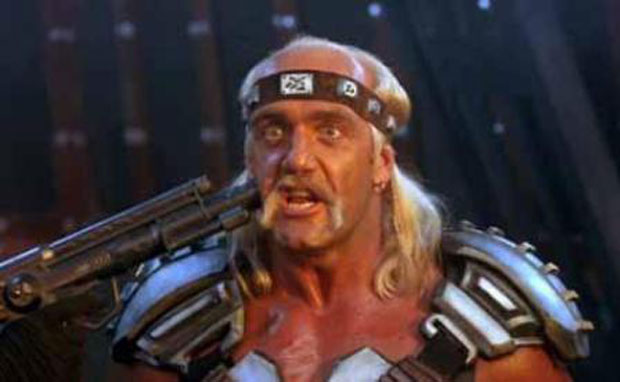 Ask someone to name you a professional wrestler and chances are they'll say Hulk Hogan. Now ask that person to name you one of his movies. In the 80s and early 90s, Hogan was unarguably wrestling's biggest star. The box office he was able to generate for WWF, however, didn't translate into getting the tills ringing at the cinema. Although he appeared in Rocky III and wrestling movie No Holds Barred (which was made in conjunction with WWF, so doesn't really count), Hogan on screen was an American hero, so it was little surprise that when he did bag a lead role, he went for the family market. 
The result was the atrocious Suburban Commando. Hulk played an alien warrior under the name of Shep Ramsey who crash lands on Earth. No hilarity ensued. This dreadful film is only notable today for featuring fellow wrestler The Undertaker in a small bad guy role. As bad as this was though, worse was to come. 
Mr Nanny was another so-called comedy. No one was laughing when it only took $4 million, though. A Kindergarten Cop-style story saw Hogan as a bodyguard going undercover to babysit two annoyingly mischievous kids. Its Tom And Jerry humour then gives way to some predictable schmaltzy stuff, and it's awful.
Nevertheless, Hulk Hogan was offered more movie roles, though by the end of the 90s he'd been reduced to appearing in 3 Ninjas: High Noon At Mega Mountain. Most recently, the Hulkster has confined his acting appearances to his sex tape, the thought of which is enough to send shivers down one's spine.
For more on the early cinema of Hulk Hogan, check out what Matt has to say, here.
4. Stone Cold Steve Austin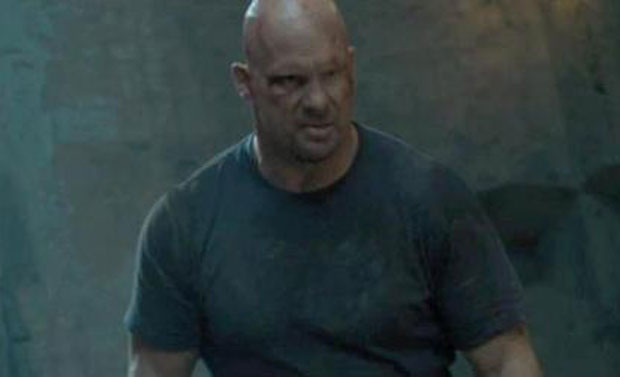 The Texas rattlesnake was one of the last decade's most popular and enduring characters. The beer drinking, bird-flipping Austin retired from active competition in 2002 after injuries took their toll. He remained on WWE TV for the next few years, so it wasn't until 2010 that Steve began to emerge in the movies. 
Sylvester Stallone's The Expendables was packed with so much testosterone that if Austin had appeared as just one of the gang, he may have been lost in the pack. As it happened, Stone Cold took the role of villain Eric Roberts' henchman, the imaginatively named Paine. Austin got to open a can of whoop ass on Stallone in the movie, and was impressive enough to see that the last couple of years have spawned a bunch of Austin led action movies.
With titles such as Damage, Recoil, Tactical Force and Hunt To Kill, Austin might well be taking on the scripts that Steven Seagal is turning down, but at least he's busy, and is one of the few guys that has established himself a post-wrestling career.
3. Jesse "The Body" Ventura
Most wrestlers would give their right arm to star in an action movie with Arnold Schwarzenegger. This guy starred in two. In the same year. 1987 was quite a time for Ventura. His wrestling career was over, but he thumped onto the big screen as Blaine in Predator. Famous for being a "sexual tyrannosaurus", Blaine was the guy who wielded Ol' Painless, the gun that did indeed welcome the jungle. Predator and Blaine's weapon of choice have passed into legend, but 1987 didn't stop there for Ventura.
As Captain Freedom in The Running Man, Ventura was the macabre game show's stalker who'd had enough, refusing to go into the arena to take on the big oak. Earlier in the movie, Ventura is seen hosting his own keep fit programme on television, which lends to the idea that the character is trying to go down a more reputable line of entertainment.
Due to running time restraints and having other stalker characters that are more interesting, the Captain Freedom role isn't explored much more, but he's an essential part of the film.
The Body ended up on the cutting room floor for his part in Stallone's Demolition Man, and then shied away from blood-spattered movie roles when he went into politics. He still has two of the most well liked action movies of the 80s on his CV though.
2. Kevin Nash
This may seem like an oddly high place on the list for a man who began his big screen career as Super-Shredder in the terrible Teenage Mutant Ninja Turtles II: The Secret Of The Ooze. A glance at Big Daddy Cool's cinematic CV, however, reveals that he's appeared in a few respectable movies, and that his star could well be on the rise. 
Hailing from the mid-90s, when the requirement for a wrestling main-eventer was size and little else, Nash wasn't known for his in-ring expertise. That didn't stop him making a memorable appearance as John Travolta's henchman The Russian in 2004's decent Punisher movie, and enjoying a scrap with Thomas Jane that was better than most of his matches.
Last year he appeared in the little seen but awesome sounding Monster Brawl, in which classic movie monsters do battle in a wrestling arena. And in the last couple of weeks, he's popped up in the summer movies Rock Of Ages and Magic Mike.
If rumours are true, he'll also soon be joining the cast of The Hunger Games sequel, Catching Fire. Though it was clear in an interview that Nash hadn't read the book, Katniss Everdeen versus Diesel is one match we'd all like to see.
1. The Rock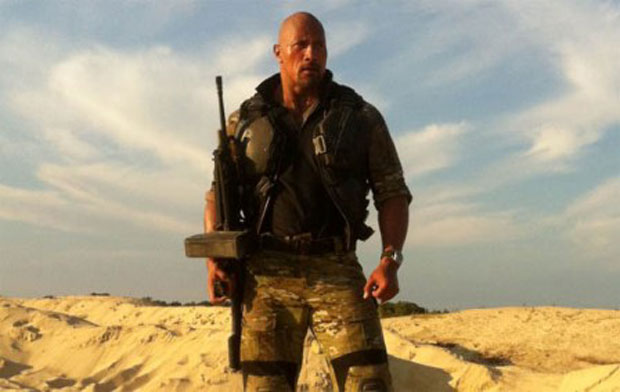 The undisputed champion of this list is Dwayne Johnson. You may know him better as The Rock. At the top of the grappling game in 2001, an extended cameo in The Mummy Returns as The Scorpion King was enough to bag the character and Mr Johnson their own film. Taking $35 million in its opening weekend, the writing was on the wall for Johnson's in ring career.
Welcome To The Jungle and Walking Tall saw The Rock enter the action movie market with middling success. The former is now most fondly remembered for a 'that was a nice touch' cameo by Arnold Schwarzenegger. 
Some curious choices followed, with the doomed computer game adaptation, er, Doom, Richard Kelly's divisive sci-fi epic Southland Tales, and family fare such as Race To Witch Mountain and Tooth Fairy. The Rock finally seemed to find his niche last year when he joined the Fast And Furious franchise, in which he traded blows with Vin Diesel. One thing which has helped, too: The Rock can actually act.
Already confirmed for the sixth instalment in that series, and with GI Joe: Retaliation on the horizon too, it would appear that Johnson's future in the movies is as solid as a – yes! – rock.