Features
Top 10 upcoming book-to-movie adaptations
From The Hobbit to Sherlock Holmes ere are 10 tales flying off our bookshelves and into cinemas over the next year or so...
Hollywood has been adapting works of popular fiction for some time now, and it's little surprise given how successful they can be. Harry Potter, Lord Of The Rings, The Da Vinci Code and Twilight are a few recent examples. Granted, these examples vary drastically in quality, but you can't deny they've been successful.
Having recently reviewed two adaptations of novels, from the great (LA Confidential) to the not so great (The Da Vinci Code), I thought I'd compile a list of the forthcoming adaptations that I'm looking forward to. So here it goes…10. World War Z (expected 2010)
I'm a big fan of Max Brooks' series of vignettes charting the accounts of survivors of a worldwide zombie epidemic ten years after the event, but can't really see how well the material will transfer to screen. Seems that others are optimistic though, as the source material sparked a bidding war between Leonardo DiCaprio's Appian Way and Brad Pitt's Plan B production company. Plan B – the company behind recent hits like The Assassination Of Jesse James…, The Departed and Charlie And The Chocolate Factory – won out and have recruited Babylon 5 writer J. Michael Straczynski to handle the screenplay and Marc Forster (Quantum Of Solace, Stranger Than Fiction) to direct.
9. The Rum Diary (2010)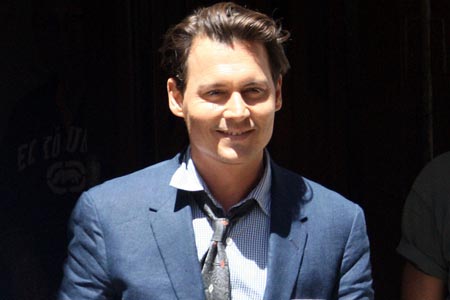 Based on an early Hunter S. Thompson novel that was published in 1998, despite being written in the early 60s, the story follows a freelance journalist, Paul Kemp, who's writing for a newspaper in Puerto Rico. Bruce Robinson (Withnail & I and How To Get Ahead In Avertising) is directing and handling the screenplay. Johnny Depp, Giovanni Ribisi and Aaron Eckhart are set to star.8. Alice In Wonderland (April 2010)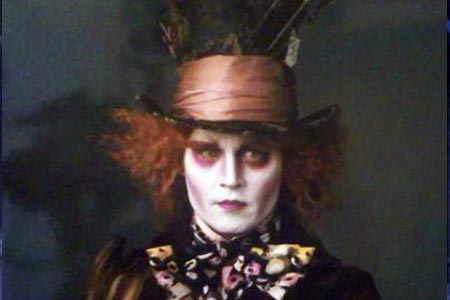 Another source of numerous adaptations, Lewis Carroll's Alice In Wonderland is another classic that's getting the big screen treatment in the next 12 months. Tim Burton will be applying his own unique take on the tale of a young girl in a strange and magical world. Mia Wasikowska is playing Alice, and she'll be joined by a mouthwatering supporting cast including Johnny Depp, Helena Bonham-Carter, Alan Rickman, Michael Sheen, Anne Hathaway, Stephen Fry, Cristopher Lee, Crispin Glover and Matt Lucas, to name but a few.
7. Disney's A Christmas Carol (November 2009)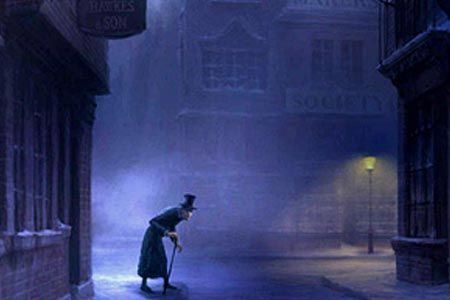 There have been numerous adaptations of the Charles Dickens classic over the years – Scrooged (OK, it's loosely based) and the Muppets versions being highlights – but Robert Zemeckis' version is bringing something new to the table as it's being output in 3D. This version sees Jim Carrey playing Ebenezer Scrooge as well as the ghosts of Christmas Past, Present and Yet To Come, whilst Gary Oldman plays Bob Cratchit, Marley and Tiny Tim, with Colin Firth playing Fred, Scrooge's nephew.
The footage released recently looks ace (you can see some footage here), so shouldn't be hard to get into the Christmas spirit.
6. The Road (October 2009 US)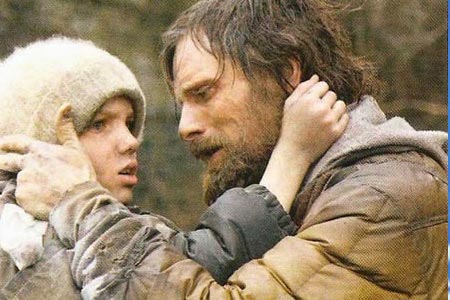 Following the successful adaptation of his novel No Country For Old Men, by the Coen brothers, it's little surprise that another Cormac McCarthy novel is being adapted for the big screen, especially as the novel won the Pulitzer Prize for fiction in 2007.
John Hillcoat, who directed Nick Cave's Australian Western The Proposition, is set to direct, with Joe Penhall (Enduring Love)  handling the screenplay and Viggo Mortensen, Charlize Theron, Guy Pearce and Robert Duvall headlining.
Set in a post-apocalyptic America, a man and his son make their way through the ruined landscape looking for food, water and shelter whilst avoiding the bands of survivors who have inevitably turned to cannibalism…
From the recently-released trailer, this looks interesting – if a little bleak. 5. Fantastic Mr Fox (October 2009)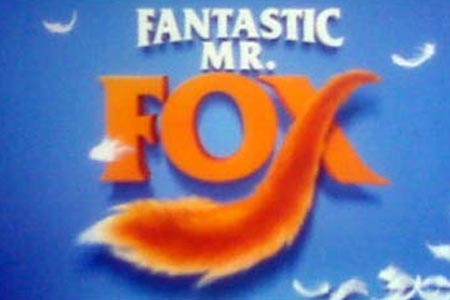 Roald Dahl's story of a curious fox outwitting farmers who are angry with him for eating their produce is being adapted into a stop-motion animated film by director Wes Anderson. I've been a big fan of Anderson's for some time now and enjoyed Dahl's story at school. Add the fact that Anderson regulars Bill Murray, Owen Wilson, Anjelica Huston and Jason Schwartzman are providing their vocal talents along with George Clooney, Meryl Streep and Jarvis Cocker, and this can't fail to be a winner.
4. Where the Wild Things Are (October 2009)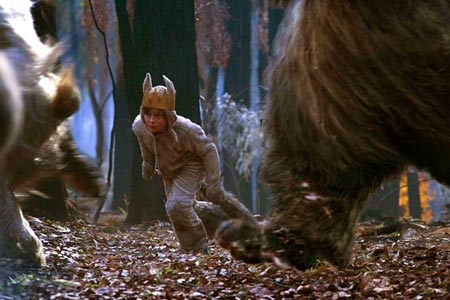 Based on Maurice Sendak's acclaimed children's book, a disobedient child (Max) is sent to bed without supper and creates a fantasy world inhabited by wild creatures that make him their ruler.
Maurice Sendak approached director Spike Jonze to bring his much-loved story to life. The film has been planned since the late 90s, and Jonze took the helm in 2005 for the film that originally had a release date of May 2008. But Warner Brothers were reportedly so unhappy with Jonze's initial version that they wanted the whole thing reshot. Bearing in mind that it cost $75m, they must have been pretty unhappy.3. Sherlock Holmes (December 2009)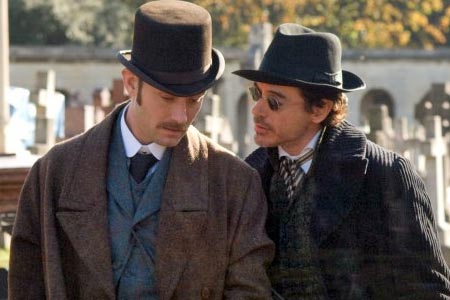 Guy Richie's revamp of Arthur Conan Doyle's characters finds Holmes (Robert Downey Jr) and Watson (Jude Law) attempting to stop Lord Blackwood (Mark Strong) from destroying Britain. Last week's trailer indicates that this will be an action-packed movie with plenty of laughs thrown in. Better start getting the excuses ready to get out of the Boxing Day family meals and get along to this.
2. Shutter Island (October 2009)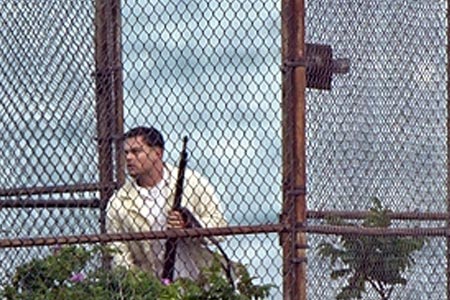 Based on the novel by Dennis Lehane (author of Mystic River and Gone Baby Gone) and set in 1954, US Marshall Teddy Daniels is investigating the disappearance of Rachel Solado from Ashecliffe, a hospital for the criminally insane. Not helping matters is the fact that there's a storm bearing own on the island.
Directed by Martin Scorsese, Leonardo DiCaprio heads up an all-star cast that includes Mark Ruffalo, Sir Ben Kingsley, Emily Mortimer, Michelle Williams and Jackie Earle Haley.
1. The Hobbit (2011 & 2012)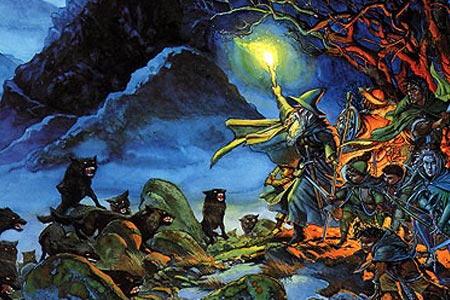 The longest wait out of any of the films on the list, but definitely the one I'm most excited about. I adored the book as a child and given the fact that one of the most talented directors around at the moment, Guillermo del Toro, is directing, it's going to seem a long wait but will no doubt be worth it. Plans to have the first film focus on the adaptation of The Hobbit and the second to fill the gap between The Hobbit and the Lord Of The Rings trilogy have been scrapped. Instead the narrative of The Hobbit will be spread over two movies.
I'm sure most of you are familiar with the story. On the off chance that any of you aren't, the story follows Bilbo Baggins, the Hobbit of the title, setting out on an adventure with a band of Dwarves to claim a treasure guarded by a dragon called Smaug.
Over the years del Toro has proved he has a talent in bringing weird and wonderful creatures to the screen, so this will be put to good use here.
If adapting one literary classic wasn't enough, del Toro has more in the pipeline. He's planning to adapt Kurt Vonnegut's alien abduction/World War 2 classic, Slaughterhouse-Five, as well as having a crack at Frankenstein, which, let's face it, deserves a decent modern-day, version after Kenneth Branagh's awful 1994 attempt.