Features
Top 10 underappreciated kids movies from the last 20 years
Kids get some cracking films, but that doesn't stop some very good movies falling under the radar…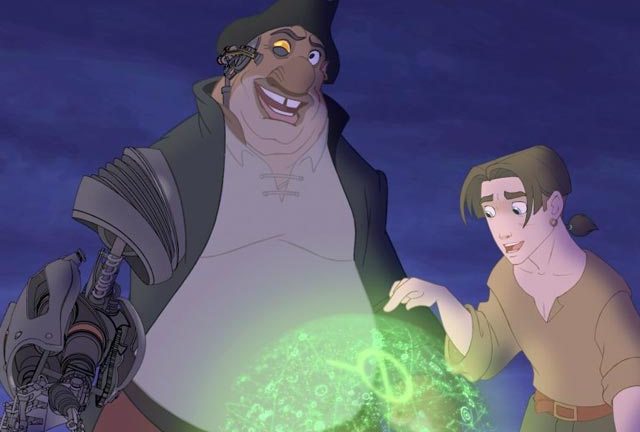 Before we get started, one note: I do appreciate that some films on this list earned a lot of critical acclaim, or pulled in a reasonable amount of cash. The point, though, is that these are the films that have been seemingly forgotten about. And that's a fate they simply don't deserve. Especially when kids keeping watching Shrek The Third, or tat like that on loop instead…
10. Miracle On 34th StreetA film that, personally, I had little hope for before going in to see it. Yet the remake of the charming 1947 original was a real surprise. Thus, it bombed, while the tepid The Santa Clause cleaned up.
It starred Sir Richard Attenborough as Kris Kringle, who is or isn't Santa, depending on what side of the argument you fall. And the film has plenty of fun with the concept, not least the centrepiece court case that challenges the validity of Kringle's claim to be Mr Claus. Attenborough it should be noted, who was enjoying an acting revival at the time in the slipstream of Jurassic Park, is quite brilliant as Santa, in a role that he just seemed born to play.
Granted, too much sugar is chucked on as it hits the final act, but it's still a charming, funny family movie.
Thus, it bombed.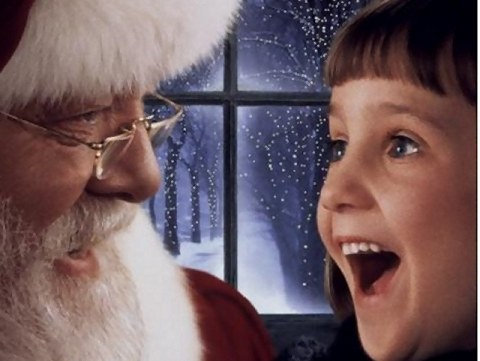 9. Treasure Planet
The late 80s and early 90s second golden age of Disney animation was long gone when
Treasure Island
came and tanked at the box office. Released in 2002, it took the guts of the Robert Louis Stevenson
Treasure Island
story (and it'd be remiss of us not to give a nod to the hugely entertaining
Muppet Treasure Island
here), and moved it into space.
Wrapped up in some quite brilliant animation, the film itself wasn't Disney firing on all cylinders, but it was still an excellent effort. True, the script could have used a little work, but the end result was still an exciting and ambitious adventure, and one that the viewing public rejected in their droves. It took just $38m in the US, while Warner Bros' terrible Scooby Doo movie lapped up $153m.
It's not had much better treatment on DVD either, and this is a project we'd love to see Disney lavish Platinum/Diamond/Whatever They Call Their Posh Releases Now treatment on. If you do see it in the bargain bin in the meantime, it might be time to get your cash out. You can bet that Disney won't be making anything like it again for a long, long time…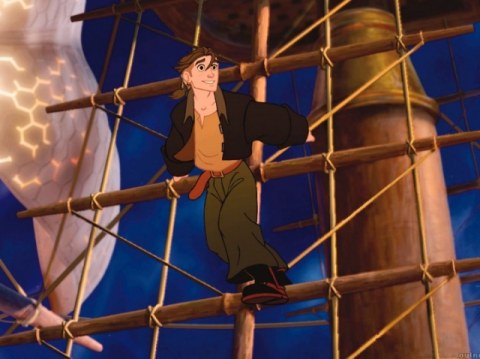 8. Monster House
To be fair, the critics who turned in positive reviews for Sony's computer-animated pseudo homage to the spirit of
The Goonies
seemed to do so in the knowledge that
Monster House
wouldn't go on to big riches. It didn't, and there's still an element of debate as to just how good it is (some reckon it's as good a computer animated movie as we've seen, others are a bit more tempered).
Yet if you're looking for an ambitious, borderline inspired kids movie, you really shouldn't look too much further. Especially if you're pig sick of the procession of cookie-cutter CG films full of cute animals, advertised with a campaign that introduces one poster per character (is it just us who wants to tear half of those down?). There's not a character in Monster House that you believed was designed with the merchandise in mind, and that's surely something that deserves some reward.
We've no intention of spoiling what happens in Monster House, but – unlike many of its contemporaries – it's not afraid to scare its target audience a little. We're not talking the Child Catcher from Chitty Chitty Bang Bang here, or Gene Wilder's take on Willy Wonka, but nonetheless, there's material here that can't be accused of playing things safe. For a younger audience, it's genuinely unnerving, and the third act is really well executed, too. It's crying out for another chance.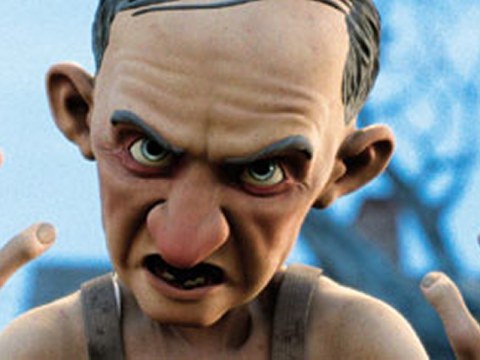 7. Titan AE
The film that nearly put 20th Century Fox off animation altogether until it stumbled across the
Ice Age
franchise,
Titan AE
was the brainchild of Don Bluth (working with co-director Gary Goldman), the ex-Disney animator who had given Fox some middling animated hits with
Thumbelina
and
Anastasia
. Bluth, who also directed
An American Tail
and
The Land Before Time
, threw everything at the wall for
Titan AE
, a massively ambitious 31st century science fiction story.
With a mix of animation styles that veered between spectacular and traditional, the core story worked a lot better than the film was ever given credit for, too. Granted, the script could have used a little tuning, but on a big screen, Titan AE is dripping with detail, and is, even on repeated viewings, a hugely entertaining way to spend an hour and a hour. It therefore, of course, bombed out of sight, and Bluth hasn't directed a film since. While we don't care for all of his movies, Titan AE is one that absolutely deserved a better fate.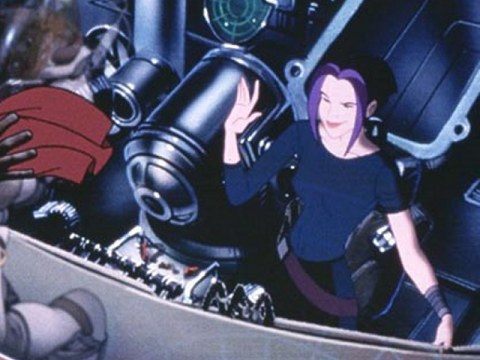 6. Mousehunt
One of the earliest DreamWorks movies, and one also that gave a break to director Gore Verbinski, who would go on, of course, to direct the
Pirates Of The Caribbean
trilogy. It starred Nathan Lane and Lee Evans, as a pair who are trying to get a resourceful mouse out of their home. The mouse, meanwhile, has no intention of leaving, and it's knockabout fun par excellence as the battle commences. It's very much in the spirit of
Tom & Jerry
. Ironically, more than the
Tom & Jerry
movie ever was.
Marvellously, Christopher Walken is also dragged into the cast, and Verbinski keeps the pace sufficient so that you never tire of the sequences and set ups he presents you with. It's a hoot of a film, that if it were pitched now, would no doubt be done as a computer animated movie. Pick a copy up, and be grateful that's a fad that Mousehunt didn't fall prey to.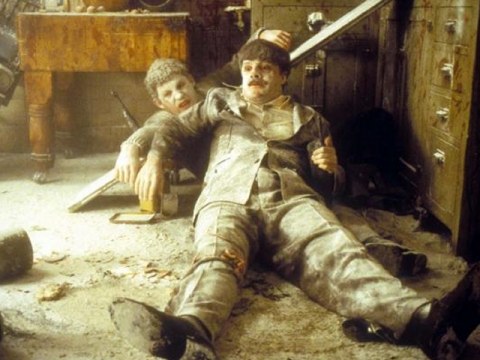 5. Flushed Away
When
Flushed Away
underperformed at the box office, it brought to an end the union between DreamWorks Animation in the States, and Aardman Animation in the UK. The deal had started well, with the highly successful Chicken Run, and the Wallace & Gromit movie,
Curse Of The Were Rabbit
, did decent numbers outside of the US (although is considered a flop Stateside). But
Flushed Away
saw Aardman, the experts at manipulating plasticine, move into computer animation. The reason they shifted to computers, incidentally, was the amount of water that was in the film would have meant mixing CGI and plasticine, and it was considered cheaper to go fully CG.
The box office total for the film, sadly, did Aardman few favours, bringing in $64m, but don't let that blind you. It's chock-full of the detail that underpins Aardman projects, is funny, has lots of clever touches and really deserves a far wider audience than it got. It's no out-right flop, but considering it's easily one of the best computer animated movies of the last decade, it deserves not to be lost beneath the slew of cutesy alternatives. Sadly, Aardman hasn't released a big screen movie since – here's hoping that changes soon…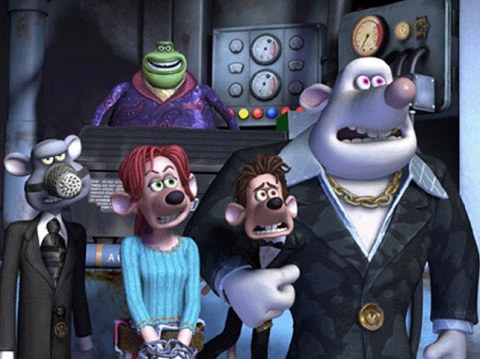 4. Matilda
Danny DeVito is a fine director, yet his terrific take on the Roald Dahl story,
Matilda
, was the last really good film that he helmed. Starring Mara Wilson in the title role, at a point in her life when she seemed to snag every role of this ilk, it was the supporting characters that really helped make DeVito's film a joy. Chief among them was Pam Ferris as Trunchbull, a fearsome and wonderfully realised creation, for instance, who gets to spout out the kind of lines at small children that would make school inspectors hand in their notice. Credit too must go to the delicious pairing of DeVito and Rhea Perlman in front of the camera.
With the story specifically, meanness to the anklebiters is part and parcel of Matilda, which is a twisted, yet quite brilliant tale. And DeVito doesn't shy away from any of it. He litters the film with stylish touches – the bulging speakers have to be a favourite – and you could argue on this evidence that as a director, he's never really had the recognition he deserves for his undoubted flair.
Matilda, meanwhile, now seems to be lost under a pile of animated films with animals in these days, and that's a situation that deserves serious and swift correction.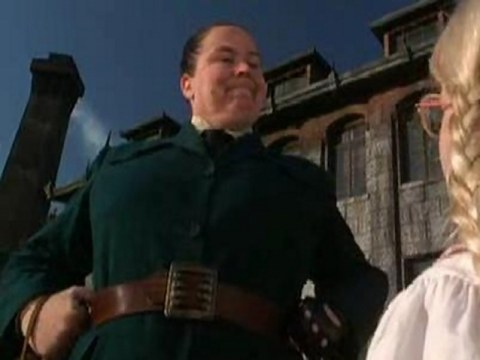 3. James And The Giant Peach
It's bad enough that
Henry Selick
– responsible for the exceptional
Coraline
– didn't get the recognition he deserved for directing Tim Burton's
The Nightmare Before Christmas
(to the point where many don't even realise he was the one who actually directed it). But he made another film with Tim Burton after that, and it was one of the best adaptations of Roald Dahl's work on the big screen.
While James And The Giant Peach boasts some live action elements, the thrust is once more stop motion animation, as Selick skilfully tells the tale of a boy who climbs into the peach of the title, and befriends the bugs inside it. It's a visually striking feast, with some fabulous animation and equally strong voice work. And while perhaps the live action elements aren't quite as strong, once on-board the peach, the film simply soars.
The book it's based on is terrific (this writer's biased: I love Roald Dahl's writing), and this filmed adaptation is both faithful and lovingly crafted. It's also been somewhat forgotten about. Consider it ripe (see what we did there?) for rediscovery, and hope that this Christmas' version of Roald Dahl's Fantastic Mr Fox can be at least half as good.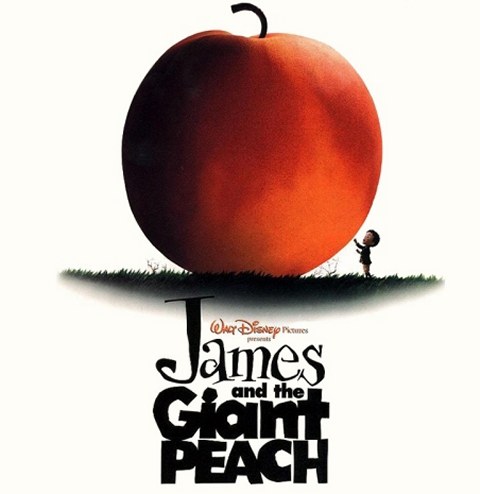 2. Zathura: A Space Adventure
For our money, one of the worst-marketed films in recent memory. Trying to sell off the name of
Jumanji
, a film to which it was realistically only slightly linked, and with a poster that just didn't work,
Zathura
failed to set the box office alight.
And yet it should have done. Directed by Jon Favreau, some years before he'd step on an Iron Man set, it's a tightly-budgeted space adventure based around a similar concept to Jumanji, as a pair of feuding brothers play an old mechanical board game, that ultimately sees their house heading off into space. It happens to us all at some point.
There are a few reasons why it works. Firstly, the special effects, given the tight budget, are genuinely strong, and for the most part very convincing. Then there's the real feeling of peril that Favreau manages to inject into the film, something that Jumanji, for all its computer-generated monkeys, never managed to match.
Finally, you utterly buy the kids. There's no crappy child acting here (and you'll find Twilight's Kristen Stewart in there, too, incidentally) – instead, you have a well-written story, that's very well told, with characters you actually feel like rooting for. Heck, and if you're looking for the early signs behind Favreau's Iron Man directorial success, they're right here.
You could perhaps argue that the final act lets things down slightly, but given how ambitious what's come before has been, it's something it'd be churlish to over-criticise. A superb movie, and one that aches for a broader audience. And needed better marketing.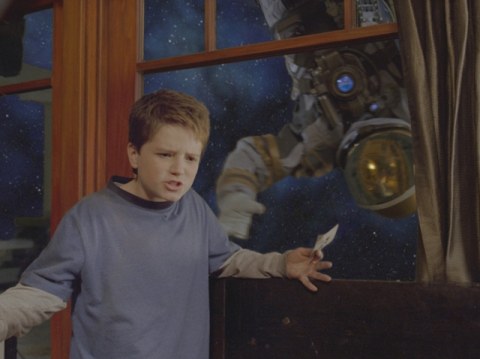 1. The Iron Giant
It's Den Of Geek policy that at every turn we have to push the word of
The Iron Giant
to those who still won't give it a go. It bombed on its original release, it's still struggled to find an audience on DVD, and yet Brad '
Ratatouille
' Bird's stunning take on the Ted Hughes story is one of the very best kids animated movies of the past twenty years, full stop.
Never mind that it's not put together with fancy computers, The Iron Giant is a touching, brilliantly told and genuinely moving film, that shows what happens when you get a brilliant script and a brilliant director in the same room. There's no roster of big celebrity voices to crow about on the poster. Warner Bros, instead, suspected that people might just go along to see The Iron Giant because it happened to be really, really, really good. The fools.
Seriously: if you haven't seen it, and take nothing else out of this site ever, get hold of The Iron Giant. It's not only the most underappreciated family movie of the last two decades, it's got a strong shot at being the best, full stop. And – really – it's genuinely moving.
If you get nothing out of it, your heart may very well be made of iron…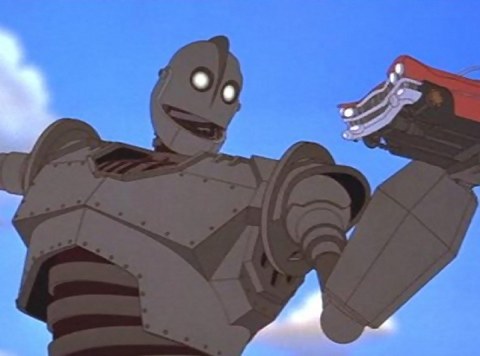 HONOURABLE MENTIONS

:Over The Hedge
(not included because it made lots of cash)
George Of The Jungle
(ditto)
A Bug's Life
(ditto)
Hercules
(just about ditto)
Meet The Robinsons
(likewise)
The Huncback Of Notre Dame
(and again)
The Secret GardenBridge To Terabithia