Features
Top 10 Simon Pegg film and TV roles
With A Fantastic Fear Of Everything out now in the UK, Nick provides a run-down of Simon Pegg's finest film and TV roles...
For many, Simon Pegg is the epitome of the geek actor made good. From his early TV roles (not least in the classic Spaced) to his breakout performance in Shaun Of The Dead, Pegg's worked his way up through the ranks of movie stardom, and now enjoys the pick of coveted roles in such films as Star Trek and the Mission: Impossible franchise.
 With such a wealth of great movies, TV shows and performances behind him, is it really possible to rank Pegg's career in a top ten list? Well, since A Fantastic Fear Of Everything is out now in UK cinemas, we'd thought we'd have a go. And to kick the list off, let's head back to 2006, and take a look at a less well-known yet brilliant performance from Mr Pegg…
10. Gus – Big Nothing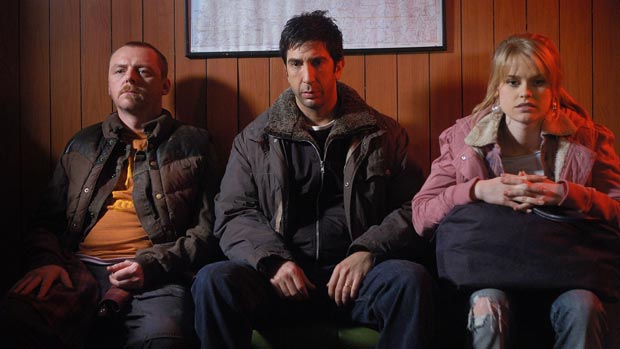 He may be familiar to us as the loveable geeky nice-guy, but Pegg is a surprisingly versatile actor who excels in many roles. Take this somewhat unknown turn in the British crime-comedy caper Big Nothing, way back in 2006. While the film itself was sadly a little bit too uneven to find mainstream success, Pegg's portrayal of shifty conman Gus was a bleak and black comic masterpiece, showing that when the loveable fool from Spaced wanted to do dangerous and unhinged, he could pretty much pull it off. He anchors the film alongside nice-guy David Schwimmer, and adds the necessary element of excitement and danger to the proceedings.
For those who believe Pegg is pigeonholed in his film and TV roles, you should check this out and think again.
9. Graeme Willy – Paul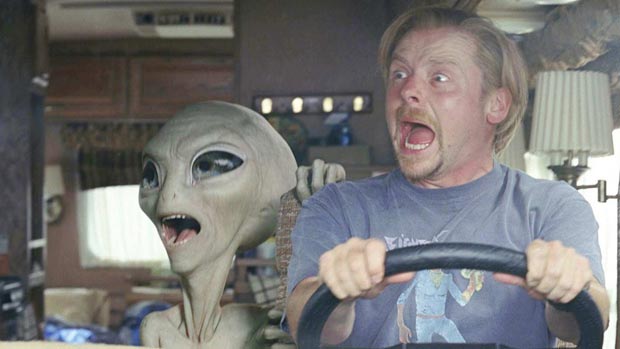 Those looking for the archetypal Simon Pegg role may just have found it here, in Greg Mottola's hit and miss sci-fi comedy Paul. While the material does always quite match its ambition, the performances throughout the film are uniformly charming and well played, and none more so than Pegg's turn as Graeme Willy, the nerdy, overweight hero of the piece. Yearning for a life more than he has, Graeme is the kind of relatable everyman Pegg specialises in. While this is the type of role which could easily have become lost in the mix, and end up the boring part of an ensemble comedy, he also plays wonderfully off Nick Frost (as always) but more surprisingly off an entirely CGI creation, the titular Paul himself, proving that whatever the scenario, Pegg will prove eminently watchable.
8. Kieron the Cat – I Am Not An Animal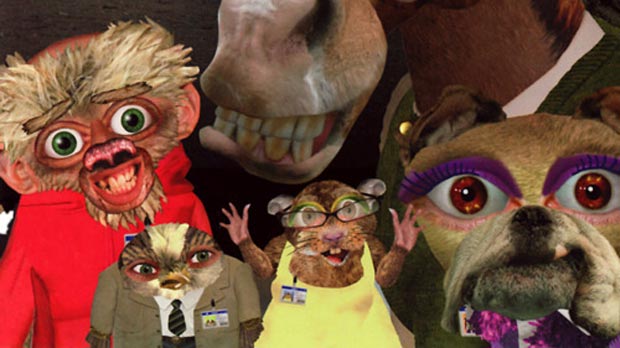 For those who've yet to enjoy the surreal charms of this BBC comedy, do whatever you can to track down a copy. Telling the frankly bonkers tale of animals who can talk due to laboratory experiments, Pegg takes on the role of Kieron the Cat, and what a role it is. Initially one of the gang, Kieron's head is removed from his body during an animal rights activists 'rescue' . Kept alive by machines, his head is then transplanted on a gorilla's body, and he's sent to terminate the escaped talking creatures. Yeah, you just read that.
 I think the show is best summed up by the following YouTube comment underneath a clip: "What the hell did I just watch?" Kieron himself is a marvellous creation, voiced with booming grandiosity by Pegg, who's clearly having a blast and playing up to his comic talents. A sample line from him, when tempted by the bright lights of London? "Let me at the cocaine baguettes".
7. Sgt William Evans – Band Of Brothers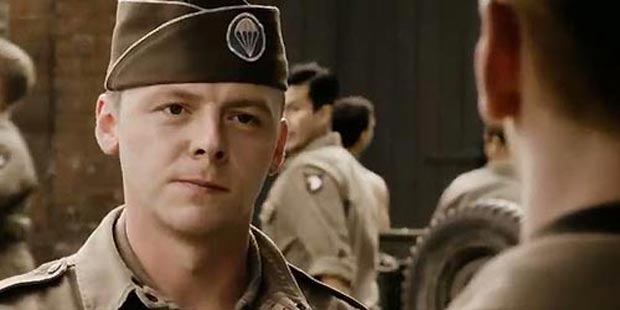 While he went on to have other, starrier break-out roles, for me this small part in Spielberg's ensemble is one of his most important, firmly putting Pegg on the Hollywood map and introducing him to an American audience. It was the first time I saw him and thought he could do more than play Tim from Spaced, and I guess a lot of other people thought the same too. It's a no fuss, no muss role as Sgt William Evans, but in his limited screen time he certainly makes an impression. It's also weirdly yet another collaboration with David Schwimmer, along with Big Nothing and the Schwimmer directed Run, Fatboy, Run.
6. Thompson – The Adventures Of Tintin: The Secret Of The Unicorn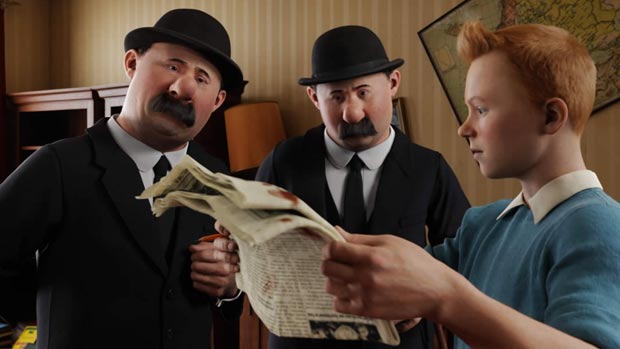 For my money one of the finest films of last year, and one of Spielberg's best in some time, the iconic role of Thompson (with Nick Frost as Thomson, of course) may not have been to everyone's taste, but for me, cemented Pegg as a bona fide actor capable of, well, pretty much anything. Why? Because not only was he the comic role in a Spielberg blockbuster (never the easiest of parts), he was in full-on motion capture too, and totally sold the physical bumbling of the detective as well as the dithering mentality.
Motion capture allows an actor to become another person (or thing) and for many, the challenge is too great. It's not for a lack of attempts that many can only name Andy Serkis as the only notable motion-capture actor. However, as Thompson, Pegg truly inhabited the character, adding a bungling humour to the high-octane hijinks of Tintin. 
5. Nicholas Angel – Hot Fuzz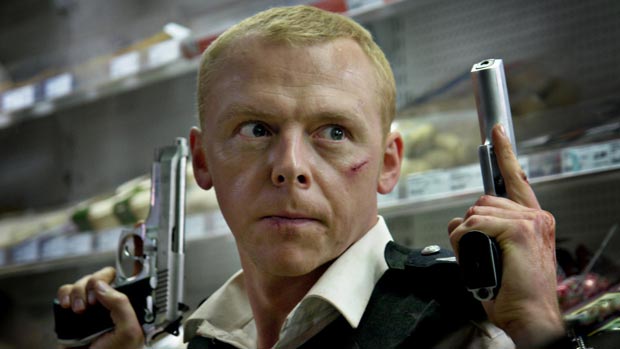 So how do you follow up two iconic turns as nerds come good? Well for Simon Pegg in his and Edgar Wright's second cinematic collaboration, the answer was to try becoming an all-action hero. And in police constable Nicholas Angel, he damn well succeeded. Initially the idea of Pegg as an action star, even a comedy action star, seemed pretty implausible. However, any doubts about his suitability (and range) were quickly dispelled in the opening sequences of Hot Fuzz, as Pegg dominates the screen leaping over walls, chasing down criminals,  and being far too good a policeman.
Over the course of the film, you then get to see Angel progress from a city boy who can't relate to people, let alone his former girlfriend, to a man who learns to love the countryside, can open up emotionally to his friends, and still kick some arse. It may be easy to look athletic next to the cuddly bear man that is Nick Frost, but Pegg's turn as Angel is believable and brilliant.
4. Benjii Dunn – Mission: Impossible franchise
After the success of Shaun Of The Dead, Simon Pegg was reportedly asked if he was going to abandon Britain for Hollywood, to which he apparently replied, "It's not like I'm going to run off and do Mission Impossible: III!" Which is, of course, exactly what he did.
 Appearing as the comedy tech guy in JJ Abrams' directorial debut, his small but mighty role was significantly beefed up for the follow-up, Mission: Impossible – Ghost Protocol. Getting to play a fully-fledged member of the Mission: Impossible team this time round, Pegg got to do a lot of movie-star stuff, marking him as a definite player in Hollywood. It certainly didn't hurt that he gets to kill a bad guy, and as with all his roles, Pegg lends a charm, naivety, and humanity to what could have easily been an annoying comedy side-kick role.
3. Scotty – Star Trek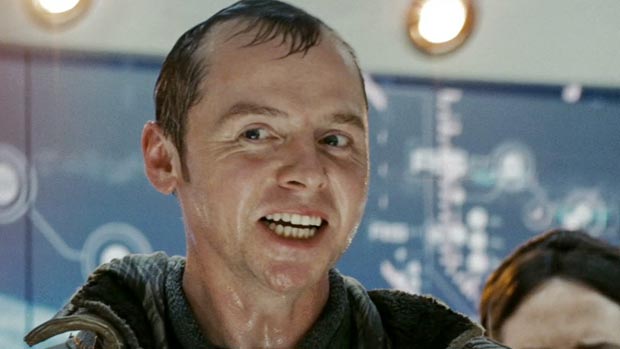 It's one thing taking on the third film of a Tom Cruise franchise, another originating your own memorable character, but what about taking on the one the iconic sci-fi characters of the last 50 years? All in a day's work for Pegg, apparently. Respectful but not beholden to James Doohan's original portrayal of the Enterprise's inventive engineering genius, Pegg brought a dynamism to the part, and a sense that this is a Scotty who revelled in being part of the action.
The only member of the crew not introduced early on in the film, you are made to wait for Scotty's introduction until over the halfway point, but Pegg makes good on the anticipation with an energetic and breathless turn in keeping with the new Trek. He also gets a few moments to shine on the transporter, as well as uttering the famous Scotty lines. You can imagine the grin on self-avowed sci-fi geek Simon Pegg's face as he said, "She can't take much more, Captain!"
2. Shaun – Shaun Of The Dead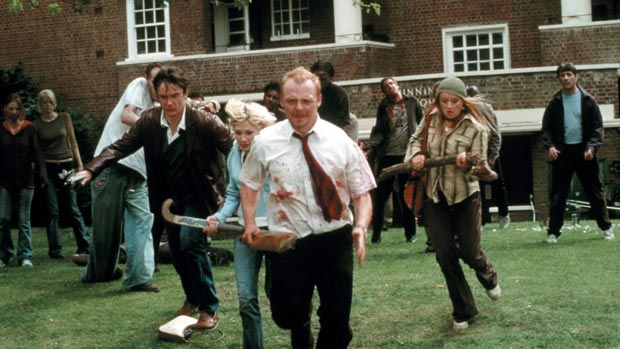 The role which propelled Simon Pegg into the big-time, and allowed him to make the leap from cult sitcom actor to Hollywood star and friend of Steven Spielberg and JJ Abrams. Certainly his most iconic role, Shaun is the hopeless yet loveable loser who finally gets his moment to shine and prove his worth in the face of an apocalyptic zombie onslaught.
Whether it's choosing which vinyl to fend off the undead, or trying to make his peace with his stepfather, Shaun is the anchor of the film, and its most mesmerising character. Which is a good job, considering the film is named after him. He's the true heroic leading man by the end of it, but more than that, he's a leading man the audience can aspire to (and dress up as pretty easily on Halloween). There are no iron biceps and ripped abs on display here, just a boy from North London changing from zero to hero in front of our eyes.
1.Tim Bisley – Spaced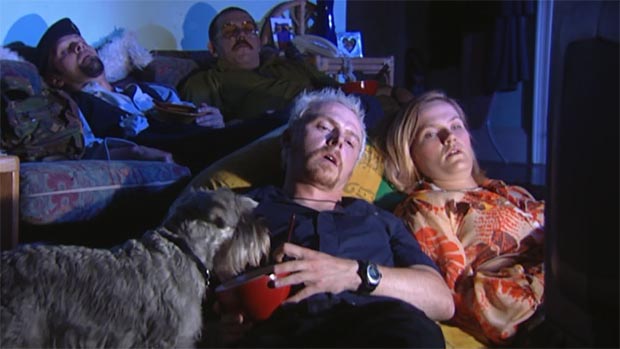 Well, there can only really be one winner, can't there? For many, Simon Pegg will always be Tim Bisley, the under-achieving, uber-geeky, short-tempered but ultimately big-hearted lead of this generation defining sitcom. Tim was the guy you could identify with – unlucky in love, scared to pursue his dreams, and forced into a flat share against his better judgement. He also possessed an almost unhealthy knowledge of cult films, fiction and geek culture, a good few years before this all became openly acceptable. It's hard to exactly ascertain the impact a character like Tim had on the collective psyche of an urban, media literate population of under-achieving males, but the fact that many of these people have gone on to dominate film and TV surely counts for something.
Tim Bisley started off consumed by rage, but gradually allowed others (notably Daisy) into his life, and through them became something more than just a collection of clichéd traits of a nerdy boy-man. In putting so much of himself in the character, Pegg took a risk, but made Tim multi-dimensional, and someone you could truly root for and love. His subsequent success has surely proven him right.
Follow Den Of Geek on Twitter right here. And be our Facebook chum here.