Features
Top 10 Disney theatrical animated features
Carley chooses what she thinks are the 10 best traditional Disney animated films of all time. Do you agree?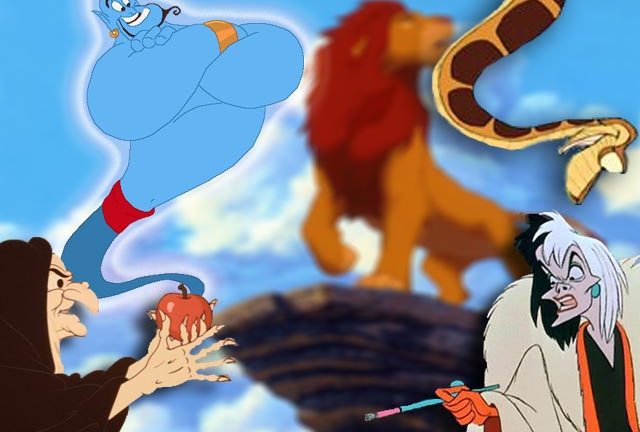 Long long ago in a land far away (Los Angeles, to be precise) a man by the name of Walt Disney decided to produce what was to become the first full-length animated feature ever to be released with 1937's Snow White And The Seven Dwarfs.
Seventy-two years later and buzz is being generated around Disney's latest offering The Princess And The Frog, which is due to hit screens in November and filmed in their traditional 2D animation process.
The news of this new release filled me with joy. Although I can see the benefits of 3D animation and I have loved everything Pixar has ever had to offer, I have always thought Disney theatrical animated features were perfect as they were.
With that in mind, I have had a little look back through the Disney history books and come up with what I think are the best of what the House of Mouse has ever had to offer.
10. Oliver & Company  (1988)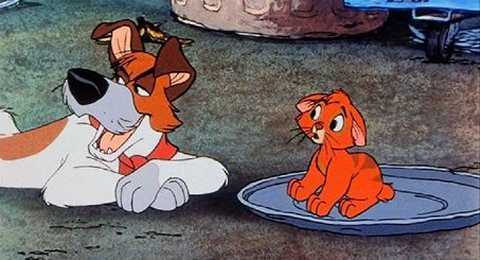 My first choice was actually a toss-up between this and Basil The Great Mouse Detective as I recall both very fondly from my childhood and both were full of great memorable characters. But Oliver & Company just edged it out because only Disney could get away with taking Charles Dickens' Oliver Twist and making the lead character a cute ginger kitten.
More in line with the Lionel Bart musical that the actual novel, Oliver & Company is a bit of an underrated Disney movie. It came just before the real second Disney Renaissance happened and its success was one of the reasons the company announced a new musical animated feature was to be released yearly. With a mixed bag of vocal talents including Billy Joel, Cheech Marin and Bette Midler, it really sums up what Disney is all about and your heart cannot fail to melt with the abundance of cute animal characters that the studio is so great at creating.
9. Aladdin (1992)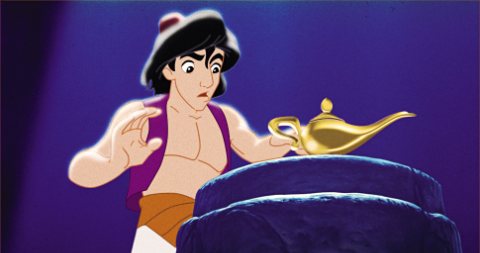 The biggest movie of 1992 and the third biggest hand-drawn animated feature of all time, Aladdin gives the audience a magical story to get lost in, held up with an array of wonderful characters that only Disney can create.
You have the hero Aladdin, his love interest Princess Jasmine, evil villain Jafar and a comic genius of a genie voiced by the ever talented Robin Williams. Filled with wonderful music provided by Alan Menken, Howard Ashman (whose brainchild it was to bring to the screen and who, sadly, died before its release) and Tim Rice, it was a comedy that managed to walk the fine line of entertaining adults as well as children.
Finished off with this is the fantastic visual representation of the Middle East, so well created. For example, in the market scenes you can almost smell the goods being sold and the creation of the flying carpet has been an inspiration to future animators for the years since.
8. Fantasia (1940)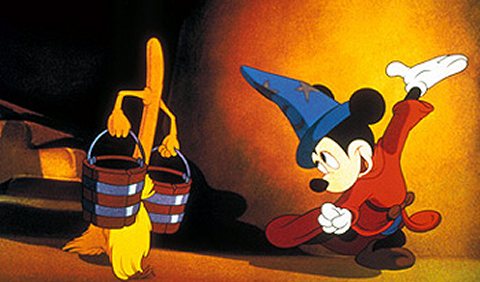 The film that almost marked the end of Disney as we know it, Fantasia is a full length feature of animation set to classical music. A daring project even today, no dialogue was spoken bar introductions from the host. Instead what you get is some of the best animation ever created for the screen accompanied by some of the greatest pieces of classical music ever composed.
Although it shouldn't be a mix that works, it does, in a spectacular fashion.
The most famous of the pieces played is The Sorcerer's Apprentice, which makes a superstar of company icon Mickey Mouse. For such a beautiful piece of work it is hard to imagine that it failed to find itself an audience when it was first released, causing huge financial pressure on the company. Considered a classic of its genre today, Fantasia is the type of movie that will stay with you long after you have finished watching.
7. Sleeping Beauty (1959)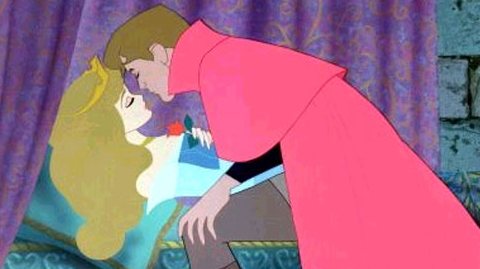 Taking nearly a decade to make it to the big screen, Sleeping Beauty is the ultimate Disney princess movie. You have a beautiful princess called Aurora who, on the day of her christening, is cursed by an evil witch called Maleficent, who, because she was uninvited to the event, curses Aurora that if she pricks her finger on spindle before her sixteenth birthday she will die.
However, her three good fairy godmothers (Flora, Fauna and Merryweather) downgrade the death part to a sleep that can only broken with a true loves kiss. Throw in a handsome prince and we have a full house.
The first of Disney's features to be filmed in Technirama widescreen, it looks glorious on screen and also has a beautiful soundtrack running alongside it and includes one of Disney's best loved songs, Once Upon A Dream.
Recently the bulk of the story was lovingly re-invented for Enchanted and it was great to see one of the best villains ever invented come to life on the big screen. It also spawned Disney's famous castle.
6. 101 Dalmatians (1961)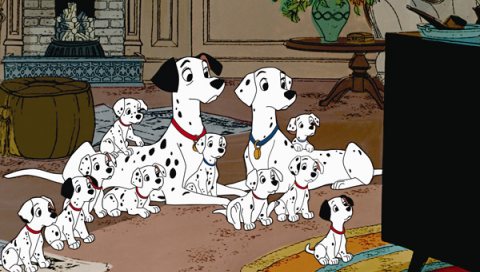 Based on the novel The Hundred And One Dalmatians, more cute animals take over in this story of kidnapping, rescue and lots of spotty dogs.
After a chance meeting in the park and a dip in the lake, Dalmatians Pongo and Perdita and their owners Roger and Anita become a family, with a litter of puppies soon on the way. One thing stands in the way of their happiness, though, and that is Cruella De Vil, who wants to buy the puppies and turn them into a coat, dognapping them to do so and it takes their parents and a gang of mix matched friends to save them.
A landmark in animation at the time, it was the first Disney movie to be based in a contemporary setting and was also the first to be created by single writer. It also was the first to use xerography which proved to be a popular cost cutting technique for the company which did not affect the quality of the product.
Unusually for the Disney movie, there is a lack of big song numbers but the main song Cruella De Vil will be stuck in your head long after you have watched. A great villain and lots of cute dogs means this movie cannot go wrong. If you're a fan of this movie, also check out the live action version if you haven't already. It is a joy to watch.
5. The Jungle Book (1967)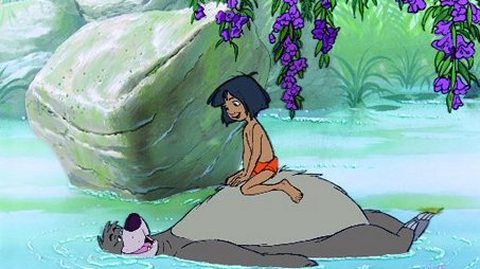 The last movie to be produced by Walt Disney, The Jungle Book is based on the works of Rudyard Kipling and tells the story of Mowgli, a feral child who has grown up in the jungle being cared for by the animals that reside in it. When they think it is time for him to live with other humans, he refuses to go, thus making friends with an array of jungle creatures including Baloo the bear and King Louie the orangutan. 
After the disappointment of Disney's previous outing with The Sword In The Stone, Walt Disney himself wanted the characters to drive the story more than the story driving the characters, which, in fairness, worked a treat and became somewhat of a staple in their movies since.
Filled with toe tapping numbers including I Wanna Be Like You and The Bear Necessities, this is the ultimate tribute to the man who bought so much joy to so many. Also worth a watch just to see the Beatles inspired vultures. Total genius.
4. The Lion King  (1994)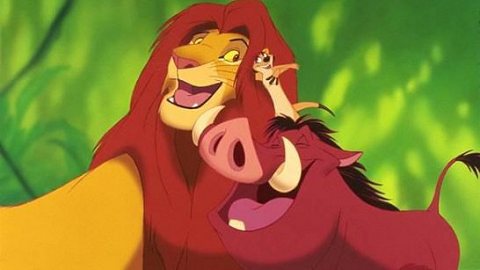 On paper probably the most bizarre ever: let's make an animated movie set in the jungles of Africa based on Hamlet. But Disney managed to pull it out of the bag in spectacular style. The Lion King, rates as the most successful 2D animated feature ever and the first original story ever produced by the company.
Lion cub Simba is next in line to the throne as king of the jungle, but his jealous Uncle Scar wants the power for himself. After making a deal with a pack of hyenas and arranging the death of his brother, Scar puts the blame onto Simba who runs away, leading Scar to say both his brother and nephew are dead, taking the throne for himself.
Simba soon finds a home with meerkat Timon and warthog Pumba. When Simba's childhood sweetheart Nala comes across him years later, she tells him of the destruction of their homeland under Scar's rule and Simba returns home to claim his rightful place as King. 
Bambi for the 90s generation, The Lion King is a story of tears and triumph, good against evil. The usual Disney strongholds are here as well as a multi award-winning soundtrack provided by Elton John and Tim Rice, with the score being provided by the ever talented Hans Zimmer.
An all star voice cast includes Matthew Broderick, Jeremy Irons, James Earl Jones, Nathan Lane, Rowan Atkinson and Whoopi Goldberg, who bring their characters to life on screen and are complimented with some of the best animation every created by the company.
The lush landscapes of Africa are brought to life by the team who actually thought of this movie as secondary to the rather tepid Pocahontas, which was also being produced at the time.
So popular was the movie, it spawned not only two direct DVD spin-offs, but a stage musical, which is still running to full houses in New York and London today.
3. The Little Mermaid  (1989)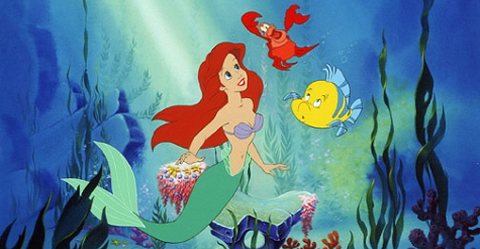 Quite possibly my favourite Disney movie ever and the movie which heralded the return of Disney to the big leagues, The Little Mermaid was Disney's first return to fairy tales for 30 years since Sleeping Beauty.
Based on the Hans Christian Anderson story (but with a much happier ending), it tells the story of Ariel, a mermaid who wishes more than anything to be able to live on the land. After she rescues a prince called Eric and falls in love at first sight, she makes a deal with an evil sea witch Ursula, who grants her legs in return for her voice.
She has three days to get a true love's kiss, otherwise she will become a mermaid again and property of Ursula.
The last Disney film to use the hand painted cell method, The Little Mermaid manages to capture the magic that was created in years past and bring it to a whole new generation. You have your obligatory princess and prince, an uber villain and various wonderful sidekicks who can steal the show in a second. Add to that Oscar winning soundtrack by Alan Menken and Howard Ashman with such classic songs as Kiss The Girl and Part Of Your World and what you have is not only an amazing animated piece, but a film that could, in fact, knock spots off most of the live action films that were released at the same time.
2. Snow White And The Seven Dwarfs  (1937)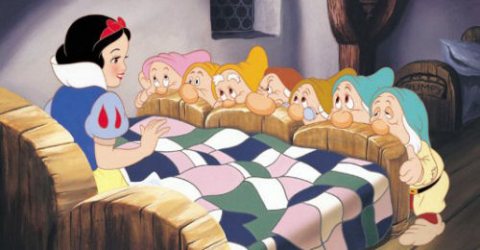 Snow White And The Seven Dwarfs is a film of firsts: first full length cell animated feature in motion picture history, first animated feature film to be made in America, first animated feature to be produced in Technicolor and the first movie to be made by Walt Disney Productions.
Based on the Hans Christian Anderson fairy tale, after Snow White is deemed the fairest of them all by her stepmother's magic mirror she is forced to flee into the forest where she befriends seven dwarfs and in return for lodging she cleans their house and looks after them.
Still wanting Snow White out of the picture, her stepmother dresses as a hag and gives her a poison apple to eat, with only true love's kiss able to break the spell.
The most influential animated feature ever, Snow White's success paved the way for future productions to be created. Filled with memorable characters, it set the mould for future princess stories as well as creating a style that is with Disney until this day.
Filled with classic songs such as Some Day My Prince Will Come and Heigh-Ho, it set that bar for others to follow and had something for everybody. A true masterpiece in every sense of the word.
1. Beauty And The Beast  (1991)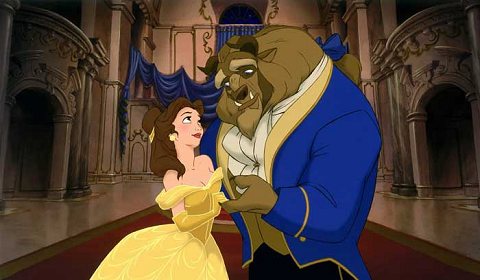 The only animated movie ever to be nominated under the Best Picture banner at the Oscars, Beauty And The Beast is the magical tale of Belle, a bookworm who lives in a small village in France with her father. After he is taken prisoner by The Beast, a prince trapped in animal form due to his insensitive nature, for trespassing, Belle rescues him and in return for his freedom agrees to stay at the castle.
Her main company are an array of household items that can talk, sing and dance. As Belle and The Beast become friends, hopes are raised in the castle that the two will fall in love, breaking the spell and turning everybody human again.
When Bella discovers her father is sick, The Beast lets her leave but is soon come upon by a mob determined to kill him lead by Gaston, the man who wants Belle for himself.
Stunning, beautiful and magical are just some of the words to describe how fantastic this movie looks on the screen and it's a great example of early computer animation.
Against the backdrop sits a Broadway style soundtrack that has huge musical numbers, played out on the screen with such style you cannot tear your eyes away with stand out numbers including Be Our Guest and the fantastic ballroom scene accompanied by Jessica Fletcher herself, Angela Lansbury, singing the title song
Worthy of the praise and plethora of awards it received, Beauty And The Beast makes the number one spot because it is the benchmark that all animated features had to live up to since.
So that's my top ten, looking forward to hearing yours below…