Features
Top 10 battles of the sexes
Okay, no hair pulling, no hitting below the belt…ahh, who are we kidding? This is WAR…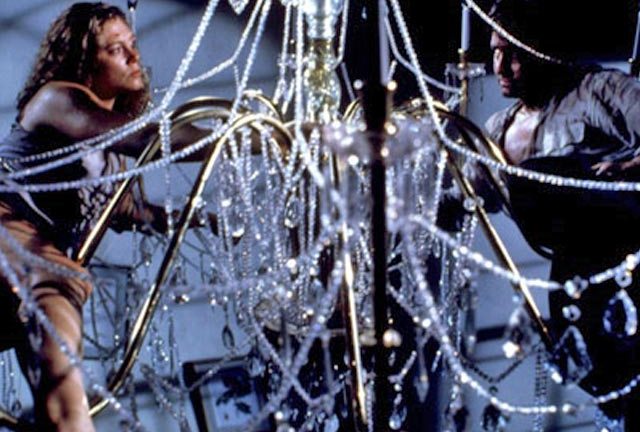 They may be comedies or tragedies, but movies dealing with the eternal struggle between the male and female ego all share a strand of dark, absurd humour: this isn't a war anyone can win, because if you care enough to savour the victory, you've already lost…
Note: I'm not counting overtly feminist, politicised output such as Thelma & Louise, Nine To Five and First Wives' Club in this list, which instead deals with films that pit well-matched male/female opponents against each other. May the best chromosome prevail…
10: Femina Ridens (aka, The Laughing Woman/The Frightened Woman, 1969)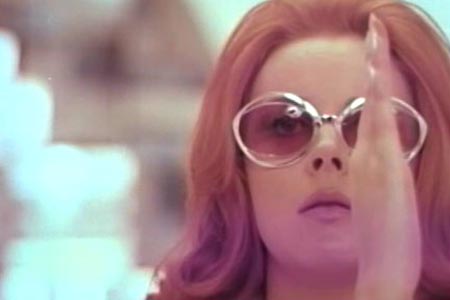 Don't believe the packaging. Though masquerading both as kinky porn eurotrash and (even more ludicrously) as some kind of early feminist tract, this oft-named outing from Piero Schivazappa is a pure 'X Vs. Y' psychological and emotional slug-out in the form of a two-hander that turns the tables on our expected sympathies with stunning frequency. Philippe Leroy is the twisted scientist whose pathological misogyny apparently finds him indulging in a spot of woman-killing at his remote country estate at weekends. But his latest 'abductee', neo-feminist journalist Dagmar Lassander, smells a rat pretty early in his toothless mind-games, and proves a more than formidable opponent.
9: Marnie (1964)
Alfred Hitchcock's conception of feminism is problematic at best, but if the 'Hitchcock blonde' emerged more from the bonds of S&M than the toils of suffrage, it nonetheless left behind some of the strongest and most fascinating female characters in movies. Self-willed and fiercely independent, Tippi Hedren is the corporate thief state-hopping into new identities to continue her larceny, with Sean Connery the wealthy Ivy Leaguer who rumbles her, blackmails her and, in one endlessly controversial scene, apparently rapes her.
But Hedren is no victim, at least not of such as Connery, who's fascinated by her indomitable nature and engages his reluctant guest in a growing web of deceit and psychological investigation, determined to find out the secret behind his love's compulsion to steal. Connery is himself a very flawed character in this film; if the apparent rape were not enough, he shares somewhat in the dark side of the object of his affections, and perhaps his role as 'healer' at the film's end is the least convincing aspect of Marnie. Nonetheless we're left with some formidable verbal and psychological sparring between the two protagonists, before the sad conclusion posits that Marnie is strong because she's crazy. Oh well…
8: Prizzi's Honor (1985)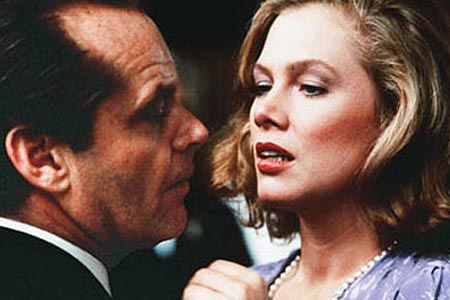 Mob-employed assassins Jack Nicholson and Kathleen Turner discover that they have both been contracted to kill each other by rival factions. This is very much Kathleen Turner's movie; Nicholson has lowered his IQ so much to play Prizzi as to relegate him to a well-timed comic turn, whereas Turner was carving herself a great career as a queen-bitch (though not even here can she top the giddy heights of Rob Reiner's The Man With Two Brains). The battle of wills between the two leads is engaging, and could only be more enjoyable if director John Huston had been able to settle on a mood for the film. The premise is engagingly comic, but the treatment shockingly varied, and this was something Turner was to experience again with No.6 (below).
7: Surrender (1987)
There is one iconic moment at the beginning of Jerry Belson's sex-war comedy that a million men, divorced or just jilted, immediately responded to in the trailer: rich writer Michael Caine is leaving his attorney's office, having yet again been divorced and fleeced by another of LA's 'settlement vampires'. He stands in front of two lifts, the doors to which open simultaneously. In one stands a huge thug with two vicious Rottweilers, in the other a gorgeous blonde. Caine looks from lift to lift, has a think, and gets in with Mr. Rottweiller. You've either been there, or you have that to look forward to, guys.
As a 'trailer-moment', this sold what turned out to be the merely amusing story of Caine, who decides to fake poverty in the hope of finding sincere love. When he chances across lovelorn (and genuinely struggling) artist Sally Field, it seems his ploy has paid off, but at what point will he confess? Later, it seems, than she will discover his secret…
6: The War Of The Roses (1989)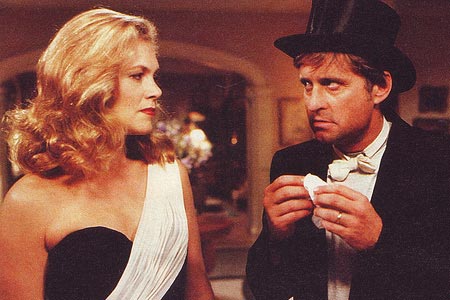 Danny De Vito's third screen outing in the company of Michael Douglas and Kathleen Turner suffers from misleading marketing, and it's not until it has disappointed you as a 'high-energy' comedy that you can rewatch and appreciate it for the black-humoured tragedy that it really is. Gone here is the spark of sexy antipathy in the Romancing The Stone movies, turned instead to a dark pathological hatred, as screen couple Douglas and Turner launch endless and (often literally) painful salvos against each other. The lexical barbs hit home as hard as the flying crockery, and the influence of late-eighties firepower seems to have infected what should be a more 'domestic' cinematic outing. There's no doubt that it has impact, in every way it possibly could, but it confounds its intention and leaves one with almost the same sense of romantic desolation as No.2, below.
5: Intolerable Cruelty (2002)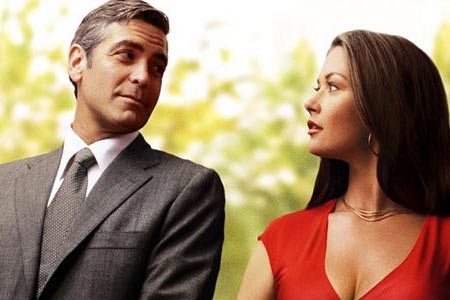 Very possibly the weakest of the Coen Brothers 'pre-revival' comedies (though there's fierce competition from The Ladykillers), and one would have wished for a far more able actress to pit against George Clooney's teeth-obsessed lawyer than Catherine Zeta-Jones… but in the end, this was the film where The Cloon was finally able to shine in his inherited 'Cary Grant' mantle, and it's a glory to behold in the wake of his excellent 'Bogart' in O Brother Where Art Thou? Can the sharpest divorce lawyer in California even protect himself from the litigious clutches and claws of an LA society 'black widow'…?
The look of horror on Clooney's face as he accidentally stumbles across the centrefold of Living Without Intestines in the ante-room to his fossilised boss's office is worth the price of admission alone, while the initial restaurant scene between Clooney and Jones is a classic clash of male and female egos, with two predators – each at the top of their game – circling each other in an almost pyrotechnic display of double-meaning.
4: Carnal Knowledge (1971)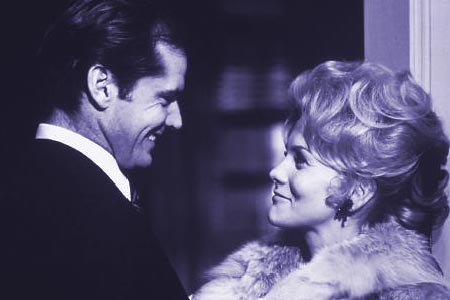 I've already spoken of this Mike Nichols' classic in Seven Movies Without An Ending, but it most certainly deserves a place here as well. In their university days, alpha male Jack Nicholson steals the girlfriend of his best friend, beta-male Art Garfunkel, setting both men off into a search for meaning in relationships with women; Garfunkel winds up as second-string in his own lifeless marriage, whilst predator extraordinaire Nicholson is confounded by the emerging feminist soul of 70s America.
He's part of the rat-pack generation, where girls were an adjunct to hedonism in a male-oriented world, but his attempts to connect with them, and his beguilement by the very complicated Ann Margret leave Nicholson isolated and impotent, unable to advance or retreat in relationship to the fair sex. Carnal Knowledge is a pessimistic take on the sex-war, and very much of its time. It's hard to say whether Nicholson's lonely fate is one that Nichols envisages for all men or only Nicholson's increasingly redundant sexual predator, but either way the movie leaves the viewer with scant hope.
3: In The Company Of Men (1997)
Oh, hard, hard. This is perhaps the bleakest view Hollywood has ever presented of the emotional and psychological chasm between the sexes – even No.2 (below) retains a vestigial streak of tenderness lacking in this brilliant but blasted cinematic sex-war. Neil LaBute's play hits the big screen with searing fidelity as emergent star Aaron Eckhart and down-at-heel office buddy Matt Molloy decide to turn what they perceive as the faithlessness and capriciousness of the female sex against them, determining to break the heart of their out-of-the-blue deaf 'victim', Stacey Edwards.
Lakeview Terrace and Wicker Man (2006) director LaBute has struck many a similar note of hopelessness since, but never again with the same raw intensity and freedom-to-fire. The closing shot, which I won't spoil, is almost a lithograph of the director's dark vision of the male psyche trapped between its needs and its aversions, and an enduring image. In The Company Of Men is a luminous but hard, hard film…
2: Who's Afraid of Virginia Woolf? (1966)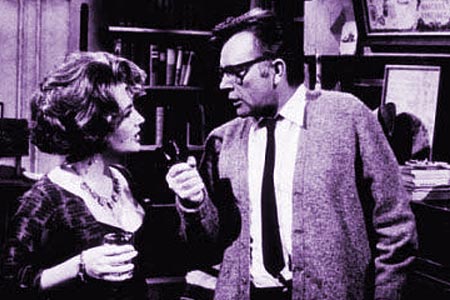 Edward Albee's source play may very well be the most dazzling and exhausting display of emotional and psychological sex-warfare ever to make it to the big screen. Richard Burton and Elizabeth Taylor finally earned their God-like status in Hollywood here, as the relentlessly antipathetic couple living out an apparently loveless and acrimonious marriage as fading talents at a state university.
When preppies George Segal and Sandy Dennis come round for dinner, the occasion proves a catalyst for a psychological war of attrition between Burton and Taylor, who play the young ones off and use them as yet more weapons to throw at each other in a voyage into spiritual and emotional turmoil. In the film's defence, it offers reasons for the bloodshed and pain, but one could also level that fact against it, as a rather 'pat' solution. Nonetheless there is a strong strand of compassion in Virginia Woolf that makes a gruelling experience at least a potentially cathartic one.
1: My Fair Lady (1964)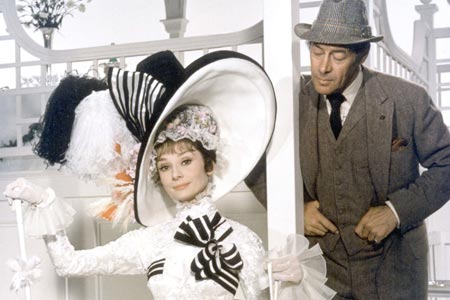 This was an inevitable No.1 for me, as this is my favourite movie of all time (with 2001: A Space Odyssey barely a dot in its wing-mirror). And I don't even like musicals much; Oliver has better melodies and even West Side Story has more convincing accents than Audrey Hepburn's cockney brogue. But no matter; My Fair Lady presents an epic and endlessly entertaining inter-sex struggle between an aspirational and stubborn London flower-girl and the grossly egotistical and self-adoring middle-class misogynist she chooses as her mentor (and stepping-stone to a better life).
Outrageous classics such as 'Why Can't A Woman Be More Like A Man' and 'I'm An Ordinary Man' instantly allay any charges of genuine misogyny, painting Rex Harrison's phonetics professor as an encapsulated balloon of frigid self-satisfaction, soon to be sorely pricked both by the caprices and stubbornness of the flower-seller that he has resolved to turn into an English rose. But he's no easy target, and mixes his offensive bachelor prejudices with common sense and humanity. It's therefore an epic battle, enlivened by the side-antics of Elisa Doolittle's hilarious ner-do-well father (Stanley Holloway), and I can easily forgive My Fair Lady the melodic but rather pointless 'On The Street Where You Live' (surely the all-time 'stalker's anthem' in the movies). There is joy, sadness, some truth, and at least a note of hope and reconciliation in this titanic battle of wills.
Also consider:10 Things I Hate About You (1999)Adam's Rib (1949)Disclosure (1994)His Girl Friday (1940)How to Lose a Guy in 10 Days (2003)Irreconcilable Differences (1984)Oleanna (1994)Overboard (1987)What Women Want (2000)