Features
Top 10 atmospheric films
We got hot, we got cold. So whaddya want, hot or cold...?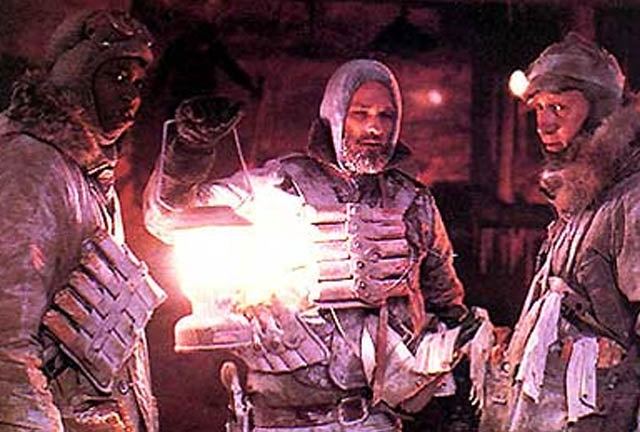 For all its associated inconveniences, I'm pleased to have seen London under snow after so many insipid winters. The fact that the city usually languishes under a dishrag-grey canopy might be one of the reasons that I particularly enjoy films with committed weather. Even if it's bad weather, at least it's got something to say.
An atmospheric film isn't just one with extreme weather, though; Gorky Park, Night Of The Big Heat and Smilla's Feeling For Snow all feature extreme weather, but none of these are good movies and none are rescued by the ambience. Here are some films – not all good – where the weather saved or made the show…
10: 12 Angry men (1957)
It's hot as hell, the fan's bust and nearly everyone in the jury room just wants to get the kid executed and go home to watch baseball. Except Henry Fonda, who's going to drag everyone over the coals to make sure the verdict is fair. The sense of claustrophobic foreshortening in Sidney Lumet's tense classic is enhanced by the increasing number of close-ups as the film progresses. If ever your heating goes off, watch this in a double-bill with In The Heat Of The Night and you might feel the difference. Oppressive and ultimately explosive stuff.
9: Nosferatu the Vampyre (1979)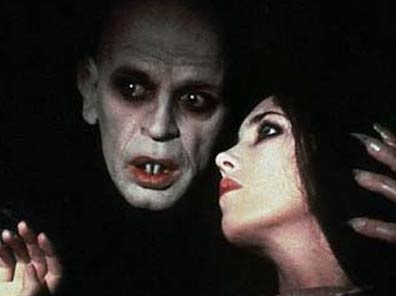 Dracula's icy heart spreads out into the landscape. Werner Herzog set his remake of the Murnau expressionist classic about 60 years earlier than in Bram Stoker's novel, and this ramps up the film's eerie sensibility for the harshness and sterility of the winter landscape. Murnau changed a few details and character-names in a vain attempt to avoid lawsuits for his blatant appropriation of the original novel; Herzog had no such duty of care, and so rearranges (as have all directors who have taken on Dracula) the Stoker source-material at will. The film was shot in what seems a particularly bleak winter in the Netherlands, and what little colour remained in the landscape or the actors has been drained off with make-up and cinematography. The film actually feels more anaemic and chilled than if it had been filmed in black and white, as one has just enough sense of colour to understand that it's lacking.
8: Runaway Train (1985)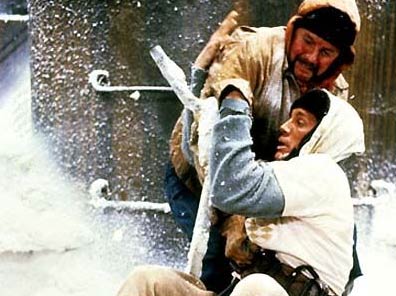 There's a lot wrong with Andrei Konchalovsky's rough-hewn tale of two convicts hurtling through the Alaskan wilderness in an out-of-control train, but leads Jon Voigt and Eric Roberts both got Oscar nominations out of Runaway Train, and the sense of icy desolation and fatalism is palpable. The scoring and choice of music (including Kyrstof Penderecki) adds considerably to this, while the ending provides one of modern cinema's most powerful and memorable images. Capable of inducing sympathetic chilblains.
7: Apocalypse Now (1979)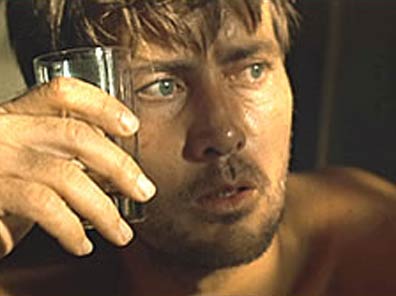 Oddly enough, it's not the later jungle or river settings that convey the stifling heat of summer in Vietnam, but rather the early scenes of Willard (Martin Sheen) waiting for his orders in Saigon. Most of the techniques are straight out of film noir – fans and fan shadows, seedy rooms and lots of sweat. It was probably that litre of Scotch that helped Sheen on to his famous heart attack after the mirror-smashing scene, but the temperatures couldn't have helped.
6: The Bourne Identity (2002)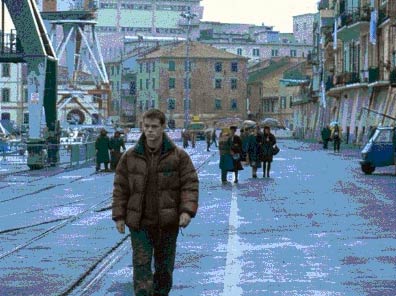 No, I'm not throwing this in for 'something more recent' – this is the only Bourne film that I like, and mainly for the excellent sense of winter as Jason Bourne goes on the run across Europe while he tries to find out who he is and why everyone is trying to kill him. Listening to the Doug Liman commentary, it transpires that more than one scene had to be redubbed because the actors' lips were too frozen to speak properly.
5: The Saragossa Manuscript (Rękopis znaleziony w Saragosie,1965)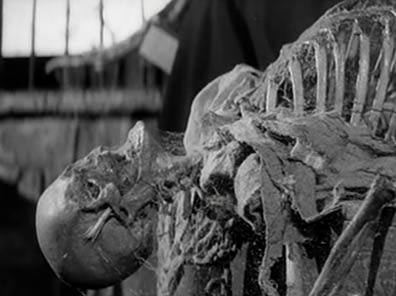 It's ironic that one of the few films able to express blistering heat more inventively is Polish. I'm not going to kid you – The Saragossa Manuscript is a very, very long haul at over three hours, but it does keep surprising you with flashes of visual invention and occult terror that are well ahead of their time. An early sequence finds a Spanish soldier faced with the prospect of taking a shortcut through the cursed Sierra Morena Mountains, where madness and temptation await him. It's in this sequence that director Wojciech Has demonstrates a real feeling for the 'gothic', in the original sense of a capacity to feel terrorised by landscape and weather. Here the weather is scorching, and some of the Sierra Morena shots are very dehydrating to watch. Hot weather has fewer visual tropes to exploit than freezing weather. Just as 'buzzing flies' stand in for 'bad smells' in movies (along with grabbing your nose), sprayed glycerine tends to stand in for high temperatures, but this is a more imaginative approach. It was all done with broader strokes during Clint Eastwood's persecution in The Good The Bad And The Ugly, but never with such creepiness.
4: Jeremiah Johnson (1972)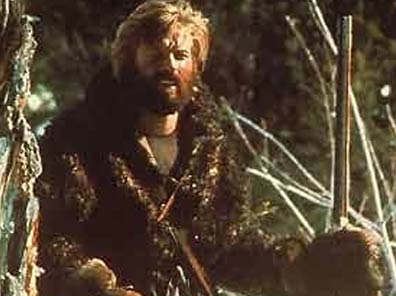 Robert Redford's under-regarded epic about a man who seeks refuge from mankind in the American wilderness was filmed at Sundance and several national parks around Utah in the deepest grip of winter. It's one of the best 'snow films' ever made, and also one of the most contemplative film experiences around, with the snow-laden landscape expressing the spirit of the piece for Redford's likeable but taciturn character; however, those who demand quick-cuts and rapid plot development from a movie had better stay away from this. It's not hard to believe that Clint Eastwood was originally to star in Jeremiah Johnson (which shares a little eco-sentiment with The Outlaw Josey Wales), but it's harder to imagine original helmer Sam Peckinpah easing into Sydney Pollack's Zen-like pace.
3: The Thing (1982)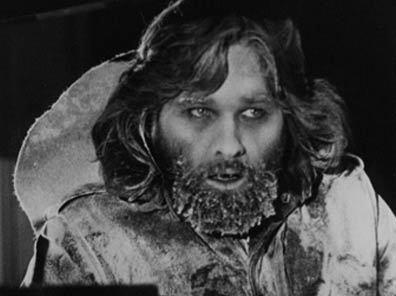 Like frozen hell and radio static weren't enough, now we don't know who's human and who's alien. Jeez.
This Universal classic was John Carpenter's first studio-movie, and one of a relatively small number of films with enough budget and conviction to refrigerate the set (The Exorcist being arguably the most famous of them). The production team found that 40 Fahrenheit was cold enough to get visible breath if the air was kept damp enough; the actors would pop outside the set into a 100-degree record heat wave, and most became ill because of this stark and daily contrast in working conditions.
The location as written is as remote a setting as planet Earth offers, and Carpenter is able to back that up with first-class production design. The chilliest scene is arguably where McReady (Kurt Russell) has broken back into the base and menaces his paranoid colleagues with dynamite; in the scene Russell's beard is iced over, the colour seems to have been frozen out of his eyes and he looks like the living dead. Brrrrrrr.
The exterior South-pole base-camp sets were designed by John L. Lloyd and constructed in the Summer months at a mining-road plateau in Stewart, British Columbia, so that the snowfall would complete the set by the time the crew arrived. A couple of fans visited the site in 2003 and came away with souvenirs such as rotor blades from the destroyed Norwegian helicopter.
2: The Day The Earth Caught Fire (1961)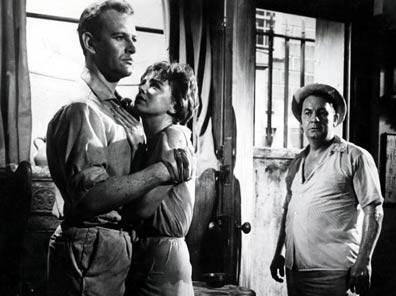 There's a huge amount to enjoy in Val Guest's tale of global warming. This time it's nuclear testing that's to blame for the earth getting roasted; before you know it there are water-ration camps, bikini sections in Hyde Park and some low-key – but rather ahead-of-its-time – eroticism in the relationship between booze hound hack Edward Judd and government informant Janet Munro. The Thames runs dry, Britain is hit by typhoons, beatniks rebel on the streets and the editor of the Daily Express is actually played by the real-life editor of the Daily Express. If that's not enough there's the delightful Leo McKern and an intelligent script that fires out first-class one-liners like Gatling rounds. But above all else, you can really feel the Earth catching fire; though filmed in black and white, the opening and closing sections of TDtECF are tinted a burning orange, and it really conveys the desolation of tinderbox London.
1: The Fearless Vampire Killers (a.k.a. Dance Of The Vampires, 1967)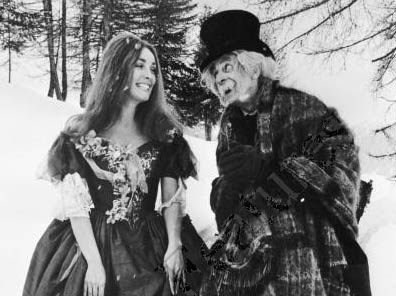 Y'know what? In general this is not a great film. Polanski's experiment with comedy took in the broad and physical humour common to 1960s comedies, and the dialogue is threaded with trademark Richard Lester-style gabbling. Polanski's intensity (he also cuts a Kafka-esque figure as the co-star) gives the film considerable pathos, which is broken by over-long comedy set pieces that don't work.
But no matter; I could watch this movie again and again for the intense gothic atmosphere and sense of isolation.
Roman Polanski had never had as opulent a budget, and he spent it with abandon on the highest production values and on Winter location shooting, with the Austrian Alps and the Dolomite mountains standing in for the threatening landscape of Eastern Europe. Cinematographer Douglas Slocombe went on to the Indiana Jones trilogy, but for me, this is his finest hour. The integration between the harsh location shoots and the elaborate and sweeping UK studio sets is seamless, and the scenery breathtaking. Hammer never had it this good, and could probably have knocked out 5 films for what FVK cost.
Also considered:FargoFrankenstein: The True StoryInherit the Wind Night of the Iguana Night of the HunterOnce Were WarriorsThe Shining Excalibur
"Tonight, hell freezes over!"
– Mr Freeze, Batman And Robin (1997)
"Did you know, Putnam, more people are murdered at ninety two degrees Fahrenheit than any other temperature? I read an article once – lower temperatures people are easy-going, over ninety two it's too hot to move but just ninety two, people get irritable!"
– Charles Drake, It Came From Outer Space (1953)
4 February 2009