News
Tone-Deaf Trailer Shows Off New Horror-Comedy with Robert Patrick
Check out the trailer for Tone-Deaf, a new horror-comedy that shows what happens when you move next door to Robert Patrick.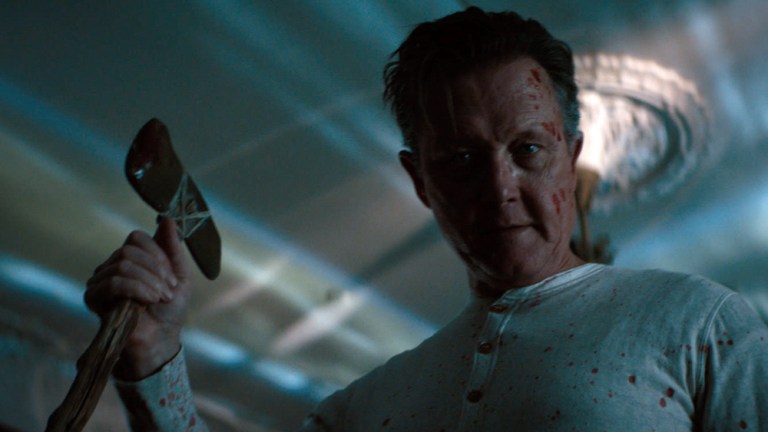 It may have been a little while since the days of Terminator 2, but judging by the trailer for Tone-Deaf, it's safe to say that you still do not want Robert Patrick coming after you. That's at least the immediate takeaway after viewing what happens when Amanda Crew's Olive moves next door to him.
In the new film, which played at the SXSW Film Festival, Crew portrays a young woman who after losing her job, and ending a tortuous relationship, goes in search of her "eat, pray, love" life moment by spending the weekend in a remote house. Secluded. In the countryside. Her only neighbor is Patrick's Harvey. According to the synopsis, Harvey is an "old-fashioned" type of widower. One who might, just matter of factly, struggle with psychotic tendencies. Uh oh.
Tone-Deaf is Robert Bates Jr.'s fourth directorial effort after movies like Suburban Gothic and Trash Fire.
We also had the chance to speak with Patrick, Crew, and Bates at SXSW earlier this year. During the conversation Bates said, "The idea for the movie was based on this Norman Rockwell painting called "The Connoisseur." It's the one where the old gentleman in a business suit is looking at a sort of Jackson Pollock recreation. And Norman Rockwell did it as a stab at abstract expressionism or whatever. So that painting has always stuck with me. I felt like that was my parents watching my movies, so that was the genesis of this character and why he has these nightmares where he's stuck in an art installation where his nightmares of the future are being acted out in front of him."