News
Tom Hanks to Star in Mattel's Major Matt Mason Movie
Mattel's 1960s astronaut toy line, Major Matt Mason, is getting a live-action movie, with Tom Hanks set to star.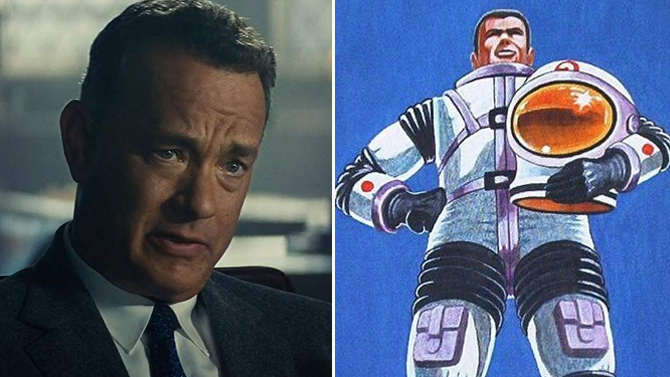 Tom Hanks has chartered another onscreen adventure in space, having signed on for Major Matt Mason, a movie based on Mattel's 1960s line of astronaut action figures.
Hanks is set to star in the live-action film adaptation of Major Matt Mason, reports Variety. The film will see Hanks joined by a familiar face in writer Akiva Goldsman, the Oscar-winning A Beautiful Mind screenwriter, who wrote two entries of his Dan Brown movie adaptations, The Da Vinci Code and Angels & Demons, amongst a CV that includes recent work on DC Universe's Titans, CBS All Access's Star Trek: Discovery, as well as The Dark Tower movie, Transformers: The Last Knight and Rings. Goldsman is adapting the script off a short story from Pulitzer Prize winner Michael Chabon.
The Major Matt Mason toys, produced by Mattel from 1966 to 1971, was a clear capitalization on the Space Race, utilizing the same structure of Hasbro's G.I. Joe, (which, itself, was a boy's line answer to Mattel's Barbie). The line centered on its eponymous astronaut, who lived and worked on the Moon, supported by an array of accessories and vehicles as well as cohorts Sgt. Storm, Lt. Jeff Long (an early example of African-American toy representation,) and civilian Doug Davis. However, its initial adherence to realism gave way to science fiction, with the addition of friendly alien Captain Lazer, along with antagonistic insectoid aliens like Callisto and Scorpio.
Further Reading: Tom Hanks' Film Debut was a Drama About Dungeons & Dragons
The film, which is set with Paramount Pictures, will be co-produced by Mattel Films, the recently-launched studio arm of the toy company, which has been quickly growing its backlog with in-house adaptations of Masters of the Universe (which will star Noah Centineo as He-Man), Barbie (which will star Margot Robbie,) and, curiously enough, Hot Wheels.  
For two-time Best Lead Actor Oscar winner Hanks, who'll next be seen in November-scheduled Fred Rogers biopic A Beautiful Day in the Neighborhood, the Matt Mason movie will see him back in space, where he famously went onscreen as Jim Lovell in 1995's Apollo 13, eventually further exploring the backdrop on HBO's 1998 miniseries, From the Earth to the Moon, for which he not only appeared, but wrote and executive produced. Amongst Hanks's backlog are 2020-scheduled films in World War II drama (and another topical return) Greyhound, sci-fi film BIOS and director Baz Luhrmann's untitled 2021-scheduled Elvis Presley biopic, in which he'll play manager Col. Tom Parker.
We'll keep you updated on Paramount/Mattel's Major Matt Mason movie as the news arrives!
Joseph Baxter is a contributor for Den of Geek and Syfy Wire. You can find his work here. Follow him on Twitter @josbaxter.