Reviews
Tim Vine: So I Said To This Bloke DVD review
Not the highest profile stand-up comedy DVD of the season, but Tim Vine's gig is going to take some beating…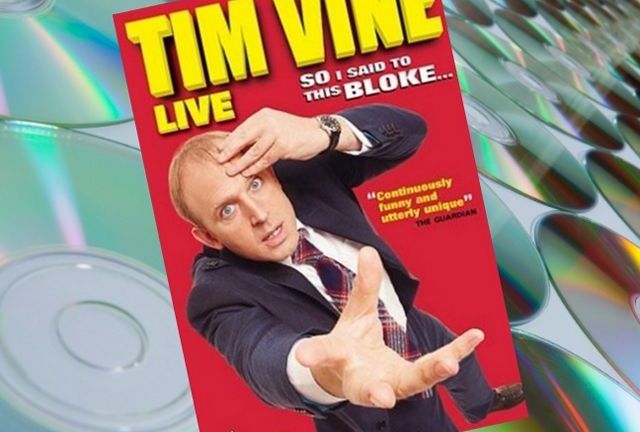 Adorned with a PG certificate and the kind of material that doesn't seem to fit into the supposedly edgier modern day world of stand-up comedy, Tim Vine's second stand-up DVD it would seem has the odds stacked against it from the start. After all, the Christmas comedy DVD best seller is expected to be Frankie Boyle's forthcoming disc, a performer that Vine couldn't be more removed from.
And yet, from pretty much nowhere, this is surely the disc to beat, generating more laughs in its slender main feature running time than pretty much every stand-up DVD released last year, and thus far in 2008 as well.
For Tim Vine loves puns. Actually, that's a bit disingenuous, because on the basis of this gig, he loves puns, silly props, comedy songs, and throwing all manner of material at his audience in the hope of making them laugh.
And the end result is quite hilarious. From the moment he takes to the stage, carry a brain on the end of a fishing rod, you're in for 64 minutes (a brief running time, granted, but we'll come to that shortly) of a man who transforms himself into the Zucker Brothers of stand-up comedy. It doesn't matter how silly the gag, how daft the punchline, Vine is willing to give it a go.
But here's the thing. Dig deeper, and there's a lot more to Tim Vine than he's given credit for. For while his jokes may occasionally stretch a little to force a laugh, you won't be groaning at them. This, genuinely, is a man who can deliver hundreds of funny punchlines in an hour, and while you sometimes wonder if he'd spend a little more time telling a story – because there's little doubt he could tackle that, too – the machine-gun attack of puns is utterly irresistible. Certainly when I was testing the gig, my wife was sat in the corner of the room working on a laptop. But her resolve weakened and she too find herself rapt by the avalanche of mirth that Vine fires in his audience's direction. That's part of the charm of the man's performance: he simply wears down any cynicism, by continuing to batter you with funny lines, and strong delivery.
The jokes, you could argue, aren't always clever, and aren't always sophisticated. But they're never cheap, they're family friendly, and most importantly of all, the hit rate is staggeringly high. Delivered with consummate timing, he even manages to get away with stopping proceedings for the best part of five minutes to try and throw a pen behind his ear. It's perhaps the beauty of his act: you never know what he's going to try next. "And now ladies and gentlemen", he screams at one point, "the highlight of the show", promptly pulling a huge highlighter pen out of his pocket. And then he moves on, fully aware that he's got dozens more puns to fit in.
The relatively brief running time of the gig is perhaps the downside, but the rewatch value here is immense. And the disc is also jam-packed with a heavy selection of extra features that more than covers the value-for-money angle. There's a real feeling here that someone's bothered to make a good value package, from Vine trying various sports, to extra excerpts from his gigs (including his dad telling a joke), there's a bountiful amount of material here, and much of it happily generates added laughs. It's a very good package.
As for Mr Vine himself, he's no further tour plans at the time of writing, and that's a pity. For on the strength of this DVD, the next time he announces some dates, it'd be a wise plan to pick a couple of tickets up. A terrific disc.
The Feature:
The Disc: