Reviews
Tim Minchin: So Fucking Rock Live DVD review
James is a huge fan of Tim Minchin. But not, oddly, of this DVD...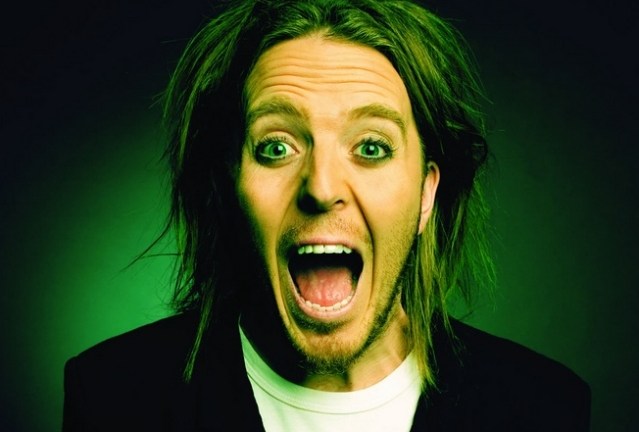 Tim Minchin's had quite a good year, parlaying awards wins and critical success into a marked growth in his live fanbase. The comedy-pianist's summer may well have culminated in a performance at this summer's Latitude Festival, where Minchin's antipodean charm and obvious gift for musical comedy left festival-goers unanimously agreed that Bill Bailey, the previous standard-bearer for musically-delivered whimsy, may have met his match – a fact cemented when Bailey performed shortly after Minchin and was unable to meet the high expectations the audience had been left with.
Riding high on a wave of acclaim, Minchin has released his DVD, So Fucking Rock, as an HMV exclusive. Off the back of a successful DVD, Minchin's catchy, intelligent songs and timeless reference points could quite easily made him a performer enjoyed by young and old – he's almost a household name in the making. It's a real pity then, that So Fucking Rock seems likely to be anything but a successful DVD.
Clocking in at a hefty two hour running time, the show is comprised largely of Minchin's early work. The gigs over the past year that helped cement him on the live circuit, however, have largely concentrated on his newer material, which is vastly superior. Having seen him deliver tight, hilarious 30- and 40-minute sets of new, sometimes even incomplete songs on several occasions, it's hard not to think that So Fucking Rock doesn't so much need the fat trimmed as it needs a complete course of liposuction. The better material tends to show up towards the end of the show, though the appearance of the comically earnest eco-anthem "Canvas Bags" at the halfway point injects a welcome shot of energy into the show. Still, the final 30 minutes – containing one of his simplest, funniest songs to date, "Peace anthem for Palestine" – are the only ones which truly confirm that this is the same Minchin currently sweeping other performers off the stage.
By comparison, the opening 30 minutes are perhaps the worst on the disc, and the momentum never really gets going after such a weak start. The show begins with Minchin miming vocals to the show's (recorded) theme song, followed by some initially inaudible audience interaction which goes on far too long as he shuffles his way self-consciously towards the piano, as if afraid of actually beginning his performance. A more excruciating sequence you won't find on the DVD. It seems self-indulgent to have left such plodding, undeveloped material in the cut, and displays none of the intelligence and satirical gift that is the source of Minchin's real humour. By the time he gets around to that, your brain is already switched off.
The problems aren't solely with the material, though. Minchin's twitchy demeanour and tentative delivery, so ingratiating in a live performance, is all but buried in a dissatisfying sound mix apparently over-optimised for his piano performances. Combined with camerawork that leaves him a practical speck on a yawning stage, you have to wonder if the production team got it the wrong way round, and approached the show as a musical concert first and a comedy gig second. While Minchin himself has said in the past that he doesn't consider himself a "stand-up" performer, the song explanations and personal interaction are central to the live experience, and need to be given more prominence than this DVD allows them. You'll find yourself so busy straining to hear his between-song banter or see what expression he's pulling that the jokes won't be funny by the time you actually manage to catch them.
For a 2-hour show, DVD extras aren't really necessary, although the intermission does feature some amusing scribblings over the crowd, ostensibly by Minchin himself. Even so, since the show under-delivers, a few extras would've gone some way to redeeming the package, and ultimately, the DVD seems unlikely to reward those who came looking for the same level of comedy they experienced live. Worse yet, if it's anyone's first exposure to Minchin, they could be wrongly underwhelmed by him. So do yourself and your friends a favour – skip this, and buy a ticket to his live performance instead. You won't be able to rewatch it, but unlike the DVD, at least you'll want to.
Feature:
Extras:
---