Reviews
Tim and Eric Awesome Show, Great Job! Season One DVD review
Blimey, there's no room left for a description! Read on...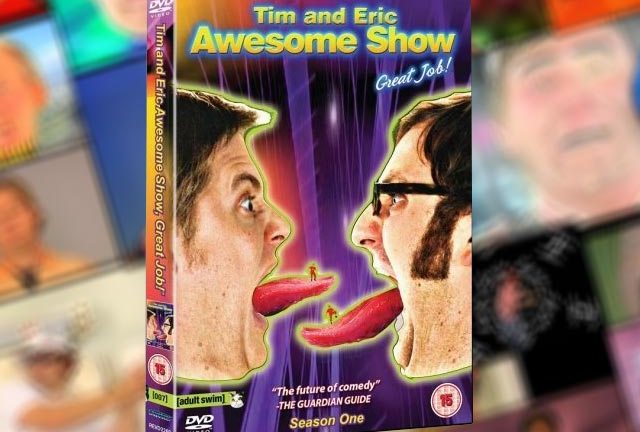 "As beautiful as the chance encounter, on an operating table, of a sewing machine and an umbrella," wrote the poet Isidore Ducasse in 1868, aptly summing up the Surrealist movement's ethos some fifty years before it even existed.
Over a hundred and twenty five years later, Vic Reeves sang, in one of his typically bizarre ditties, "Like a shrimp in a suitcase laying on a window ledge/like a pair of tartan slippers and they're underneath a hedge" – firm evidence, if any were needed, of the influence of the Surrealist movement on British comedy, an influence that can be traced all the way back to the late forties with Spike Milligan's work on The Goon Show. And while Milligan clearly inspired the hugely popular Monty Python's Flying Circus, a series that became a cult hit all over the world, it seems as though the type of surreal humour typified by Reeves and Mortimer or The Mighty Boosh remains a distinctly British eccentricity – or at least, that's what I'd always assumed.
Tim And Eric Awesome Show Great Job is unlike any American television show I've ever seen; by turns chaotic, languid, funny and curiously frightening, it's probably about as close as you're likely to get to a US version of Monty Python.
Originally shown on US cable channel Adult Swim, Awesome Show is fronted by Tim Heidecker and Eric Wareheim, two thirty-something comedians with the sort of faces that induce laughter and a frisson of unease at the same time; weird, detached conversations to camera are rapidly intercut with terrible video effects, random images and sub-Gilliam animation. Whole episodes (which are over in ten mind-boggling minutes) are devoted to gravy burglary, creepy ventriloquism and adverts for dubious products.
The sinister air is further compounded by the show's skid-row budget; almost everything is shot on digital cameras in front of a green screen, giving the distinct impression that the production is entirely the work of two complete maniacs filming in their garage – which is, of course, the whole point.
Where Vic Reeves parodied the light entertainment format, Tim & Eric works as a surreal reimagining of American cable TV; watching an episode of Awesome Show is like flicking through cheap US daytime television stations at a hundred miles an hour – you never quite know what you're going to see next.
Weird Al Yankovic and John C Reilly turn up in extremely funny cameos (Reilly's turn as the highly disturbed TV presenter Steve Brule is particularly fine). Tim turns into a cat. There are bad electronica music sequences. Cookery. More bad adverts. And so it goes, for ten turbo-charged episodes. The DVD also includes a copious dollop of extras, including extended and deleted scenes, production footage and promos.
While the scattershot format of Awesome Show doesn't always work – like all surreal comedy, it bewilders as much as it entertains – it's still brilliant, often laugh-out-loud funny, and watching a few episodes on the trot has a strange cumulative effect as though Tim and Eric's warped imaginations are beginning to corrupt your own.
Not a programme that everyone can appreciate, I'm sure – fans of Friends need not apply – but for anyone who appreciated The Smell Of Reeves And Mortimer or Snuff Box, this is delirious, hilarious stuff.
Good job!
Tim and Eric Awesome Show, Great Job! Season One is out now.