Reviews
Thoughts Of Chairman Alf DVD review
Alex reviews the DVD of Warren Mitchell's one-man show from 1994, and finds that Johnny Speight's bigoted pensioner is truly showing his age...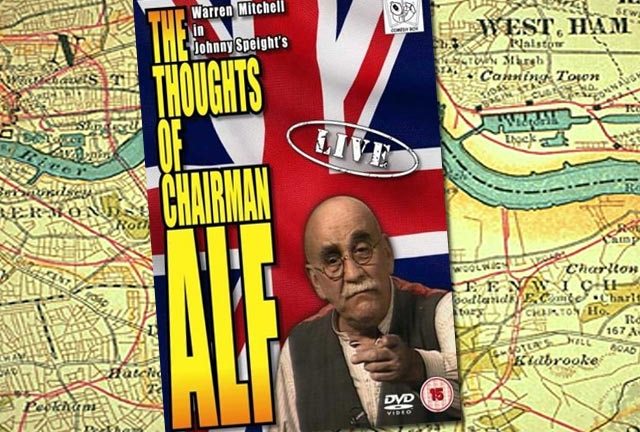 This show is from 1994, the height of John Major's government. Paradoxically the topical material is now the most dated. Political jokes, an inevitability in Alf Garnett's case, don't help this performance other than to put it in period. Alf addresses the audience unchallenged. At times this is quite amusing especially when Mitchell acts faux drunk. The audience of mainly over-60s appear to enjoy the thinly veiled political barbs, however It's disconcerting to see such a positive response from the elderly audience to Alf's assertion that Enoch Powell was right…
In an all too brief interview with Warren Mitchell defends Johnny Speight 's writing as a satire on a right-wing bigot. Alf was based on a type Mitchell describes as "the backroom shop-steward";- the railway worker at Euston with very political views – "if I was Prime Minister…" etc. Acknowledging that Alf was a monster, Mitchell is keen to point out Garnett is a grotesque with few redeeming features.
Til Death Us Do Part was piloted as part of Comedy Playhouse with Gretchen Franklin, later seen as Ethel Skinner in Eastenders as Else Garnett. Unavailable to do the series, Dandy Nicholls replaced Franklin making the part her own. Many anecdotes have been aired elsewhere, especially regarding the "fan" who misses the point that the character is a satire. Mitchell is often addressed by fans as "Alf" some even declaring a solidarity for support of West Ham. Mitchell draws the line here as he's a dedicated Tottenham fan!…
Til Death us Do Part was ground-breaking television in 1966. Garnett still had interesting and relevant things to say as a pensioner when the series returned in the Eighties as In Sickness and In Health. The simple fact is the character doesn't work as well without others to bounce off. The audience have grown up with Alf Garnett and indeed grown old with him too. One wonders how many of them, even aware of the conceit, secretly believe Alf expresses things they actually feel.
Alf Garnett was best in small doses. There are some funny lines but the whole venture feels like a once good idea that has gone on too long…
Running Time: Feature: 72 minutesExtras: 8 minutesFeature:
Extras: