News
Thor: Ragnarok Version of Valkyrie Joins the Marvel Comics in Exiles
Marvel's dimension-hopping team returns in April with a movie hook.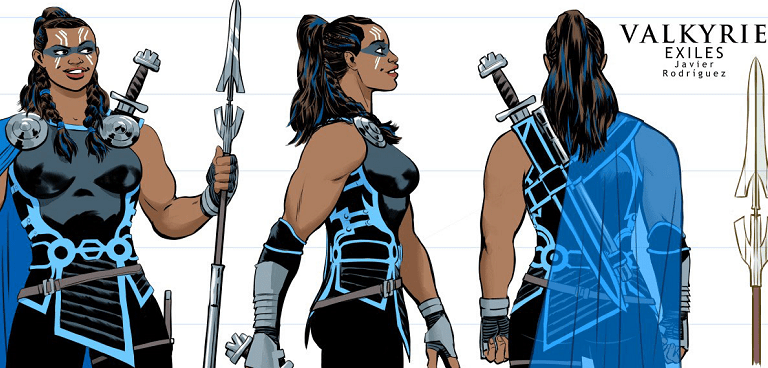 April sees the return of a classic X-adjacent team book in Exiles, with some interesting new additions. The team was originally comprised of mutants from parallel universes, led by Blink from the Age of Apocalypse, on a mission to protect the multiverse. This new team is led by Blink again, but incorporates Iron Lad, Lil Wolvie, a Kamala Khan from what looks to be Akira's Neo-Tokyo, and a Valkyrie based on Tessa Thompson's character from the surprise hit Thor: Ragnarok.
The creators attached to the book are Saladin Ahmed (Black Bolt) and Javier Rodriguez (Spider-Woman), and that is a killer creative team. Black Boltis Ahmed's first comics work, and its treatment of the silent title character as well as surprise breakout character Crusher Creel has been terrific, and his novel Throne of the Crescent Moonwas a delightful fantasy read. Rodriguez was arguably the best artist on a Marvel book in 2016 on Spider-Woman, and later killed it on Doctor Strange and the Sorcerers Supremeand Royals.
The original Exileswas created by Judd Winnick and Mike McKone, who returns to do covers for this volume. The book followed AoA Blink and a semi-rotating cast of characters that at various times included a Warpath who had been made into a Horseman of Apocalypse; Nocturne, the daughter of Nightcrawler and the Scarlet Witch; a Namora who had conquered her Earth; a militarized, Hellion version of Kitty Pryde; and literally 50 different versions of Wolverine. Its premise was basically What If…You Actually Cared About The Characters In A What If Comic?They would jump from world to world, fixing problems only they knew about and could solve, often losing members in the process. So basically Suicide Squad meets The Cross-Time Caper.
The series ran for 100 issues before being cancelled. A version of Blink has been recently seen in the pages of Cable. For some preview art of the new, movie-inspired (but not the actual movie version, according to Ahmed) Valkyrie, keep scrolling. For more on this book, or Exiles from any reality adjacent to our own, stick with Den of Geek!