News
Thor: Ragnarok Blooper Reel Released
As you might expect, the Thor: Ragnarok blooper reel is everything. We also have a ton of info on the DVD/Blu-ray bonus features!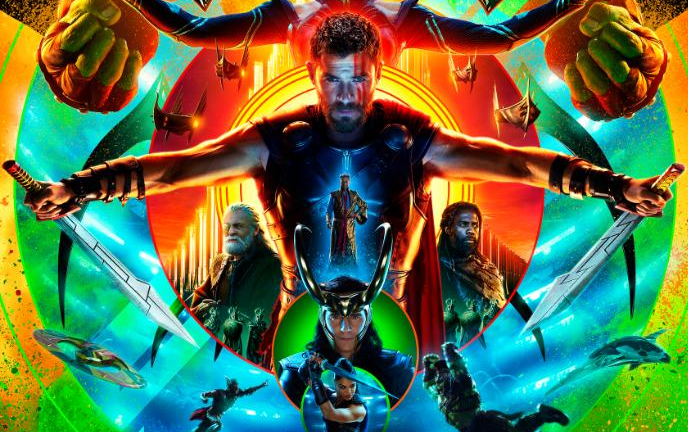 In Norse mythology, Ragnarok is not a good thing. But when it comes to blockbuster superhero movies, it certainly is. And now, Thor: Ragnarok is coming to DVD, Blu-ray and digital formats. 
To celebrate, Marvel has released the bloopers and outtakes reel from the movie. As you might expect, it's incredible.
Check it out…
But that's only the start of the goodness! We have all of the details on the Thor: Ragnarok home release for you right here!
Thor: Ragnarok DVD/Blu-ray Release Date
You can watch Thor: Ragnarok in the comfort of your own home as of February 20. You can pre-order it here. Those of you who want to own a physical copy have to wait a little longer, though, as it won't be released until March 6. You can pre-order physical formats here.
Thor: Ragnarok DVD/Blu-ray Bonus Features
BONUS MATERIAL (may vary by retailer):
Blu-ray:
Director's Introduction

Deleted/Extended Scenes –

 Deleted Scenes: The Sorcerer Supreme, Skurge Finds Heimdall & Hulk Chases Thor Through Sakaar and Extended Scenes: Thor Meets the Grandmaster, Stupid Avenger vs. Tiny Avenger & Grandmaster and Topaz

Gag Reel – 

Watch a collection of goofs, gaffes and pratfalls starring the cast

Exclusive Short/Team Darryl

 – Fresh off being unseated as the ruler of Sakaar, the Grandmaster makes his way to Earth to start a new life. It's been over a year since Thor left Australia and Darryl has been struggling to pay his rent. Now Darryl needs a new roommate to help make the monthly payments. Unfortunately for Darryl, the Grandmaster was the only one who answered Darryl's "Roommate Needed" ad and with no viable options, the Grandmaster moves in.

Marvel Studios: The First Ten Years – The Evolution of Heroes

 – Marvel's universe is vast and transcends both time and space. We'll examine the Cinematic Universe as a whole and revisit each of our heroes' current location and their place in the current MCU timeline, as it all leads up to the one culminating event: "Avengers: Infinity War."

Getting in Touch with Your Inner Thor

 – "Thor: Ragnarok" director Taika Waititi has brought his unique sensibility and sense of humor to the film in a great many ways but it is the evolution of Thor's own sense of humor, which stands out the most in the new film. This piece explores the impact Chris Hemsworth has made on the development of his widely-loved character and celebrates the mighty cast and crew who reveal the fun and hard work that went into assembling Thor's eccentric counterparts.

Unstoppable Women: Hela & Valkyrie 

– This piece explores the strong female characters in "Thor: Ragnarok," their importance in the MCU, their incredible casting and their epic comic origins.

Finding Korg

 – A tongue-in-cheek interview with Taika on casting Korg. He describes the difficult search for just the right evolution of the character design, and the nuances of this instantly classic character in the MCU. This conversation will also delve into all the extraordinary visual effects that brought Korg, Sakaar and the worlds of "Thor: Ragnarok" to life.

Sakaar: On the Edge of the Known and Unknown

 – Sakaar is the collection point for all lost and unloved things. This documentary will answer all known and unknown questions while also exploring the hard work and creativity that went into creating the look and feel of Sakaar. From design inspired by Jack Kirby's classic artwork to the dedication of the visual development team to the awe-inspiring physical and digital production, you will see this distant world come alive.

Journey into Mystery

 – A deep dive story piece with the writers, director and producer Kevin Feige about the inspirations for "Thor: Ragnarok" within the comics. Most notably, the contest of champions limited series where the Grandmaster pitted our favorite heroes against one another as he does in the film. This piece also further explores Thor's comic book origins and classic arcs through interviews with some of the most important comic creators, such as Walt Simonson and Jack Kirby.

8bit Scenes – 

Final Bridge Battle + Sakaar Spaceship Battle. Dive into these climactic sequences presented in retro video-game format.

Directors Commentary
Digital Exclusives:
Evolution of Thor and Hulk's Bromance

 – We'll examine this Super Hero friendship, which has spanned through several Marvel films. From their original Helicarrier fight match to the now iconic Hulk punch from Avengers 1, see how Marvel's most powerful Super Heroes become the most extraordinary Super Hero buddies.

Additional Deleted Scenes – 

Travel to Asgard & Race To The Wormhole
DISC SPECIFICATIONS (applies to film content only):
Product SKUs:   Cinematic Universe Edition (4K UHD+Blu-ray+Digital), Multi-Screen Edition (Blu-ray+DVD+Digital), Digital HD/SD/4K UHD, DVD and On-Demand
Feature Run Time: Approximately 130 minutes
Rating: PG-13
Aspect Ratio: 2.39:1
Audio:   
UHD BD: English Dolby Atmos 7.1.4, English & Spanish 7.1 Dolby Digital Plus, French Canadian 5.1 Dolby Digital, English DVS 2.0 Dolby Digital
Blu-ray: English 7.1 DTS-HDMA, Spanish & French Canadian 5.1 Dolby Digital, English DVS 2.0 Dolby Digital
DVD: English, Spanish & French Canadian 5.1 Dolby Digital, English DVS 2.0 Dolby Digital
Digital UHD: English Dolby Atmos 7.1.4, English DVS 2.0 Dolby Digital
Digital HD: English & French Canadian 5.1 Dolby Digital, Spanish 2.0 Dolby Digital, English DVS 2.0 Dolby Digital
Languages/Subtitles:               UHD BD: English SDH, Spanish, French Canadian
Blu-ray: English SDH, Spanish, French Canadian
DVD: English SDH & CC, Spanish, French Canadian
Digital UHD: English CC, Spanish, French Canadian
Digital HD: English CC, Spanish, French Canadian
Thor: Ragnarok Trailer
Check out all the trailers!
— Rotten Tomatoes (@RottenTomatoes)
August 16, 2017
The second Thor: Ragnarok trailer arrived at SDCC 2017! Check it out!
We broke down what this one means right here.
Here's the first teaser trailer…
This has way more of a Guardians of the Galaxy vibe than we were expecting. That's not a bad thing at all. Forget Earth, Thor needs to be out doing cosmic stuff. With Led Zep cranking the whole time. This looks like a blast. 
We have a complete breakdown and analysis of this trailer right here!
And check out this colorful poster, too!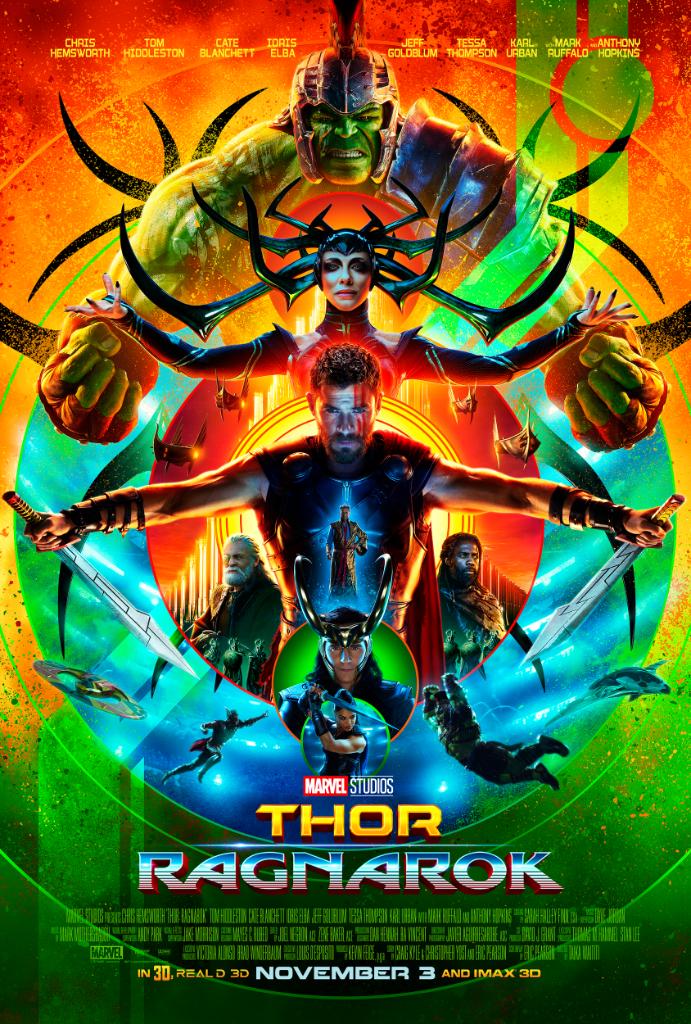 Thor: Ragnarok Cast
Cate Blanchett is playing Hela. Jeff Goldblum is "the eccentric" Grandmaster. Tessa Thompson (Creed) is playing Valkyrie. Karl Urban is Skurge.
"The continuation of the epic Thor franchise will be powerful and unique, and with the additions of Cate, Jeff, Tessa, Karl, and Mark to the cast we have the makings of his most dangerous and heroic adventure yet," said Producer Kevin Feige in a statement. "The sheer, raw talent each of these actors brings to the screen can't be quantified. Having any one of them join the Marvel Cinematic Universe would be an honor, and having all of them is incredible."
Sam Neill quietly joined the cast in a (wait for it!) still undisclosed role. "I'm not really allowed to say this and I can't tell you what it is," he told ShortList (the quotes come to us via Collider). "I did a couple of days on Thor just before I came over here. If I say anything else, Marvel's secret agents — and they are lethal — will come and get me and probably my children, as well."
Neill recently worked with Thor: Ragnarok director Taika Waititi on Hunt For The Wilderpeople. We have no clue who he might be playing, but feel free to speculate
Obviously Chris Hemsworth is back, too. But so are Tom Hiddleston as Loki (who will apparently have a much bigger role), Idris Elba as Heimdall, and Anthony Hopkins as Odin. Natalie Portman won't appear in this one. 
Mark Ruffalo will be along for the ride as Bruce Banner/The Hulk.
Thor: Ragnarok Plot
Here's the official synopsis for Thor: Ragnarok:
Thor is imprisoned on the other side of the universe without his mighty hammer and finds himself in a race against time to get back to Asgard to stop Ragnarok – the destruction of his homeworld and the end of Asgardian civilization – at the hands of an all-powerful new threat, the ruthless Hela. But first he must survive a deadly gladatorial contest that pits him against his former ally and fellow Avenger – the Incredible Hulk!"
There was a relatively recent Thor: Ragnarok comic by Michael Avon Oeming and Andrea Di Vito. It's excellent, but among other things, it doesn't feature the Hulk. Like many Marvel movies that borrow the names of the source material, this one is going to carve its own path. But that whole "twilight of the gods" thing will probably be part of it.
In an interview with Total Film, director Taika Waititi spoke about where Hulk and Thor will meet up in the new film. And as it turns out, it's the planet Sakaar. "Sakaar was just an insane, far-off futuristic place which was the biggest shift for the film and these characters," Waititi said, confirming the location's presence in the new movie.
Again, this is the actual setting from Planet Hulk, and while it's not being suggested that Thor: Ragnarok will be telling the exact story from the comics, it's clearly drawing sizeable influences.
And why is Hulk competing in gladiator combat? That's not entirely clear at the moment, but it seems that Jeff Goldblum's mysterious Grandmaster is behind it. The Grandmaster is a virtually forgotten Marvel villain, and he was behind the Contest of Champions, which put a number of Marvel heroes in combat with each other. With a little squinting, that can work in Thor: Ragnarok…but don't expect the full Planet Hulk treatment. Unless maybe Hulk stays out in space at the conclusion of this movie.
Oh, and Tom Hiddleston confirmed that Hulk and Loki will get their rematch. "Let's not forget that it's no secret that the Hulk shows up in Ragnarok, and the last time Loki and Hulk were in the same room didn't go very well for Loki," Hiddleston said. "So, he's got a few chips on his shoulder, but it's fun. You'll see."