Reviews
This Sporting Life DVD review
A Yorkshire parallel to The Hustler? Rugby league's own Raging Bull? We'll let James explain...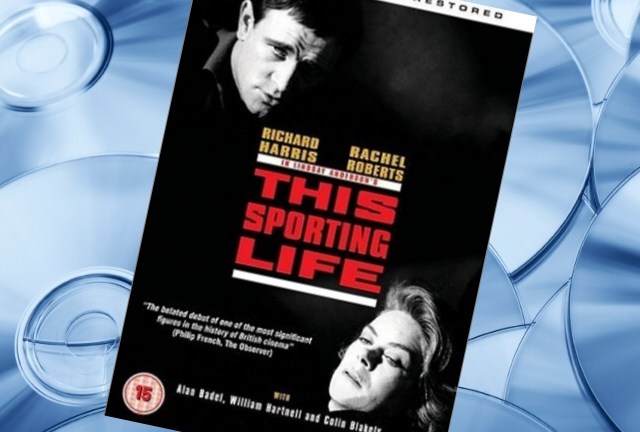 Before the days of the Super League and slick professionalism, rugby league used to be looked to as a game comprised of big northern lads rolling around in the mud.
Ah, what a magnificent sport – full of tradition, toughness and rugged working class character. As a dramatic cinematic counterpoint to the Rugby League World Cup (currently underway in Australia), This Sporting Life presents a nostalgic, gritty depiction of the game's good old days when it was all flat caps and terraces rather than exercise bikes and branded lycra. As far as sporting movies go in terms of tone and quality, it's a Yorkshire parallel to The Hustler – rugby league's very own Raging Bull.
Directed and produced by leading Free Cinema figures Lindsay Anderson and Karel Reisz respectively, This Sporting Life is one of the most striking of the New Wave films – the British movement born of a realisation amongst filmmakers that there was a world beyond London.
Indeed, the discovery in the late 1950s that it wasn't so grim up north and that there was a rich vein of interesting stories, appealing accents and outstanding performers proved to be a boon for the nation's film industry.
Whatever you want to call it – Free Cinema fiction, kitchen-sink drama, issue-led slice-of-life – some absolute classics came of the trend including Saturday Night and Sunday Morning and The Loneliness of the Long-Distance Runner. This Sporting Life is one of the most well-made, authentic and memorable of the genre and gives a glorious view of the way we were way back then through its stark realism and uncompromising storytelling.
Richard Harris is the star here bringing a brutal display of animal magnetism as Frank Machin, a miner who makes it as a loose forward with his local side thanks to his gutsy strength and aggression. Despite success on the pitch, however, Machin is troubled by the tempestuous relationship he has with his widowed landlady Margaret Hammond (portrayed with storming intensity by Rachel Roberts) and is embattled by class issues, alcoholic overindulgence and his own unconstrained ego.
Harris – who won the best actor gong at Cannes and received an Oscar nomination for the role – gives an immense performance as Machin, brooding with a barely repressed brutality, exerting a physical presence like Marlon Brando.
It's a testament to all involved – both the rest of the cast and crew – that This Sporting Life isn't eclipsed by Harris's intensity as he embeds Machin with a potent energy and offers a violent depiction of a sad individual – "a great ape on a football field" – struggling with his vulnerability.
Extras The restored digital transfer for DVD is tremendous and fully brings the world of 1960s working class Yorkshire to vivid life. On the disc there's a photo montage and the ever-welcome obligatory over-dramatic theatrical trailer, but the real treasures are to be found by sticking the DVD in your PC.
This fresh region 1 release is packed with huge PDFs of promotional material, publicity pieces and film notes – manna from heaven for movie buffs and film students alike. The fact that the likes of Lindsay Anderson, Karel Reisz and Richard Harris are no longer with us denies any chance of an audio commentary so such a spectacular range of special features allows incredible insight into the production and personalities behind This Sporting Life. A browse through the typewritten notes and antiquated brochures conjures up the Sixties in style and alongside the film there's a fantastic time to be had for anyone who fancies going on a retrograde wander through a bygone age.
Altogether, the DVD is a fantastic package that gives the cult kitchen-sink drama a well-deserved shine and should satisfy rugby fans and British cinema devotees alike. As an interesting side-note, original Doctor Who William Hartnell has a role as Machin's mentor and Arthur Lowe has a pre-Captain Mainwaring appearance as one of the board members at the rugby club. A fascinating film then that captures not only a snapshot of a time that has all but faded out of British society and sport, but also offers an affecting, intriguing slice-of-life story. You're not going to get a better film about rugby, and Harris's acting is perhps the key reason why This Sporting Life stands as one of the best of the British New Wave films.
Film:
Disc:
---
This Sporting Life DVD from Amazon.co.uk