News
These Star Wars Vacuums Are Strong in the Force
These Samsung Powerbot Star Wars Edition Vacuums are the ultimate way to clean your floors with the Force!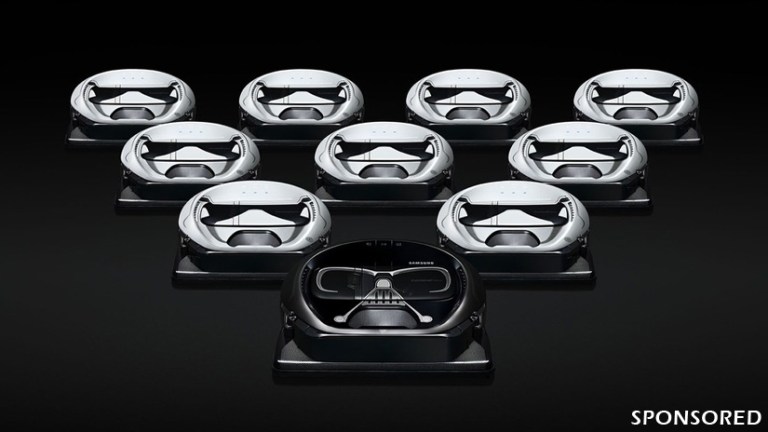 Ever wanted to use the Force to clean your floors? Thanks to Samsung, now you can! With the Samsung Powerbot Star Wars Edition Vacuum, you have a fully operational Darth Vader or Imperial Stormtrooper to fend off attacks from dirt, dust, and spills. And now you can get this awesome (and useful) collector's item for less!
Originally priced at $799, on May the 4th you could go home with a Darth Vader Powerbot Vacuum for just $450 with promo code P5SOQD5GS. That's savings of $350. But you'll have to hurry! This deal only runs until May 6.
Get your very own Samsung Powerbot Star Wars Edition vacuum at a reduced price, thanks to this incredible deal:
The Powerbot is a smart device capable of steering itself past any obstacles in your home, thanks to its FullViewSensor 2.0. In this case, there's no need for a targeting computer!
Or if you prefer, you can remotely control your vacuum with your smartphone. You can even use voice control through Amazon Alexa and Google Assistant and will the vacuum will respond back to you with some of the most iconic sounds and lines from the film saga.
These vacuums are fully operational, too. With 20x the suction power, the Powerbot eliminates dirt and debris from even the most hard-to-reach places. Plus, it gives every surface a deep clean — from hardwood to Hoth.
Buy the Star Wars Powerbot Vacuum and you'll become more powerful than you could possibly imagine — and your floors will thank you for it!