News
Their Finest Trailer: Gemma Arterton stars in World War II Dramedy
Their Finest has Gemma Arterton and Sam Claflin making a propaganda film during the onset of World War II.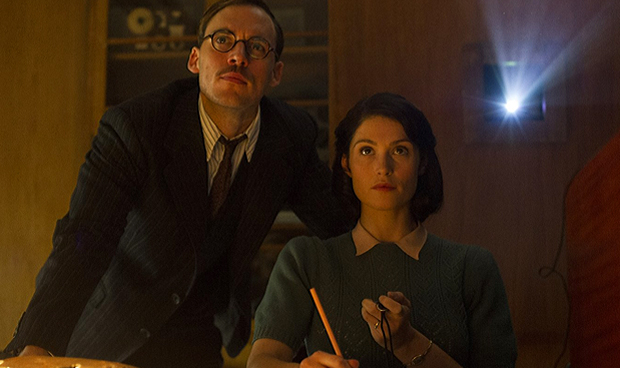 World War II is hardly lacking for representation in the entertainment industry, with notable upcoming entries like director Christopher Nolan's Dunkirk set for this summer and the Gary Oldman-starring Winston Churchill film Darkest Hour set for this fall. However, before those heavyweight epics drop, April will see the release of Their Finest, a rather unconventional offering centered on the effort of a woman tasked with making a propaganda film designed to influence American involvement in the largest global conflict the world has ever known. – Oh, did we mention that this is, technically, a comedy?
Despite its grim London backdrop during the eight months – starting in September, 1940 – of devastating German bombardment during the Blitz, Their Finest seems to exercise a balance with its cheeky absurdity. The film stars Gemma Arterton as Catrin Cole, a woman who lands a mysterious job with the Ministry of Information's Film Division and given an odd task: provide authentic female dialogue for a pro-war propaganda film aimed at Americans, specifically, American women who could potentially sway their men and incite the country's involvement in the War. Like Nolan's upcoming epic, the film-within-a-film depicts the War's early landmark moment in the evacuation of Dunkirk.
Of course, Catrin won't be paid as much as "the chaps," and is being shadowed by a male overseer in Tom Buckley (Sam Claflin). However, a begrudging respect and romance arises between the two as their endeavor evolves. Yet, the specter of the War does not disappear and constant reminders of the reasons for the project manifest with continual German bombing. Indeed, the image of Arterton's Catrin dutifully punching away on her typewriter as plaster from the ceiling falls on her is a striking contrast to the film's overall lighthearted, comedic tone. The film also stars Bill Nighy, Jeremy Irons, Rachael Stirling, Jack Huston, Richard E. Grant and Helen McCrory.
In the director's chair for Their Finest is Lone Scherfig, a Danish female helmer who worked on films such as 2014's The Riot Club, 2011's One Day and fielded some directorial work on American television on a few episodes of the cancelled 2015 ABC series The Astronaut Wives Club. Besides serving as a starring platform for former Quantum of Solace Bond girl Arterton, it's also a surprising turn for co-star Claflin, who audiences likely best remember as the enigmatic winner-turned-rebel Finnick Odair from The Hunger Games franchise.
Their Finest gets ready to show the oddly-funny side of a seemingly quixotic English cinematic attempt to drum up support for a war that seemed hopeless. The film arrives at theaters on April 7.