News
The Zombie Movie Ready Reckoner
Possibly the most scarily comprehensive guide to zombie movies you could ever ask for. In alphabetical order.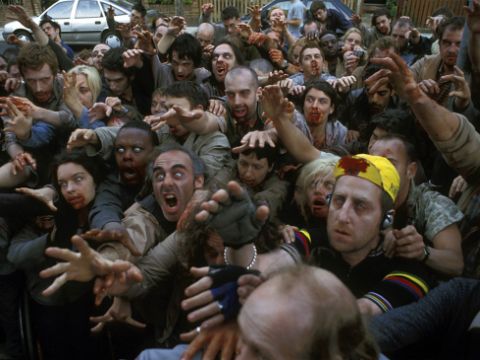 Zombies: possibly the easiest supernatural monster to create with no money whatsoever. Which tends to mean that there are an awful lot of zombie movies in the world. Thing is, while zombies are easy and cheap to create, making a decent film out of them is quite tricky. This ready reckoner is already very long, so let's just get on with it:
The Astro-Zombies (1969)
Tura Satana, in glowing colour, chases after the formula to make zombies in this insane slice of psychoholic sixties trash. It's short enough to not drag and worth the money for the full colour Satana action alone.
The Beyond (1981)
"It's a film of images," is the stock response offered by
The Beyond
's defendants when pressed on why it doesn't make a lick of sense. They're damn right. It IS a film of images – bizarre, bold, beautiful and bloody images – and as a result it's Fulci's finest and a must for any Zombie Beginners.
Braindead (1992)
Sporadically funny zombie spoof set in 1950s New Zealand. Although it contains, pint-for-pint, more blood than anything I've seen, the humour wears thin after awhile. It's overlong and overstylised, thinking it's smarter than it really is. Could do with being at least 30 minutes shorter.
Bride of Re-Animator (1990)
This lacklustre sequel finds the Dan Cain character from the first film trying to bring his dead girlfriend back to life. Sick and imaginative at times, but mostly limp and lifeless, like its title character. It really doesn't get going until the Screaming Mad George-orchestrated finalé kicks in.
Burial Ground: The Nights of Terror (1981)
Unbelievably ppalling no-budget Italian trash in which a bunch of swingers and their kids (including a man in his 20s dressed up as a 7-year-old) go to a castle and get attacked by mobile, cornflake-faced zombies with darts and battering rams.
Cemetery Man (1994)
Absurdist, existentialist zombie film about a guy who guards a cemetery, protecting its inhabitants from becoming "returners". Offbeat and original but don't expect anything like a linear narrative.
Children Shouldn't Play With Dead Things (1972)
Amusing but dated hippie take on
Night of the Living Dead
enlivened no end by writer Alan Ormsby's star turn as himself; a mad, pretentious drama graduate who basically irritates the hungry dead into rising from their graves.
Chopper Chicks in Zombie Town (1991)
The snappy title (and a fleeting appearance by MTV's Martha Quinn) is all that saves this Troma acquisition from the dustbin of history. The script is more slow and cumbersome than the zombies here.
C.H.U.D. II: Bud the C.H.U.D. (1989)
A sequel in name alone, this weird comedy/horror has Gerrit Graham as a stolen corpse who comes to life. Goofy and lovable in its own way but ultimately too puerile for classic status.
City of the Living Dead (1980)
Fulci goes crazy with the gore in this most extreme installment in his zombie cycle. Beautifully shot – although probably more out of luck than skill – and savagely violent stuff.
Dawn of the Dead (1978)
Does this really need an introduction? George Romero's classic assault on consumerism works as both an allegory and also a first-class survival thriller with strong characterisation and gripping action. Perfect.
Dawn of the Dead (2004)
Abysmal "remake" finds a bunch of morons fighting zippy zombies who run, jump and shout like they're at a Ramones concert. The camerawork is nauseatingly fast and it plays like a really bad speed metal video, only dumber.
Day of the Dead (1985)
Frightfully unpopular at time of release, Romero's dialogue-heavy character study (with bonus heavy gore) is a misunderstood masterpiece and, arguably, both his finest moment and the best zombie film of all time.
Dead Heat (1988)
Ridiculous buddy movie with zombies finds Treat Williams and Joe Piscopo as mismatched cops taking on the living dead. It's a cool crossover idea and certainly no worse than any of the Lethal Weapon sequels but really generic stuff.
Flight of the Living Dead: Outbreak on a Plane (2007)
Unquestionably the nadir of the subgenre, this nonsensical, soulless piece of junk takes the ingeniusly simple idea of "what if zombies got on a plane?" and manages to make an absolute pig's ear out of it. The gore is (bad) CGI and the plot non-existent. I've seen vacation tapes with more structure, style and sense than this.
Hell of the Living Dead (1981)
Enjoyably sleazy Italian knock-off finds toxic zombies raising merry Hell in Africa. Not only does this film boast the most hilariously bad reason ever for a girl to take her top off (blending in with the natives, apparently) but it's also outrageously vile and exploitative like few other films I could name. A guilty pleasure, I admit.
House of the Dead (2003)
Laughably bad video game adaptation features cheap bullet time, a girl in a stars-and-stripes jumpsuit, leapin' zombies on springboards and Clint Howard as a retard (now there's a surprise). Oddly, it still manages to be cringefully bad.
Killing Birds (1991)
Instantly forgettable Italian trash with killer birds and zombies, but no killer zombie birds. A shame. Would've made it a lot better.
Land of the Dead (2005)
Romero's long-awaited fourth zombie film is a disappointing slice of idealist polemic with little else going for it. Despite being nearly 20 years in the making, it feels rushed and awkward. A shame.
Let Sleeping Corpses Lie (1974)
Eerie and dark Spanish production set in Northern England finds the dead stalking the moors and villages of the countrysides, hungry for guts. Blood-soaked but gorgeous to look at, this is one of the best of the 70s zombie glut.
Night of the Comet (1984)
Massively underrated 80s gem that's very of its time but unlike any other film I've seen. A couple of valley girls are the heroes of this one, yet it's not entirely played for laughs. It's surprisingly poignant as well as having some cool looking glowy-eyed zombies.
Night of the Creeps (1986)
Another forgotten classic from the 80s, this comedy/horror is everything
Return of the Living Dead
should've been. Imagine John Hughes doing a zombie movie, then make it much much better.
Night of the Living Dead (1968)
Timeless and haunting, this still isn't showing its age. The father of the modern zombie film. If you've not seen it, you probably haven't understood a word of this article so far.
Night of the Living Dead (1990)
Hackneyed remake with special FX taking precedent over story or substance. Joins the ranks of the zillion forgettable zombie flicks of its time.
Pet Sematary (1989)
A decent enough slant on the Monkey's Paw idea is rendered unwatchable through over-direction and a nonsensical script that holds as much water as an old sock. Stephen King; he ain't all that.
The Plague of the Zombies (1966)
Crazy voodoo shit in small-town England causes the dead to rise. Dated but watchable; the comedy highlight is certainly the evil Lord who keeps a veritable army of tribal drummers in his cupboard.
Planet Terror (2007)
Overlong and massively self-indulgent parody of 70s grindhouse fare. Would've made an awesome 10 minute short but is brain-meltingly boring by the end of 100.
Re-Animator (1985)
Delightfully OTT lunacy from the glory days of Empire Pictures about a crazed medical student intent on bringing the dead to life. Jawdroppingly gory, fun and with a dark streak that makes it unsettling viewing even now.
Redneck Zombies (1987)
Goofy Troma fare in which bad moonshine turns hicks into zombies. Shot-on-video but excessively gory for the budget, this is a nice enough time-waster if you're feeling in the mood.
Return of the Blind Dead (1973)
Zombie Templars wreak havoc in a very dull, generic movie. Like all of its interchangable sister pieces, the footage of the Templars riding in slow motion is beautiful and unmatchably scary. Sadly, everything surrounding it is 'bish.
Return of the Living Dead (1985)
Overrated comedy-horror that, whilst boasting lovely production design and quoteable one-liners, doesn't really gel together too well. Also, zombies don't run. Or talk. Period.
Return of the Living Dead Part II (1988)
A yardstick for how low the subgenre can sink. Utterly irredeemable.
Return of the Living Dead 3 (1993)
You've seen it all before. Dude tries bringing his girlfriend back from the dead and finds horrific changes to her diet are necessary. One or two nice good ideas here are marred by terrible lead actors and a clumsy screenplay.
Return of the Living Dead 4: Necropolis (2005)
The best zombie film of the decade thus far, this old-school style splatfest is fun, fast-paced and smartly written. Nothing original or intelligent here, but a skillful archetype of how survival horror should be done.
Return of the Living Dead 5: Rave to the Grave (2005)
More fun ensues in this daft sequel that recycles characters and places from part 4 but throws in more humour. Worth it for the inventive gore scenes alone.
The Serpent and the Rainbow (1988)
Wes Craven's adaptation of Wade Davies's book about voodoo is flawed and sensationalist but still a little bit too creepy to be entirely forgettable.
Shaun of the Dead (2004)
Top-shelf stuff. A bittersweet second-coming-of-age comedy wrapped up in a post-modern zombie skin. Sharp, witty and likely to be the best thing these guys ever do, if
Hot Fuzz
is anything to go by.
Video Dead (1987)
Zombies (and a hat-lovin' weirdo called The Trashman) come out of the telly and are placated with party hats in this monumentally weird 80s effort. Agonisingly slow and too bizarre to really work but, uh, certainly different.
Zombi II (1979)
Fulci goes to the Caribbean and zombie havoc breaks loose. Not the most radical idea, but stylish as Hell and with enough panache to easily cover its flaws.
The Zombie Diaries (2006)
Plotless, no-budget and boring enough for you to want to stick spindles in your eyes to make it stop, this isn't even one step above home movies. It is, clearly, a home movie and one that makes no sense at all.
Zombie Holocaust (1980)
Frank Martino's gory rip-off of
Zombi II
ups the ante on the grue to ridiculous proportions. Really grim stuff. You'll never think of brain surgery in the same way again.
Zombie Honeymoon (2004)
Endearing romantic comedy about life and love with the undead. Surprisingly sweet and funny, given the budget and the concept.