Reviews
The Wild Geese: Special edition DVD review
Some of the booziest actors of 1970s gather for an improbable — but very enjoyable — rescue mission in South Africa...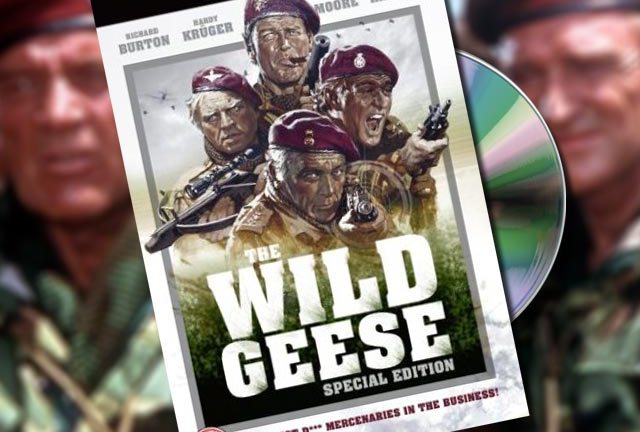 High-powered banker Stewart Granger hires faded mercenary Richard Burton to assemble a crack team of 'old hands' for one last hurrah out in South Africa. The mission? Rescue former central African leader Winston Ntshona from the clutches of the ferocious 'Simbas' para-military group.
There's a lot of boozing and persuading to be done first, and Burton sets about his task in London, bottle in one hand and a fag in the other (this is the 1970s). Uncharacteristically, there's not a lot of sexism for a movie of this era because, frankly, it's a bit of a boy's own, gal-free outing for the old soldiers. If you liked Where Eagles Dare, you're probably in the right frame of mind to enjoy the antics of Burton and his antiques out in the bush of South Africa.
Back in London, Burton finds Roger Moore performing some very un-bond-like poetic justice on a drug dealer at a party, and this scene is a poor start to the movie, as it's out of character for Moore's range, and rather hokey to boot (if you want to see Moore really having fun with an outrageously non-Bond part, check out North Sea Hijack, aka ffokes). More convincingly, Burton recruits old friend Richard Harris, who's dwelling bitterly on his ravaged personal life and his fractured relationship with his young son, and who's therefore glad of the interruption.
Thereafter, the action takes place out in Africa, with merciless training leading up to a rescue mission that will cost our heroes some of their finest…
The Wild Geese has been credited as virtually a training manual for mercenary special ops, and is said to be the only one of its kind that the 'real McCoy' have any respect for. If true, this is perhaps partly because of the advice and consultation provided to the producers by mercenary icon "Mad Mike" Hoare.
It's impressive how often things go wrong, and how the best-laid-plans of the team are foiled on occasion by as little as happenstance and bad luck, and if you weren't 100% sure in your heart that this band of booze-sodden old international playboys are watching stand-ins do the hard stuff from the sidelines, the editing kind of gives it away. Nonetheless Wild Geese is boisterous action in the vein of the under-rated Moore/Marvin outing Shout At The Devil, and fits perfectly into any collection that may contain the likes of Raid On Entebbe or Who Dares Wins.
Oddly enough, it's in the sedentary London locations that our urbanite actors convince least, but once the unit hits the bush, the action is very satisfying, even if the politics are questionable.
And the politics are questionable – the film was shot in South Africa against the very vocal protests of groups who sought to keep cinemagoers out at the London premiere. But the anti-Apartheid message of the movie, as conveyed in a conversation with Moise Tshombe/Nelson Mandela avatar Ntshona, absolves the movie of these charges, even though the DVD extras declare that not one word of the film was amended or proscribed by the South African government when film permits were sought.
Extras:Commentary with Euan Lloyd, Sir Roger Moore, journalist Jonathan Sothcott Euan Lloyd was heavily invested in The Wild Geese in every sense, having re-mortgaged his home to set the ball rolling on financing the movie, and he has some good tales to tell about the volatile actors and the production and history of the movie. His initial sally is so long in this commentary that you fear the end-credits will run before Sir Roger gets a word in, and in fact Moore gives Lloyd an affectionate dig about his unfashionably laconic and relaxed style of oratory. Moore, as in any of his commentaries, is always good value, and proves once again that he really was Bond – or at least that wisecracking and insouciant version that dominated 1970s cinemas. Great fun, but bear with it at the start for best results.
The Last of the Gentlemen Producers: The Life and Works of Euan Lloyd This seems awfully self-serving, but it's actually a feast of information for any film-fan or cine-historian.
Star-studded World Premier Newsreel Footage The cast and crew of The Wild Geese gather in royal company to launch the film, and this an interesting historical titbit.
Trailer Photo Gallery
Film:
Extras:
Best served with: North Sea Hijack (1980).
The Wild Geese: Special edition is released on March 30th