News
The Week Of Trailer: Adam Sandler and Chris Rock Clash in Netflix Comedy
Adam Sandler's next Netflix film offering, The Week Of, reunites old SNL pals Adam Sandler and Chris Rock.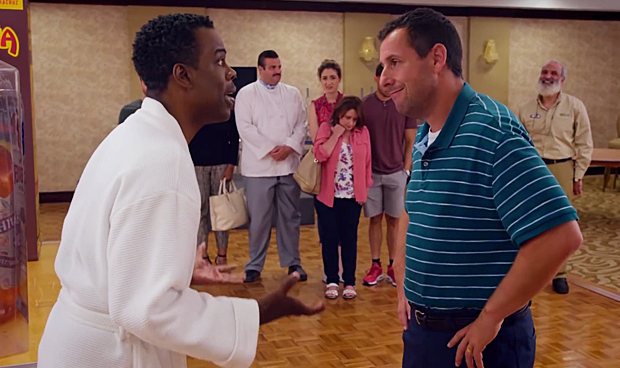 Adam Sandler's The Week Of trailer shows the comedian continuing what posterity might refer to – analogously to Picasso's Blue Period – as (for better or worse,) his Netflix Period. Indeed, with Sandler's purportedly lucrative 2014 four-film deal reupped in 2017, this latest streaming giant exclusive film arrives as the new deal's first offering, teaming the star with his former early-1990s-era "Bad Boys" of SNL cohort, Chris Rock.
The Week Of Trailer
In The Week Of trailer, we see Adam Sandler playing a well-meaning, disaster-prone, middle class father who, fueled by pride, has taken it upon himself to handle the financial and logistical responsibilities of his daughter's upcoming wedding. Of course, the catch here is that he doesn't have to do any of that, since the father of the groom (Chris Rock) is a successful heart surgeon who would be far more appropriate as the wedding's benefactor. Yet, in a Clark Griswold-esque manner, Sandler's father of the bride is way out of his depth, inviting one disastrous setback after another, putting him at competitively comedic odds with Rock's father of the groom. Meanwhile… wacky family hilarity.
The cast also consists of fellow SNL alumna Rachel Dratch (Just Go with It), Rob Morgan (Stranger Things), Allison Strong (The Blacklist), Roland Buck III (Chicago Med) Melanie Nicholls-King (The Wire), Scott Cohen (Allegiance) and repertory Sandler movie maniac Steve Buscemi is also here… holding a giant Toblerone.
The Week Of serves as the directorial debut of the one and only Robert Smigel, the former longtime writer of Late Night with Conan O'Brien, SNL and TV Funhouse, who also wrote Sandler-starring films You Don't Mess with the Zohan and Jack and Jill, along with the hit Sandler-starring animated feature, Hotel Transylvania, and its 2015 sequel. Here, Smigel works off a script that he co-wrote with Sandler.
Sandler's previous Netflix deal-delivered offerings consist of 2015's The Ridiculous 6, 2016's The Do-Over, 2017's Sandy Wexler and 2017's The Meyerowitz Stories.
The Week Of Release Date
The Week Of makes its arrival on Netflix on April 27.