Reviews
The Water Horse DVD review
Jings, is that a wee beastie in the water? Mark was pleasantly surprised by this children's tale...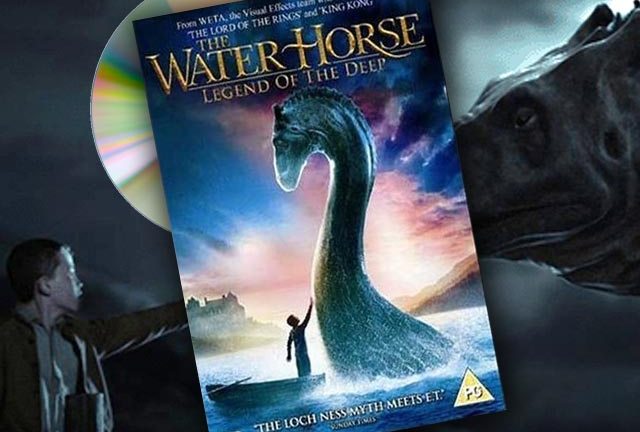 I remember seeing a trailer for
The Water Horse
last year and laughing out loud in the cinema. With a dreadful American voiceover declaring that 'something extraordinary is about to happen, on an ordinary day', various clips of a supposedly cute dragon-type creature and some dodgy Scottish accents, I cringed throughout, dismissing it as an insult to younger cinemagoers.
I'm happy to report that, on watching the entire film, I was dead wrong. The Water Horse is a genuine treat and one that had me reaching for my hankies by the end.
Based on a book by Dick King-Smith – the scribe behind kiddie piggy-flick Babe – Water Horse is a classic fairy tale. IN WWII Scotland, young Angus comes across an egg while looking for shells on the beach. Naturally this is no ordinary egg, and in fact belongs to the mythical 'water horse' (the Loch Ness Monster to you or me). As Angus tries to raise the 'wee beastie' and keep it hidden from his mum, he gets himself into various scrapes with his newfound best mate. Meanwhile, troops from her Majesty's finest (led by a very charismatic David Morrissey) make residence at his family's home, bringing a heap of trouble with them.
Squarely aimed at a younger audience, where The Water Horse is perhaps most successful is in portraying a story that manages to keep adults' attention just as much as children's. Yes the story is pure fantasy, but when it's as fun as this, it's worth a couple of hours of anyone's time. The fantastical elements, coming courtesy of young Angus's time spent with Crusoe (the name he gives his new pet), are expertly done, and the major underwater set piece – where Angus is taken for a ride for the first time – is a particular triumph. Similarly, when the film decides to pick up pace towards a roaring finale at the end, it's extremely well executed.
Being set in a very real world does the film a huge favour too, as moments of true drama are etched throughout. This more dramatic elements, with issues of loss, leadership and the cruelty of war all touched upon, are especially well conceived thanks to a great cast. Alex Etel and Ben Chaplin are excellent as Angus and handyman Lewis, brought to work at the house in the absence of his warring father, and Emily Watson is in fine, understated form as Angus's mother.
Effects for Crusoe itself are on the whole very well done, although some scenes where Angus is riding on its back look a little ropey in places, which is surprising considering it's New Zealand's Weta Digital behind things.
If I have any gripes, it's that on occasions the Scottish accents drop a little (in particular from Angus) which can grate. It's all also undeniably very twee to begin with – on more than one occasion, characters can be heard to say 'Jings'. These are minor quibbles however.
At first glance, extras look a little thin on the ground, with just deleted scenes and a bunch of featurettes included, but they're very comprehensive. The deleted scenes give a greater insight into the relationships between the key characters, whether it be how they react to the regiment being in the house or how they are reacting to the war effort in general. The featurettes (totalling 77 minutes) are generally of very high quality, with the myths and legend surrounding Loch Ness, choosing the cast and, naturally, the digital work behind Crusoe itself all covered.
Marrying elements of comedy, drama and action together to great effect, this was an unexpected delight.
Film:
DVD: