Features
The underappreciated movies of Ben Affleck
Ben Affleck's enjoyed a career resurgence as well as internet ire of late. Here's a look at a few of his underappreciated films...
Ben Affleck doesn't need us. He's got a directorial career of three strong movies from three outings. He has a movie star spouse. He has two Oscars, one for both his downstairs and upstairs toilet, and he gets to tell his kids that he's Batman without having to lie. Furthermore, it's scary to think how good the boxset of his directorial work is going to be in 30 years' time.
But the resurgence of the Affleck, culminating in his Best Picture winning movie Argo, and his casting as Batman in Batmand some really good performances. Whilst most of the press he's endured this week has been people on the internet telling him he's spoiled a movie that won't come out for two years, his body of work serves him better than he's often given credit for.
Now okay, we're not taking a bullet for Gigli here. Likewise, Bounce – whilst a little bit different in its concept – wasn't something we'd joyfully sit through again. But the films that we're about to talk about? Every one of them is worth your time. So let's count them down…
7. Smokin' Aces
There's no such thing as a bad Joe Carnahan movie, and Smokin' Aces – while not the man's best – is not an exception to that rule. It's all a bit bananas this one, as Carnahan – who wrote the script as well – throws a bunch of hitmen against each other and basically sees who wins.
There's a fun cast here, too. Aside from Affleck himself, there's Ray Liotta, Ryan Reynolds, Jeremy Piven, Andy Garcia and Peter Berg on the call sheet (as well as a young Chris Pine). There's a reasonable amount of exposition you need to digest, and things are put into place early on that it really helps to pay attention to. Carnahan then puts his foot to the floor, unleashing a carnival of entertainment that rewards more than one viewing.
It'd be fair to acknowledge that Smokin' Aces is as divisive as any movie on this list. Some lost it altogether, others just report they think it's all a bit of a mess. But there's a more convincing argument, for us anything, that the whole thing is damn good – if confusing – fun. Worth watching at least once, probably twice.
6. Jersey Girl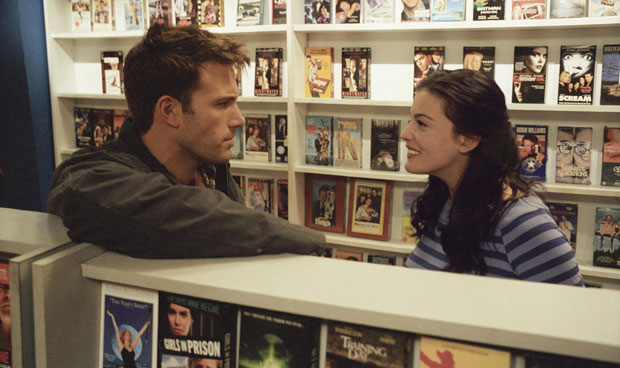 Let's deal with the one that the law seems to say you have to hate. Jersey Girl struggled at the box office, not aided by following Gigli on the Affleck slate. It's also Kevin Smith taking a slightly different path than he had been doing with his View Askew movies. And, for my money, it's a charming, sold piece of work, with plenty to like about it.
Affleck here plays Ollie, a man who's life has dealt him some unpleasant cards, who's left in custody of his young daughter. It's a dark character he plays here, as Ollie tries to put his life back together. The key moment is when he meets Liv Tyler's Maya, but to gel with her he's got to get over all that's gone before. And as Jersey Girl progresses, it's clear that's no easy task.
It's a bit bumpy in places this one, and inevitably its tone is a little uneven. But I'd argue that the latter is part of the point: this is far from a cut and dried romcom, and Affleck is a good choice to lead it. Appreciating some people didn't like it, you can't shake the sense that some reacted to the circumstances it was released in rather than the final movie itself. Because if you pick it up and watch it on a quiet night in, Jersey Girl is a rewarding little movie.
5. Extract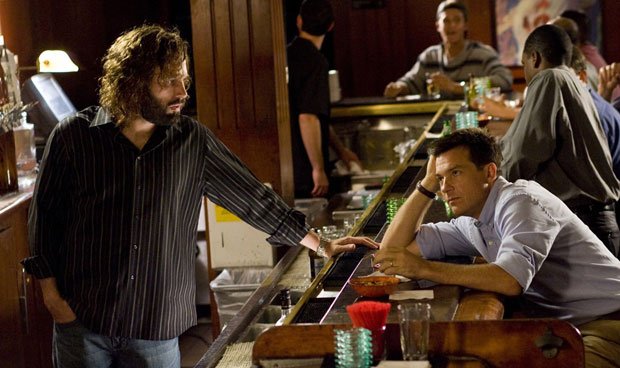 Mike Judge's live action films have a habit of not finding the audience they deserve until several years after their original cinematic release. The most recent case in point: Extract. This one's set in an extraction plant owned and run by Jason Bateman's Joel. Joel's life isn't going too well though. He fears his wife is being unfaithful, and an accident at the plant leaves a worker injured. This in turn leaves the whole business potentially under threat.
Panic not, though, as this isn't a deep drama about a man falling into despair over it all. There's comedy ingrained throughout, and as with all of Judge's films, he's got some things to say bubbling away under the surface as well.
Where does Affleck fit it? He's got a cameo in this one as Joel's friend, Dean. He's the kind of friend that doesn't give particularly helpful life advice, and whilst he's not on screen for long, it's another wise choice from Affleck to take the role in the first place.
Extract isn't up to the level of Office Space and Idiocracy, but it's still a good, ambitious overlooked comedy. With added Affleckness.
4. Hollywoodland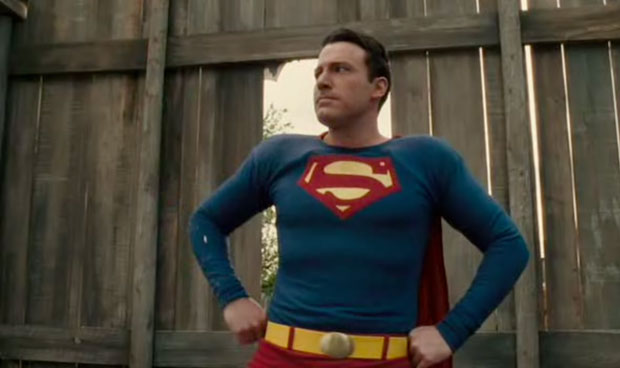 If you're looking for the movie that marked a turnaround in the press that Affleck was receiving in the early to mid-2000s, that this was the one. There was Oscar talk at one stage when Hollywoodland came out, for Affleck's supporting role as George Reeves, the man who played Superman on the small screen. The movie itself is a look at the circumstances surrounding Reeves' death, and whilst the movie is not a factual recreation (lots of liberties are taken to help shape the story), Affleck captures Reeves really very well. It's unsurprising that there was awards chatter. Bob Hoskins and Diane Lane are excellent, too.
Hollywoodland's best filed under good but not great, if we're being picky. The period recreation and the interplay between the characters work a little better than the actual narrative itself. But it's still a really interesting project, that had to go through quite a legal journey just to get near the screen in the first place. Recommended, definitely.
3. Changing Lanes
Director Roger Michell went from the huge global hit Notting Hill to this challenging mix of drama and thriller, that throws Samuel L Jackson and Affleck together, almost literally, as the pair are involved in a car accident. Affleck here is the be-suited rich man, an attorney by the name of Gavin Banek, who's desperately racing against the clock to get to a crucial business appointment. Jackson plays an insurance salesman, who's also in a mad hurry, this time to get to court to try and stop his wife taking his children from him.
This sets the scene for a complication between the two characters, not least when one suddenly needs the other. But what makes the movie interesting is that by turns it makes both men dislikeable in different ways. You'd expect a movie of this ilk to paint the businessman as bad, the family man as good, but Changing Lanes finds both of them willing to show their darker side to the other.
It makes for a fascinating clash, one that tames by the very end, but is compelling, particularly in the second act. And do you know what? Affleck is really good here, holding his own against Jackson, with the pair of them together really helping the piece come to life.
2. Boiler Room
Ben Affleck works well in ensemble casts – just look at the excellent School Ties, which we've left off this list as a) he's not a big part of it and b) we've already talked about it recently on the site.
Boiler Room, then, sees him lining up alongside Vin Diesel, Giovanni Ribisi and Tom Everett Scott. It's a mix of drama and thriller, framed through the eyes of Ribisi's 19-year old who is recruited by his friend to a brokerage firm.
Affleck is one of the co-founders of said firm, which promises riches and success to those who work for it. So it turns out, but soon the reasons for this begin to become apparent, and here Boiler Room switches from the camaraderie of ensemble drama into something darker and far less predictable.
It's surprising that Boiler Room didn't resonate more than it did, and in the light of financial meltdowns to come, there's an argument that it was a bit ahead of its time. Furthermore, its ending doesn't really do it too many favours.
That notwithstanding though, Boiler Room is really good, and once again demonstrated Affleck's eye for an interesting script. The screenplay in question came from the pen/posh computer keyboard of Ben Younger. He also directed the movie, and would go on to make 2005's Prime. Boiler Room remains the one to dig out so far.
1. The Sum Of All Fears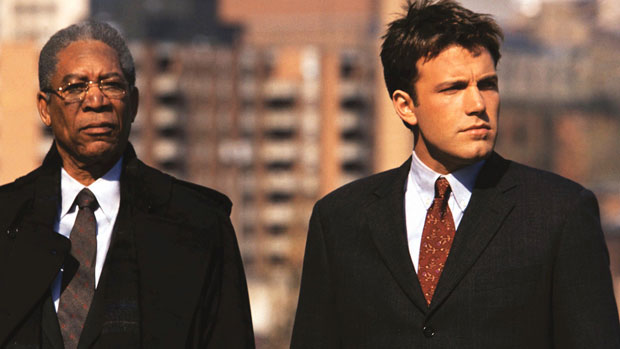 It seems a little crass, given that we've focused on some interesting indie and smaller dramas thus far, to top the list with a big, successful blockbuster. But have you seen it? There's never, in our view, been a bad Jack Ryan movie, and we'd bore you to death in a bar for hours on the majesty of Clear And Present Danger. But The Sum Of All Fears is a genuinely terrific thriller, with a solid performance from Affleck at the heart of it.
It arrived, though, just as Affleck's career was going through its rocky period. His personal life was making headlines, Gigli was happening, and for reasons other than the movie and its eventual box office performance, Ben Affleck never got to be Jack Ryan again. And that's a pity.
As with all of the big screen Jack Ryan movies, The Sum Of All Fears is expertly cast. The gravitas role here is taken by Morgan Freeman, who mixes wit with weight. James Cromwell and Philip Baker Hall add further gravity. And, as we charted here, there's a brilliantly-distracting appearance from 'Allo 'Allo's Colonel, Richard Marner, as the President of the Russian Federation.
The star of the show here though is Phil Alden Robinson. He doesn't direct many films – he's made four in total. In The Mood, back in 1987, was the first. The all-time classic Field Of Dreams was the second. The fresh as a daisy techno caper thriller Sneakers, which we looked at in more depth here, was the third.
And then there was The Sum Of All Fears, which has moments in it that are staggeringly bold for a blockbuster movie. No spoilers here, save to say that just when you think you might have second-guessed the movie, you really find that you haven't.
It's an excellent thriller, this, and Affleck is an important part of it. Certainly the upcoming next reboot, starring Chris Pine, is going to have to go some way to top it.
What we didn't include:
State Of Play (lots of praise for that one already), Daredevil: Director's Cut (we talked about that here), Jay And Silent Bob Strike Back (Good Will Hunting 2: Hunting Season!), 200 Cigarettes (which isn't bad), the big hits, the acclaimed Kevin Smith movies and Forces Of Nature (although we have a very slight soft spot for that one).
 Like us on Facebook and follow us on Twitter for all news updates related to the world of geek. And Google+, if that's your thing!