Features
The top 25 must-see movies of 2012
Next year's full to bursting with exciting movies, so to help out a little, here's our pick of 25 must-see movies out in 2012…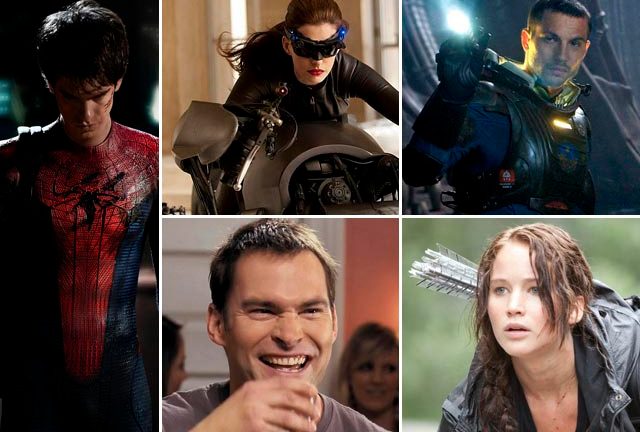 As 2011 draws to a close, one eye is inevitably on the treats that are lying ahead for 2012. With that in mind, we've got our line-up of, as things stands, the 25 films that are brightest on our radar.
Now, a couple of disclaimers.
There are films that haven't made the cut here simply because we don't know a fat lot about them yet, or at least not enough to get us fired up. Jack The Giant Killer, Rise Of The Guardians, Red Tails, Chronicle and Dark Shadows all fit into that category.
Plus there are the films that we suspect will turn out strongly, but what we've seen of them so far hasn't blown us away (Brave, Skyfall). Then there are the potential hidden gems (ParaNorman) we'll come to separately in another feature.
We've also had to exclude films that have already had a release in either the UK or the US.
However, that's still left us with a lot of tasty cinema. See what you make of this little lot, and be willing to do battle in the comments…
25. AMERICAN PIE: THE REUNION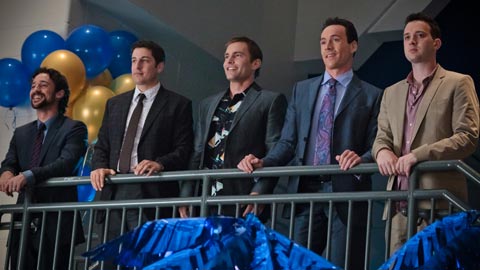 Neither Spy Kids 4 nor Scream 4 performed as expected in 2011, and that's inevitably going to leave Hollywood types feeling just a bit wary about belated sequels. What complicates matters still further with American Pie is the small matter of four, pretty crappy straight-to-DVD sequels that have blighted the last decade.
American Pie: The Reunion, though, is looking more promising.
Bringing in the directors of the first two Harold & Kumar movies, pretty much the full cast from the first film is back this time around, and that already seems like a wise move. Furthermore, there's a beefed up role for Eugene Levy, as Jim's dad. He's the reason our ticket was sold some time ago.
It's got promise, this one. If it works, though, here's hoping that more straight-to-DVD sequels don't follow… 24. TAKEN 2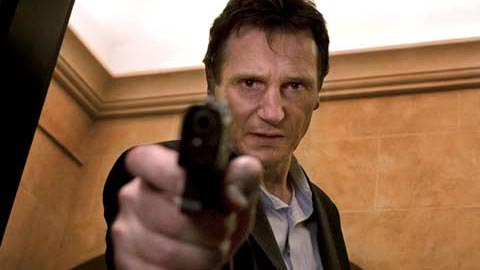 Luc Besson told us earlier in the year that once the second Taken movie was out, we wouldn't be getting a third. The story would be done, and Liam Neeson's particular set of skills would be retired. All the more reason, then, to look forward to the return of Bryan Mills.
This time, we're told that some idiot decides to kidnap Neeson's character, which should make for a solid 90 minutes of action and backside kicking. Maggie Grace is returning, and the cast is rounded out by Famke Janssen and Rade Serbedzija, amongst others.
The point of worry is that Olivier Megaton is directing. We've yet to see evidence that he can pull together a full, three-act compelling action movie. While Columbiana and Transporter 3 had moments, neither is a film that particularly stands out. Perhaps Taken 2 will give him his moment. At the very least, he's got the small matter of Liam Neeson in his corner…
23. THE BOURNE LEGACY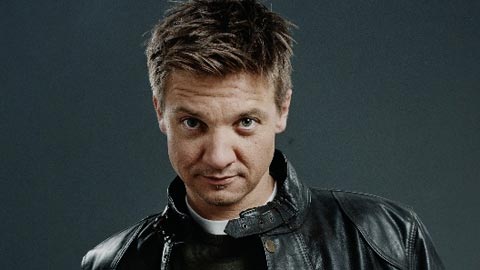 An attempt by Universal to get the Bourne franchise up and running again without the involvement of, er, the Jason Bourne character, it might just have managed to pull a couple of trump cards.
Firstly, Tony Gilroy, who was involved in scripting the previous films, is directing. He showed in Michael Clayton that he can handle characters, although Duplicity, his directorial follow-up, wasn't quite the caper we'd hoped for. Still, he's got quite a canvas with The Bourne Legacy, and his cast is certainly strong.
We're particularly looking at new recruits Jeremy Renner, the latest victim of Treadstone, and villain Edward Norton, who promises not to turn green this time when he's pissed off. The cast is rounded out strongly, with the returning Joan Allen and Albert Finney joined by Rachel Weisz.
If it works, expect Renner to be set to work on more Bourne movies shortly. If it doesn't, expect a generous offer to be headed in the direction of Messrs Damon and Greengrass.
22. HAYWIRE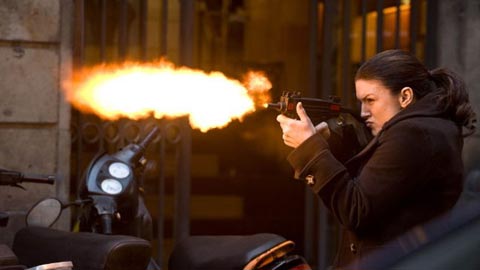 A straight-to-video action scenario directed by the extraordinarily versatile (and prolific) Steven Soderbergh? Yes please.
Former professional fighter and model Gina Carano stars as a deadly special operative out for revenge, and she gets to apply her fists and feet to some unbelievably famous faces – Michael Fassender, Channing Tatum, Antonio Banderas, Michael Douglas, Bill Paxton and Ewan McGregor are among the actors who will feel the sour tang of Carano's fury. You never saw a cast like that in a Steven Seagal movie.
We're hoping that, if Haywire's successful enough, it'll encourage other respected directors to turn their hands to action revenge flicks. If you're reading this, Terrence Malick, we've a combat-filled script all written and waiting for you, and Billy Blanks is on speed-dial.
21. THE EXPENDABLES 2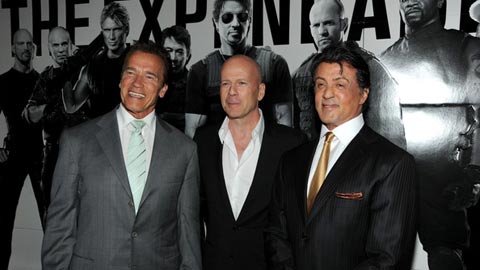 The problem facing The Expendables 2 is that the novelty factor has gone. Both The Expendables, and consequently Red, traded heavily off an impressive and unusual ensemble cast, and got away with deficiencies that otherwise would have mattered a little more as a result.
With The Expendables 2, then, as marvellous as it it to see so many action beefcakes in one place, we need a better story (and we say that as fans of the first film). Whether we'll get one is far from clear.
What is clear, though, is that Sylvester Stallone has sent for reinforcements. Thus, joining him this time will be Jean Claude Van Damme and Chuck Norris, as well as the returning Jason Statham (win), Dolph Lundgren, Arnold Schwarzenegger and Bruce Willis. Simon West, the man who called the shots on the mighty Con Air, is directing.
The ingredients are certainly in place for a classic, old-school 80s action flick. Expect testosterone, bullets, sweat and fire this coming August.
20. WANDERLUST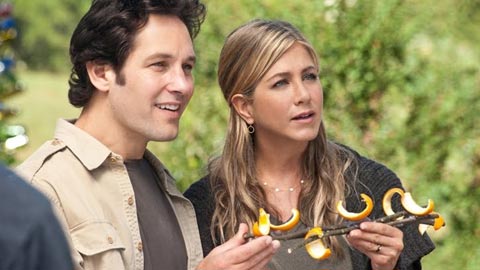 We'd still argue that the best R-rated comedy of the last five years has been David Wain's Role Models, which remains a hoot after many, many repeated viewings. We can vouch for that. It's also comfortably Wain's most mainstream film, and we're intrigued as to how he follows it up.
Wanderlust, then, a comedy that reunites him with Paul Rudd, and also adds Jennifer Aniston, Justin Theroux, Alan Alda, Lauren Ambrose (yay!) and Ray Liotta. The plot? Aniston and Rudd are a married couple, who decide to up sticks from New York living, for a calmer life. Which we're wagering won't go entirely to plan.
So far, so so. But it's David Wain we're backing here. With a proven knack for comedy, and little sign of a wish to pander to the audience, Wanderlust is one of our comedies to watch out for in 2012.
19. SNOW WHITE AND THE HUNTSMAN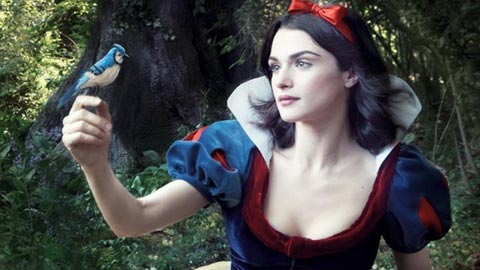 There's no shortage of classic stories and characters getting a genre twist next year – Jack The Giant Killer, Mirror Mirror, Abraham Lincoln: Vampire Hunter, Hansel & Gretel: Witch Hunters – but this is the one that's started to emerge from the pack as the one to watch. A really impressive maiden trailer certainly helped there (contrast it with Mirror Mirror's if you want to see how these things can go wrong), which showed just what Kristen Stewart can do away from the Twilight franchise.
The rest of the cast is hardly shabby, though, with Charlize Theron, Ray Winstone, Toby Jones, Bob Hoskins, Eddie Marsan and Ian McShane suggest a depth to the company that serves the film well (it's comfortably one of the best casts of the year). And the screenplay? Co-written by Hossein Amini, as it happens, who penned the script to Drive.
There's real pedigree here, and what we've been allowed to see thus far suggests there's a good film underneath it all. In a year seemingly full of subverted fairy tales on the big screen, this (or Jack The Giant Killer) looks set to be the one that rules them all…
18. THE AMAZING SPIDER-MAN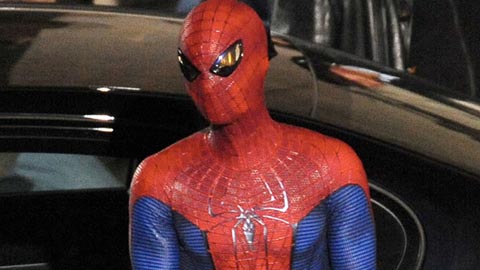 Enthusiasm is not high, it's probably fair to say, among those who care about the Spider-Man character for 2012's big screen adventure for the webslinger. The reason? It's a film seemingly made for the wrong reasons. It's not the first, of course, but Sam Raimi had a Spider-Man 4 ready to go, and Sony's spreadsheet said it wanted a movie at up to a third of the cost. That does make sense, perhaps, but it hardly inspired confidence.
But there are reasons why The Amazing Spider-Man should not be written off. Lest we forget, director Marc Webb gave us the delightful, offbeat romantic comedy (500) Days Of Summer, which took risks with an otherwise highly conventional drama. Furthermore, Andrew Garfield and Emma Stone look set to make a strong central pairing, while bolstering the cast with Martin Sheen, Sally Field and Rhys Ifans looks like a good plan.
The teaser trailer was certainly a misfire (how can you tease a character we only saw last on the big screen a few years ago?), but the film, we suspect, will be a lot surer.
Don't worry if you don't like it, though. There's already going to be another one along in 2014…
17. IRON SKY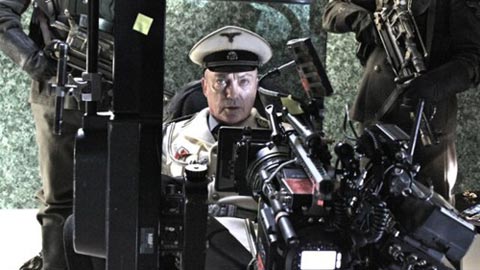 For the past five years, Finnish director Timo Vuorensola and his fellow filmmakers have been beavering away on the remarkably ambitious Iron Sky, which is effectively a high-concept Hollywood B-movie shot on an indie budget. And thanks to the magic of computers, lots of ingenuity and imagination, the result is a bizarre sci-fi fantasy, which suggests that Nazis scuttled off to a secret base on the moon at the end of World War II. Having spent the last 60 or so years secretly perfecting a new form of anti-gravity spacecraft, the Third Reich prepares to reclaim the Earth.
A film that rides the crest of a new wave of low-budget sci-fi, from 2010's Monsters, via this year's Another Earth to the upcoming Spanish picture The Cosmonaut, Iron Sky is yet further proof that big, wild ideas don't necessarily require big, wild production costs.
And if the premise itself isn't enough to encourage you to see Iron Sky, bear in mind that the legendarily brilliant Udo Kier stars in it, providing all the creepy, shiny-eyed charisma you'd expect.
16. GHOST RIDER: SPIRIT OF VENGEANCE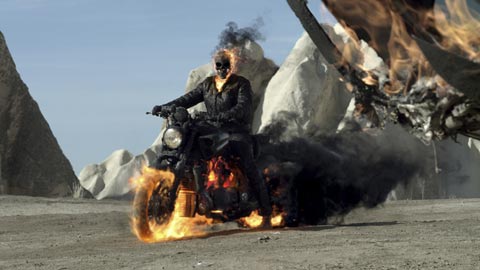 We've already written
with some optimism about the big screen return of
Ghost Rider.
The reason? Because at the very least, a gamble is being taken here. Rather than attempting to follow-on from the pretty unimpressive first outing for Nicolas Cage as Johnny Blaze, wholesale surgery has been called for. And they've got the
Crank
guys in to do it.
We've no idea at all just how it'll turn out, but as the market for comic book movies becomes more and more crowded, there's an attempt being made here to try something different, and deliver a film with a bit more individuality about it. It might fail. It might work. It's likely to be worth seeing either way.
Jason Statham co-starring would have placed it higher up the list, obviously.
15. FRANKENWEENIE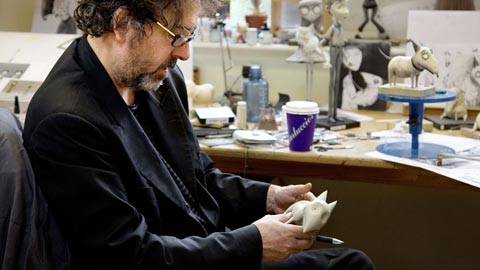 Tim Burton is bringing his outstanding short, Frankenweenie, to the big screen next year, returning to stop motion animation for the first time since Corpse Bride as he does so. We can't say we were bowled over by Corpse Bride, and the thought of nearly tripling the length of an already-tight story is a concern. But still, everything we've seen on Frankenweenie thus far has been very impressive.
What's particularly encouraging isn't just the commitment to stop motion, but the fact that Burton's film will be in black and white. This suits the material well, and the reel of footage we've had the pleasure of seeing thus far demonstrates that classic horror fans are in for a treat.
Burton has two films out next year – Dark Shadows being the other – but right now, Frankenweenie is the one we're really excited about.
14. WORLD WAR Z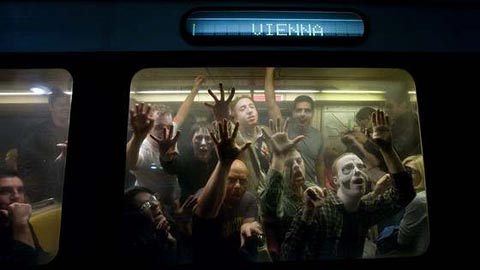 Max Brooks' ephemeral horror novel, based on disparate accounts of a zombie apocalypse, will be a difficult film to accurately convert into a blockbuster movie. Nevertheless, director Marc Forster's having a go at it, and his World War Z will be among the most expensive undead-based movies yet made, with a budget of $125 million. And if reviews of the script are anything to go by, it's a great adaptation, too, with Ain't It Cool describing it as a "genre-defining piece of work".
Anyone fearing a warmed-over retread of George Romero's movies can also rest assured that World War Z will be rather different from the zombie movies we've seen in the past. Forster has compared it to Watergate thriller, All The President's Men, while others have said it's like Children Of Men and The Bourne Identity. We're not quite sure how all that ties together, but those comparisons alone have us itching to see just how good this film is.
13. TOTAL RECALL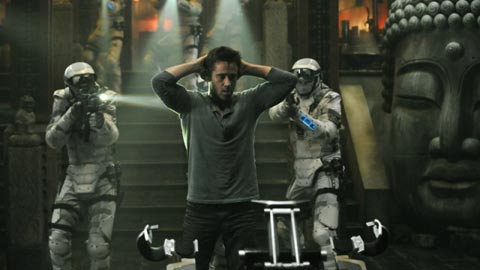 We've always been willing to keep an open mind about Len Wiseman's Total Recall, even though some have argued that the world doesn't need another rendering of Paul Verhoeven's bloodthirsty 1990 classic. So far, though, Total Recall 2012 doesn't sound like a mere retread of the previous one – instead, it appears to be an alternate reading of Philip K Dick's brief source story, We Can Remember It For You Wholesale, albeit with certain elements of Verhoeven's movie thrown into the mix.
Colin Farrell stars as factory worker Doug Quaid, a Phildickian everyman figure rather than the Olympian hero Schwarzenegger provided, who begins to suspect that he may once have been a spy. Although this version of Total Recall remains firmly on terra firma, certain characters from the 1990 film remain, such as a rebel leader called Kuato (this time played by Bill Nighy) a mysterious lady of the night called Melina (with Jessica Biel replacing Rachel Ticotin) and a corporate villain called Vilos Cohaagen (Bryan Cranston, standing in for Ronny Cox).
The result, then, could be a sort of futuristic version of The Bourne Identity, with wide-eyed recollections of the past interspersed with lots of chases and fighting. With a great cast and some decent writers on its credits (Kurt Wimmer, Mark Bomback and James Vanderbilt), Total Recall may prove to be one next year's most unexpectedly great sci-fi films.
12. THE HUNGER GAMES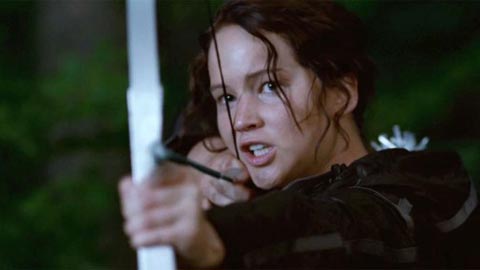 Set in a post-apocalyptic future where competitiors in a televised bloodsport fight to the death, it's easy to see why Suzanne Collins' Hunger Games novels have been picked up for a big-screen adaptation. Enthusiastically told and enormously successful, the books have a similar teen demographic to Stephanie Meyer's Twilight series, and Lionsgate will no doubt be hoping that the first of its film versions will be as popular with audiences.
There's some great talent at work on the film, too, with Pleasantville and Seabiscuit director Gary Ross at the helm, and a cast including Jennifer Lawrence and Josh Hutcherson in its two lead roles, backed up by Woody Harrelson, Liam Hemsworth and Donald Sutherland.
Lionsgate certainly has faith in The Hunger Games' chances, since a sequels's already scheduled, and if Ross can capture the same energy as the book's second half, the film should provide the perfect opening chapter in what could be a trilogy of films.11. DREDD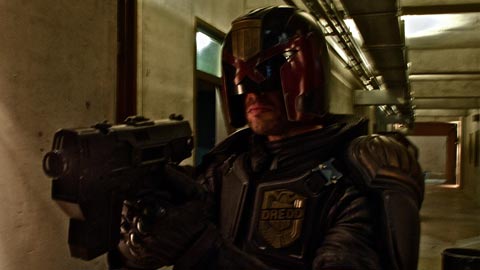 Hasn't this one been a long time coming?
Since the end credits rolled on the 1995 movie adaptation of Judge Dredd (whether you liked it or not) it feels like we've been waiting for someone to come in and do it all properly. This new movie take on Dredd, with a helmeted-Karl Urban in the title role, has the potential to match our hopes.
There have, however, been tales of trouble behind the scenes, which have been refuted. The story ran that director Pete Travis wasn't involved in the edit, and that writer Alex Garland had stepped in to finish the movie. How much truth there is in all of that is unclear. What is more certain is that Dredd is in the hands of people who really care about it (in fairness, the director of the Stallone take, Danny Cannon, was a massive fan too, but just didn't have the power at that stage to get his vision across).
It's on a tight budget, certainly, but Urban looks like fine casting. And we hope it marks the start of a few more big screen visits to Mega City One.
10. BATTLESHIP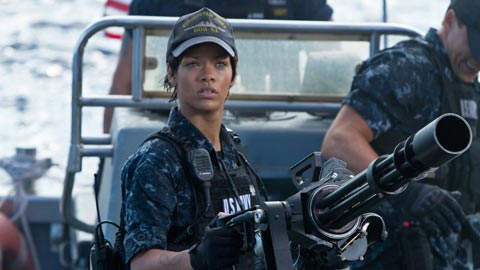 The last couple of years have seen a number of alien invasion movies infest our screens, and to date, it's been the low-budget ones that have proved the most satisfying. Could director Peter Berg deliver an expensive invasion flick that delivers plenty of character as well as explosive set-pieces?  That's certainy what we're hoping.
Certainly, the idea of setting an alien invasion film at sea's a relatively fresh one, and there's  a great cast, including Taylor Kitsch, Alexander Skarsgard, Liam Neeson, and, erm, Rihanna as various officers, commanders and rear admirals.
There's every possibility, given that Battleship's based on the well-known guessing game of the same name, that this'll be another landfill summer blockbuster made for the sole purpose of shifting merchandise. But we're eternal optimists, and we also love invasion movies, so who knows? With Berg at the helm (Friday Night Lights, anyone?), Battleship may provide us with a big surprise next summer.9. THE AVENGERS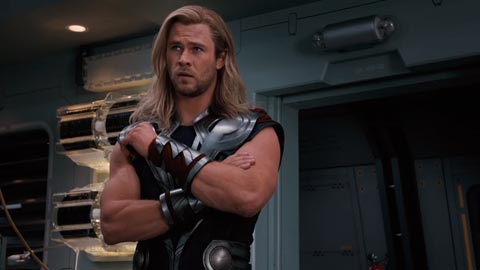 An already seemingly taken-for-granted part of the 2012 movie blockbuster landscape, The Avengers has sure-fire hit stamped right across it. Captain America, Thor, Iron Man, Hulk and more, all in the same film? What could go wrong?
Well, lots.
We'd wager that no director of a blockbuster right now has a tougher job than Joss Whedon, who has to juggle lots of major characters, put across a threat worthy of uniting them, and leave room in the film for lots of personalities to make a mark. After all, this isn't your traditional ensemble film, where characters can easily interweave with one another. The Avengers sees characters we're used to seeing front and centre now working side by side.
Still, early signs are that Whedon is up to the job. The trailer that's been released is strong, even if it makes the film look more of an Iron Man sequel than The Avengers, and we've met few people who won't be in the queue to buy a ticket as a result. They are in the minority, though.
We have absolutely no doubt that Whedon will take the ingredients here and make a fun couple of hours at the movies. The test? Can he make a genuinely strong blockbuster, one that fully hangs together? It's a good question, and time will tell the answer.
No pressure, but Marvel's movie strategy now seems to hang on this one film…
8. DJANGO UNCHAINED 
Genre-hopping Quentin Tarantino tackles a full-on western next, and as you'd expect, he's got a stellar cast on board. Leonardo DiCaprio, Joseph Gordon-Levitt, Samuel L Jackson, Kurt Russell, Christoph Waltz and Don Johnson are amongst the ensemble this time. Kevin Costner was also due to feature, but has since had to pull out due to other commitments.
Tarantino has, as always, penned the script, and Django Unchained – which arrives at the very end of 2012 – is the story of a slave-turned-bounty hunter, played by Jamie Foxx, who attempts to free his wife. Things do not go to plan.
Tarantino is giving himself a little more time to lock a final cut than he did with his last movie, Inglourious Basterds (whose schedule was part-dictacted by Tarantino's desire to screen the film at Cannes), and that space should allow him to fashion one of 2012's must-see movies. Here's hoping.
7. WRECK-IT RALPH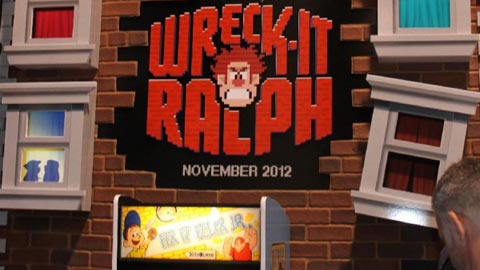 The distribution side of Disney is releasing three major animated films next year, each of which looks strong in its own right. The one we've left off this list is Pixar's Brave, which we think will be strong, but it's so under wraps, it's hard to get too enthused just yet (the trailer didn't do it too many favours, either).
It's Wreck-It Ralph, then, that might emerge as the CG-animated film of choice for next year. The basic outline is lovely: an old, 8-bit computer game character finds himself in the modern world. Visually, straight away, that opens up an abundance of possibilities, and also, it's Disney trying something just a little different. And it's a bold move to wrap an entire mainstream animated feature around videogame characters.
If there's one thing tempering our enthusiasm, it would be that this might end up being a fairly routine adventure in very different clothes. However, we suspect there's something quite brilliant at work here. Rich Moore is making his feature directorial debut here, but his background – The Simpsons, Futurama, The Critic – certainly suggests that tonally, Wreck-It Ralph might just have the goods to marry up to its inspired concept.
The film isn't due out until the very end of December. That's the only downside so far…
6. JOHN CARTER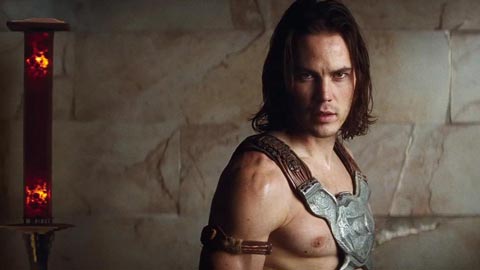 This lavish adaptation of Edgar Rice Burroughs' pulp sci-fi heroes may be released in a crowded year for genre movies, but we've every hope that John Carter can compete with the best of them. Burroughs' Barsoom books may not have the pre-installed global audience that, say, a high-profile Marvel or DC comic hero might have behind it (though they undoubtedly have a devoted following), but they're the perfect jumping-off point for an exciting action fantasy that's perfect for the big screen.
The other reason we're looking forward to John Carter, though, is because Andrew Stanton's directing it. He's already proven his abilities as a storyteller in such Pixar movies as Finding Nemo and Wall-E, and the amount of CG effects work in John Carter should make this movie the perfect entry point into the very different world of live-action filmmaking.
The 20-minute preview we saw in November did nothing to dampen our enthusiasm, and there's every chance that John Carter will provide a heady mix of drama and remarkable visual effects.
5. THE PIRATES: IN AN ADVENTURE WITH SCIENTISTS!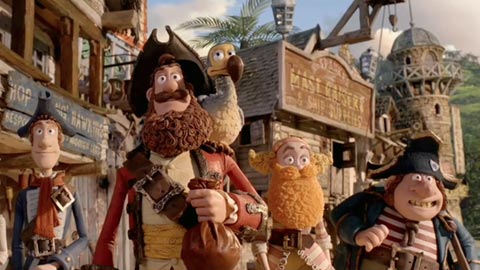 You wait five years for an Aardman movie to arrive, and then two turn up within six months of each other. We really enjoyed CG-feature Arthur Christmas, but it's Aardman's first stop-frame animated movie since Wallace & Gromit: The Curse Of The Were-Rabbit that is already shaping up as the family movie to beat in 2012.
Everything we've seen of the film thus far demonstrates a lavish attention to detail, a steadfast sense of character, and a style and wit that few of 2012's releases look set to be able to hold a torch too. It helps that the expertise of Peter Lord – creator of Morph, director of Chicken Run – is calling the shots on the film, but there's more to The Pirates than that.
This is a massively ambitious production, about a Pirate Captain who's trying to win a Pirate Of The Year competition despite the fact that he's generally a bit rubbish. This lays a platform for Aardman to not only showcase its unparalleled craft, but to put together a funny, warm family adventure (it's already looking like one of 2012's funniest).
It might not prove to be the biggest animated hit of 2012 (it doesn't help that the film has a different title on each side of the channel), but its competition will have a job on their hands to beat it for sheer quality. We can't wait.
Incidentally, it's also the only film on the 2012 roster that uses the voice talent of Brian Blessed that we're aware of. Shame on every other film.
4. THE HOBBIT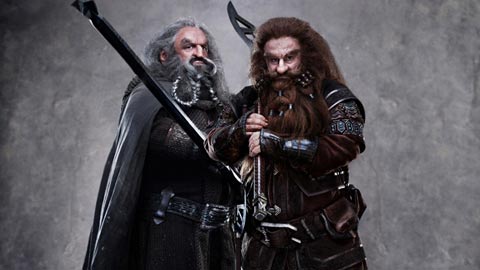 It's almost surreal that The Hobbit movies are finally happening. First, Peter Jackson and New Line were at loggerheads. Then MGM's bank balance cost the films another year or so. Then, Guillermo del Toro dropped out. And finally – finally – Peter Jackson got cameras rolling on the two films earlier this year.
The first of them, An Unexpected Journey, makes it into cinemas at the end of 2012, nine years after the release of Lord Of The Rings: Return Of The King. It's testament to how many interesting films are heading our way in 2012 that this ranks fourth in the list, but don't let that fool you: The Hobbit is a flat-out must see from where we're sitting.
To have Peter Jackson back in Middle Earth is proof that there is some justice in the world. That's he recruited so many of the talented people who brought Lord Of The Rings to the screen could also provide a vital constistency. The even better news? There's another Hobbit film the year after. Expect that similarly high up 2013's list…
3. GRAVITY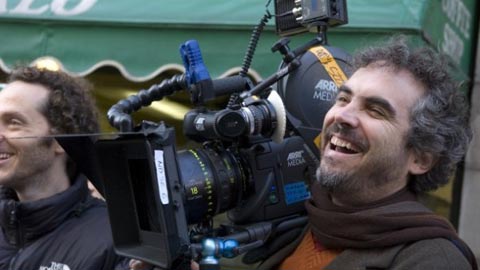 Anyone who saw the spectacular Children Of Men will know that any film Alfonso Cuarón directs is worth consideration, and, if anything, his sci-fi thriller Gravity sounds even more ambitious than his previous feature.
Starring George Clooney and Sandra Bullock as a pair of astronauts fighting for survival in a crippled space station, it's been said by those involved that Cuarón's brought all his skills to bear on this apparently simple story, with the opening 20 minutes reportedly shot in one long, unbroken take. Cuarón's friend Guillermo Del Toro's already spoken of his enthusiasm for the film, having told MTV Movies that it'll push "a new boundary in filmmaking."
Other than these scant facts, there's not a lot more we can really say about Gravity, other than that it's in 3D, and that Clooney and Bullock are the only two actors in it. What we can say, though, is that Children Of Men was a meditative and intelligent sci-fi film with moments of incredible intensity, and we'd be extremely surprised if Gravity was any different. We can't wait.
2. THE DARK KNIGHT RISES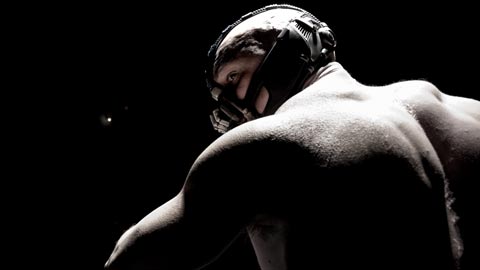 Well, y'know.
Christopher Nolan is making what's almost certain to be his last ever Batman movie, while also looking to prove that it's possible to make a comic book threequel that doesn't dip in quality. He's got his regular cast back – Christian Bale, Morgan Freeman, Gary Oldman, Michael Caine – and recruited Tom Hardy, Joseph Gordon-Levitt and Anne Hathaway too, in a film that promises to close this chapter of Bruce Wayne's story.
The film has been shot very much in the open, with the Internet creaking under the weight of set videos and photos from observers. And inevitably, it's led to a cauldron of hype that's almost impossible to live up to.
Yet Nolan might. The Dark Knight built terrifically well on the excellent Batman Begins, and The Dark Knight Rises is set to try a few different things again. The stories to date have been ambitious, the execution excellent, and Nolan's Batman movies will be resident in top ten comic book movie lists for many years to come. The Dark Knight Rises? It has the potential to top them all. May Nolan not be away from comic book movies for long…
1. PROMETHEUS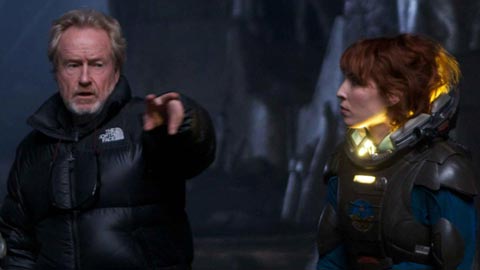 There are so many reasons to look forward to Prometheus, but we'll whittle them down to just a few for brevity's sake.
First, it marks a return to sci-fi for Ridley Scott, and second, it shares "the same DNA" as 1979's Alien. Add to that a great cast (including the ubiquitous Michael Fassbender, Noomi Rapace and Idris Elba) and the writing talents of Damon Lindelof, and you have at least the possibility of a fantastic sci-fi film.
Some have pointed out that Scott's creative bulb has dimmed somewhat of late, but we're hoping that the visual possibilities the sci-fi genre offers (and let's face it, Scott's primarily an image maker rather than a director of actors) will result in the return to form we're all anticipating.
We're actually heartened, too, that Prometheus' makers have played down the film's links to Alien, because it gives Scott the opportunity to make something other than a modern retread of the original's haunted-house-in-space. What we appear to be looking at is a kind of first-contact sci-fi flick, along the lines of Arthur C Clarke's novel Childhood's End or 2001: A Space Odyssey, albeit with an extremely nasty (and presumably acid-spitting) sting in its tail.
Like so many of next year's highly anticipated films, from American Pie: The Reunion to The Dark Knight Rises, Prometheus could disappoint us all. But then again, the talented people involved could exceed our expectations, and bring us a film that shares Alien's brilliance as well as its DNA.
We might just be in for one hell of a year…
Follow us on Facebook and Twitter for news, reviews and trailers revolving around the world of geek.