Features
The top 10 sports-related movies
Sports-related movies have provided some of cinema's most memorable characters and quotable lines. Here's Steven's pick of the ten very best…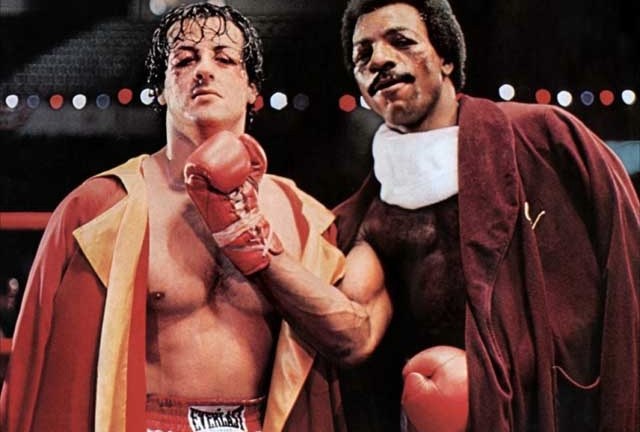 Sports movies are filled with underdog heroes overcoming impossible odds. Written and acted well, the sports movie can provide some of the purest, most moving entertainment in all cinema. Not all of them are directly about the sport itself, of course (although some in this selection inevitably are), and it's with this partly in mind that I present my choice of the ten finest sports-related movies…
10. Happy Gilmore (1996)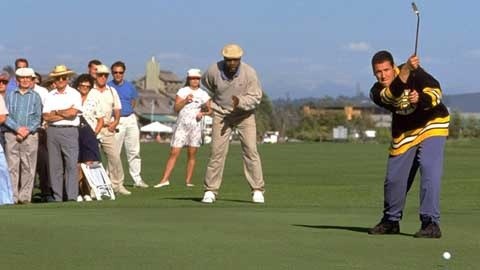 Adam Sandler. Not exactly the name that comes to mind when you think of 'greatest sports movies', but Happy Gilmore is one to be remembered. Featuring a failed hockey player as the film's namesake, Happy Gilmore delivers solid laughs throughout whilst still maintaining a plot.
The character's hilarity in what is normally considered a gentlemanly sport only adds to the mix. The rivalry between Gilmore and stuck-up professional golfer Shooter McGavin (priceless quote: "Damn you people. Go back to your shanties.") is the perfect juxtaposition. And the added performances by other characters such as Chubbs (a former golfer who lost his hand to an alligator) add to the strength of the film.
But more importantly, there are serious moments to the film, which give Gilmore character and earn this flick a spot on this list.
9. A League Of Their Own (1992)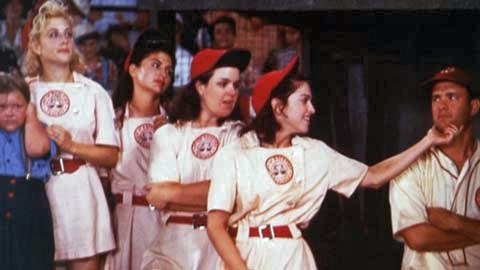 Women's baseball. Let that sit in your mind for a second. Once again, not exactly what you'd expect to be on this list, but its uniqueness stands out.
A League of Their Own is a story of professional women baseball players during World War II, featuring Geena Davis, Tom Hanks and… Madonna. But it works. The story, although almost totally foreign to many patrons of athletic cinema, is heartfelt.
The mix of seriousness in the competition between the ladies (Davis especially) and the humor of their former all-star manager (Hanks) makes this film the perfect concoction of sporting excellence.
Plus, what could go wrong with a scene featuring Tom Hank's peeing for what seems like five minutes?
8. Any Given Sunday (1999)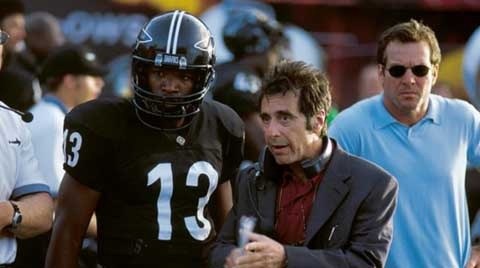 I'm a sucker for ensemble casts, I won't lie. With the star-studded likes of Al Pacino, Cameron Diaz, Dennis Quaid, Jamie Foxx and James Woods (and so many others that I get surprised the production company was able to pay their salaries), Any Given Sunday has no weakness in terms of its casting.
Add in director Oliver Stone, and you've already got a recipe for success. Plus, the story of a coach at the end of his years, muscled out by newer ownership and at odds with the styles of the new coaching staff, is certainly believable, or at least makes for a strong story.
The only reason this film isn't ranked higher is because Stone tries to drag the plot in so many directions that the audience can end up confused at some points. The focus of the plot (Al Pacino's Coach D'Amato) is diluted by so many others in the supporting cast, so as to dampen its overall impact.
That said, it remains a film I watch time and time again. And Pacino's speech still gives me goosebumps.
7. Rudy (1993)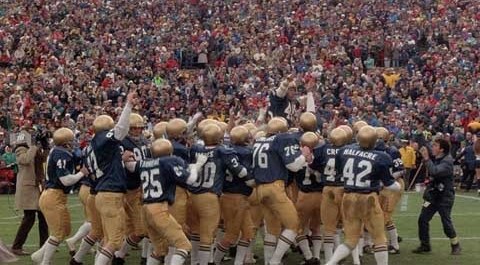 A classic American football (or any sport, for that matter) movie: weak kid goes on to be big star. However, Rudy still resonates with viewers today, and for a few solid reasons.
First, we all want to believe that, no matter what, determination is greater than anything else. We can be anything we want to be. The title character, Rudy (played by Sean Astin) proves that. He manages to go from a disadvantaged background to playing for Notre Dame (a college football powerhouse).
Second, the acting is very, very believable. In these kinds of roles, some movies fail horribly by having actors that simply aren't made for the part. Sean Astin was made for that part.
Third, and most importantly, the ending. Although this is likely a reiteration of point number one, the ending is quite possibly the most powerful one I've ever seen. If you've ever dreamed about your name in lights, entire stadiums cheering you on, this film is for you.
6. Remember The Titans (2000)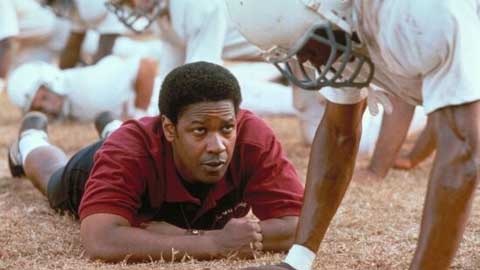 Disney's crack at the classic American football flick, there are numerous faults to be found within this film: the unrealistic ending, the clichéd union between the multiracial team, and such like. But it still works.
Remember The Titans is the quintessential sports film, and ranks as my own personal favorite, even if it wasn't designed to be as gritty or 'real' as some of the others on this list.
Why? Three reasons: cast, story and mood. Denzel Washington and Will Patton work together well as the two head coaches in a post-segregation Virginia high school. Their relationship is humorous yet heartwarming, exactly what you want out of a film like this. Add on the mirroring friendships among the players, and you've got a winning formula.
Then you have the plotlines: a team questing for glory, against the odds of a xenophobic nation. It might be a familiar blueprint, but Remember The Titans does it justice.
Finally, the film may well leave you changed at the end. Their problems, their sacrifices, their pain will resound in your heart. And that is the exact reason why this film, time and time again, comes out as a classic.
5. Jerry Maguire (1996)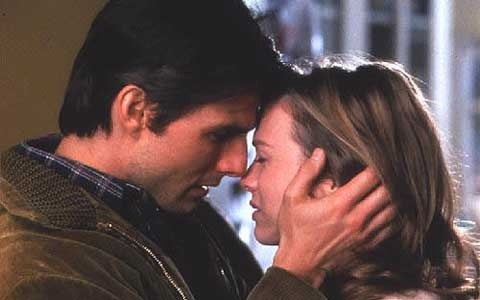 Before Tom Cruise was jumping on couches, he was making solid blockbusters, none more famous than Jerry Maguire once again, a great sports film that avoids most of the clichés.
Focusing on the life of sports agent Maguire (Cruise), the movie details his shaky relationship with the world of sports management. That there, is one completely original idea for a sports movie, and its title character sees things from a perspective the audiences have likely never seen before in a theatre.
Cruise's performance is stellar, but the movie earns its place in feature film history through the work of the supporting cast, Cuba Gooding Jr. and Renée Zellweger. These two characters make this movie real, with Gooding playing the sole athlete to trust Maguire (who proves to be almost impossible to deal with), and Zellweger as Cruise's love interest.
To prove just how strong these characters were, two of the most commonly known phrases in the movies' lexicon came from them: "Show me the money" and "You had me at hello."
4. Field Of Dreams (1989)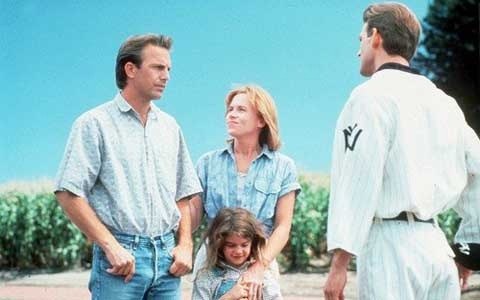 "If you build it, they will come." The sheer prevalence of this quote in popular culture proves the success of this movie. This was in an era where Kevin Costner was still a viable actor, before the age of The Postman or Waterworld.
This movie isn't your average sports flick. It's about the unifying power of baseball between father and son, and features very few scenes of actual baseball. But that doesn't detract from the film itself, and Costner's dilemma is easy to understand. Not to mention James Earl Jones, who plays a reclusive author (not exactly the typical character in this genre, eh?) that assists Costner in his quest to find his father.
Except for the African-American mentor cliché, this movie follows none of the usual sports film stereotypes, and in that, it finds greatness. It's emotional, it's dramatic, it's the first-and-only 'sports-fantasy' film.
3. Friday Night Lights (2004)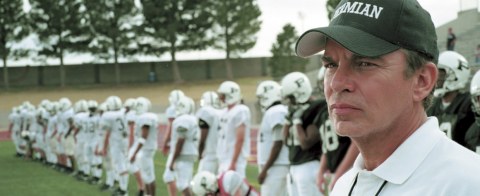 In the United States, nothing is bigger than football. And in the world of football, one state consistently does it best, Texas.
Behind the multi-million dollar programs, high-profile coaches and state champions lies the story of Friday Night Lights, a movie about a team, a town and a dream. If I had to define it in one word: realistic. The movie does not skimp on the fundamentals of American football, on the pressure these players face each and every day.
A stellar cast, lead by Billy Bob Thornton, is able to capture the entire spectrum of football in that Texas town. To show just how moving this film is, I leave you with the following quote:
"Being perfect is about being able to look your friends in the eye and know that you didn't let them down, because you told them the truth. And that truth is that you did everything that you could. There wasn't one more thing that you could've done. Can you live in that moment, as best you can, with clear eyes and love in your heart? With joy in your heart? If you can do that, gentlemen, then you're perfect."
Inspiring.
2. Hoosiers (Best Shot) (1986)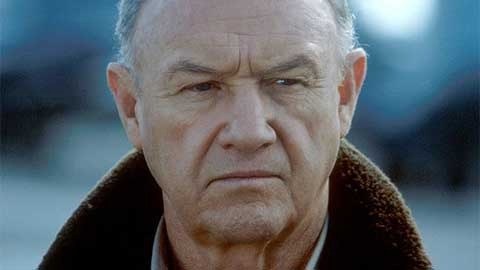 This film ranked 13th by the American Film Institute in its list of most inspirational movies. Enough said. With a similar story to much of the films on this list, I won't go into plot specifics, as you can already guess them. Coach and team overcome hardship to win.
But what does make this picture shine are the performances by Gene Hackman and the late Dennis Hopper, who play characters with a past they both regret, trying to give the best they can to this team. And they don't fail in that goal, with Hopper in the best performance of his career.
On top of it all, the story comes from reality, which makes it even more powerful. The impact of basketball upon this small Indiana town, which seems to have nothing else, and the fact that an initially hated coach has to deal with parents and townsfolk whose lives revolve around the sport, leaves the audience in awe.
How Hackman and Hopper manage to do the things they do is spectacular, and sets a standard to which all sports films should be held.
1. Rocky (1976)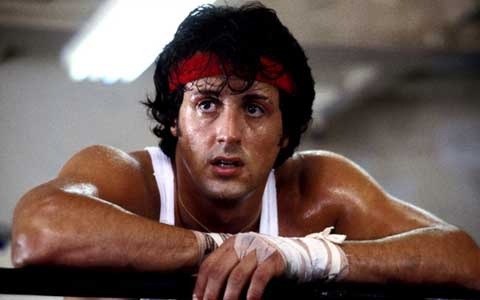 Ah, the movie that spawned five sequels and made Sylvester Stallone into a national icon, Rocky is the epitome of boxing movies.
The film itself is tied down to a solid script (nominated for an Oscar for Best Screenplay), which already puts it light years ahead of most of its successors. Stallone seems to put all his effort into this film, something which I didn't feel in Rocky Balboa, which adds to its strength.
Although slightly far-fetched in some aspects of its plot, the story of a down-on-his-luck average Joe with determination is inspiring, and I've come to believe that Rocky created that cliché. This movie is a manifestation of the mantra, "it's not about the destination, it's about the journey."
This film is not about the results of the fight between Rocky and Apollo Creed, but rather the emotional, physical and mental toil that Rocky goes through, his desire to go the distance.
It's not your average underdog story. It's much more real than that.
Have your say about sports films in the comments…