Features
The top 10 finest geeky disco hits
Geek movies and games were common inspirations in the disco era. Here's Jeff's selection of the finest geeky disco hits…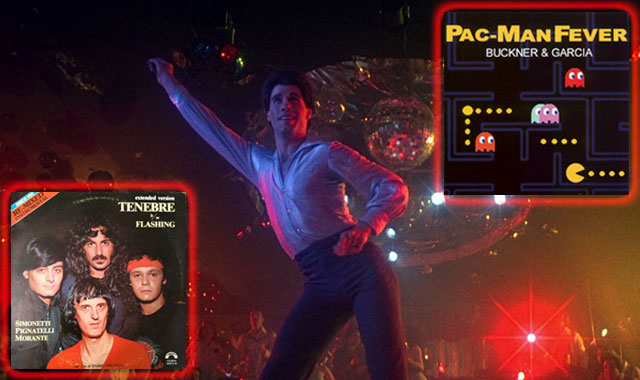 Disco didn't just appeal to butterfly-collared hipsters, but also fringe groups like orchestral music and soundtrack geeks, who were keen to get an entire generation dancing under mirror balls.
Here are just ten tracks to get your nostalgic nerd on to, with no Disco Duck in sight:
10. Battle In The Snow – Meco
Meco Monardo specialised in transforming movie scores into potential dance hits. Having conquered the original Star Wars on the classic Star Wars And Other Galactic Funk, Meco took on one of John Williams' meatier offerings with Empire Strikes Back, churning out a nifty little EP containing interpretations of movie score cuts you'd never think would mesh with mass audiences. (Seriously, The Battle In The Snow as a dance track? Featuring AT-AT sound effects?)
As I was only a little tot back in the early 80s, I never had the chance to saunter into a bar and ask a girl to gyrate to this, being too busy playing with my Kenner action figures. Where's that TARDIS when I need it?
9. A Dance Fantasy Inspired By Close Encounters Of The Third Kind – Montana
Meco also tackled Close Encounters, but Montana's 16 minute opus is the better pick. After commencing with the five-note alien motif, Montana creates a sonic thunderstorm of pounding drums, heavy bass and sampled wind effects, coming closer to the more atonal moments of John Williams' score than other disco efforts. 
It meanders on with several different grooves, various sound effects (train whistles, car crashes), and instrumentation, including a sitar – presumably standing in for the brief snippet in the film that takes place in India. As in the movie, the musical coda is an ethereal take on When You Wish Upon A Star.  
8. Tenebre – Simonetti-Pignatelli-Morante/Goblin
Released in 1982 after punk music ground disco into the pavement, Goblin's score for Tenebre plays both with early 80s synth-driven experimentation and dancehall rhythms. The menacing groove adds a cool sheen to one of Dario Argento's better set-pieces, a crane shot looming around the exterior of a house that culminates in a stylish murder with a point-of-view shot through a shirt collar.
7. Twilight Zone/Twilight Tone – Manhattan Transfer
The opportunity to shuffle along to Marius Constant's Twilight Zone theme (both opening and end credits) was always there, but it took Manhattan Transfer to throw a four-on-the-floor beat and add spacey vocals ("When I hear this melody/this strange illusion takes over me/ Through a tunnel of the mind/Perhaps of present or future time", etc) to bring it to the club scene.
6. A Night On Disco Mountain – David Shire
Back in the 70s, David Shire scored a wide array of films in differing styles, playing with funk and 12-tone rows for The Taking Of Pelham 1-2-3, blues and jazz and piano-driven dissonance in The Conversation. His pop sensibilities are in full force on a number of tracks for Saturday Night Fever. Manhattan Skyline is probably the most danceable, with highly melodic brass flourishes, but Disco Mountain is the real geek-out. Only in the late 70s could you get the kids shakin' their booty to Modest Mussorgsky thanks to tracks like this, and prog-rock efforts of Emerson, Lake and Palmer recreating Pictures At An Exhibition. Disco Mountain maintains a surprising amount of the orchestration, especially the alternating swirling and staccato strings.
5. Pac Man Fever – Buckner & Garcia
While less hilarious than the Freddy's Greatest Hits novelty record to tie-in with the Nightmare On Elm Street craze, you can actually dance to the songs here. Take your pick of Pac Man Fever or any other track from Buckner & Garcia's 1982 masterwork from K-tel records (Do The Donkey Kong comes a close second). The songs are about as pre-packaged as they come, more of a means to market early videogame sound effects on vinyl or cassette.
4. Toccata And Funk In D Minor – Walter Murphy
Walter Murphy's interpretation of classical favorites like Gershwin's Rhapsody In Blue, Mussorgsky's Night On Bald Mountain, and Rimsky-Korsakov's Flight Of The Bumblebee remain giddy pleasures to this day. But Toccata forms part of a more ambitious project, a disco concept album centered around Phantom Of The Opera (finally available again on platforms like iTunes, and way more entertaining than anything Andrew Lloyd Webber assembled). Toccata is the standout track of the album, also ripe with goodies such as The Phantom Of Your Dreams and the sublimely-titled Dance Your Face Off. Indeed.
3. A Drive In The Country – Bill Conti
Admittedly, there are too many tempo changes in this cut from the From Your Eyes Only soundtrack to qualify as 100 per cent disco, but man alive, this rocks the house. Bill "Rocky" Conti whips up a frenzy of guitars, strings, and synthesizers that sound like they were squeezed out of an X-rated film scoring session. All this, and a foot-stomping version of Monty Norman's main theme to boot. You almost want this to be a national anthem. Well, you might not, but I do.
2. Themes From The Wizard Of Oz – Meco
There was always the danger of this list getting Meco'ed up, but really, with vocals emulating Bert Lahr's cowardly lion ("Put 'em up, put 'em up") coupled with Over The Rainbow done in the style of Van McCoy's The Hustle, you simply must undo one more button on your collar, click your red-slippered heels together, and submit to this track's will. 
1. Disco Trek (Theme from Star Trek) – Universal Robot Band
The title and year of release (1978) say it all. Groove long and prosper.
Follow our Twitter feed for faster news and bad jokes right here. And be our Facebook chum here.