Features
The top 10 films of Richard Linklater
With Richard Linklater's Before Midnight out in the UK this week, Robert lists his choice of the director's top 10 finest films to date...
Richard Linklater is quite rightly regarded as one of the godfathers of modern day American independent cinema. He marked his arrival back in 1991 with Slacker, a movie made for just $23,000 which possessed virtually no plot and instead provided a low-fi insight into the disaffected youth culture of early 90s America. Since that critically acclaimed debut, Linklater has expanded his range somewhat, and while certain themes continue to crop up throughout his work, he's certainly not a director who has ever been afraid to try something new.
Linklater hallmarks such as youthful rebellion and generational differences continue to be a regular occurrence in many of his movies, just as his fondness for setting films over a defined 24-hour period remains a common occurrence. However, the Texan director has delivered movies ranging from tender romantic dramas, experimental animations, coming of age nostalgia fests and mainstream studio comedies.
Throughout his career thus far though, regardless of the exact genre he chooses to tackle, Linklater has shown a keen eye for character-driven and dialogue-heavy pictures that bring out the best in the casts he recruits. Not all of his work is perhaps as influential or accessible as others, but his diverse back catalogue does mean that there really is a Linklater film out there for everybody.
With Before Midnight, the third instalment of his much loved romantic saga starring Ethan Hawke and Julie Delpy, due out this weel, it feels like an opportune moment to run through the ten finest Richard Linklater movies to date.
10. The Newton Boys (1998)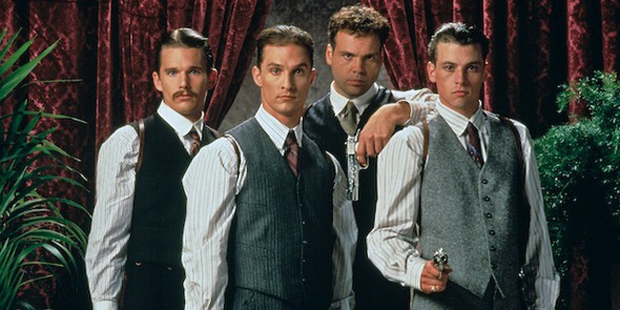 The Newton Boys was Linklater's first big budget movie after the relatively small scale offerings of Slacker, Dazed And Confused, Before Sunrise and Suburbia. Gone were the small town settings, miniscule casts and tight 24 hour time frames, this was an all-singing, all-dancing period gangster piece. Unfortunately, the end result, while a solid effort and certainly well worth a watch, didn't prove a big box office smash and is not quite up there with the very best of the director's work.
The story focuses on a real-life band of genial bank robber brothers known as The Newton boys. Matthew McConaughey, Ethan Hawke, Skeet Ulrich and Vicent D'Onofrio are the four siblings who along with a buddy who is adept at using nitro-glycerine to open safes, went on to become some of the most successful bank robbers of the 20th century. The film follows their various escapades and ultimate downfall with some eye catching period detail.
The young leads are all charming and blend together well; the old Linklater knack for piecing together a cast who interact seamlessly is certainly not in question here. If the film has a failing, it's perhaps because we've seen this story a few times before, and with far more action-packed and bloodier consequences. Compared to other gangster pictures, The Newton Boys does feel a little tame and sanitised in places. 
Although seemingly out of place when compared to the director's output prior to its release, The Newton Boys still holds up well as a crime romp. Once again Linklater tried his hand at something new, and this can legitimately be billed as a solid attempt at a mainstream crime movie. 
9. Slacker (1991)
Linklater's debut feature remains an inspirational template for aspiring indie directors across America. An existential, meandering and plotless movie, it follows the musings of a variety of Generation X slackers over the course of a day in Austin, Texas. The structure of the film was a unique selling point in itself; one character delivers their thoughts on a topic, be it anti-government sentiment or the JFK assassination, and the person they interact with in said scene takes the reigns and we follow them until they interact with another person and the chain continues.
Linklater himself starts proceedings off with a rambling monologue to a disinterested taxi driver on his way back into town, and this is arguably the director's most personal film to date. The sense of an alienated youth, marginalised by the government and unwilling to participate in a political system they feel no connection to, is a factor which crops up throughout the director's work, and was never more prevalent than here in his debut feature.
The whole film is built around painting a portrait of a subset of society to which the director himself belongs and he does so in a highly original and engaging manner.  The 'right-on' musings of the various bohemian characters can get a little draining after a while, but it remains a compelling snapshot of a certain generation of young Americans and is a clear statement of intent from the young director.
8. A Scanner Darkly (2006)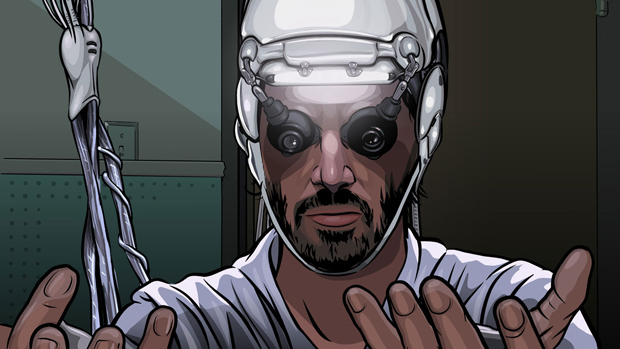 Another change of pace for Linklater here as he tackles Philip K Dick's dystopian sci-fi novel A Scanner Darkly. Shot digitally and then animated using the rotoscoping technique the director first used to make Waking Life years earlier, the film has a distinct and trippy look to it which befits its themes of substance abuse and psychological damage.
Keanu Reeves stars as Bob Arctor, an undercover cop infiltrating a group of 'Substance D' abusers in the hopes of tacking down their supplier. In the process of doing so, Arctor himself is required to become a user of the drug, a dangerous prospect given that the substance is known to cause substantial psychological damage. Woody Harrelson and Robert Downey Junior stand out as the drug-addled 'friends'  of Arctor who unwittingly become embroiled in his operation.
The film doesn't shy away from the dark message which ran through Dick's original novel. The author dedicated the book to people he had known that had their lives cut short thanks to drug use, and the story emphasises the destructive nature of substance abuse. Linklater works this dark undercurrent into his film well, even including an abridged version of Dick's dedication in the film's end credits. The bittersweet ending in particular reflects his desire to stay true to Dick's intentions, even if the narrative itself was altered noticeably from the novel.
The sci-fi elements are well-handled too, with the surreal nature of elements such as the high-tech body transformation suits heightened thanks to the animated techniques the director adopted. The psychological musings between the central group of friends remains a Linklater hallmark, and these light-hearted moments ensure the dense material remains enjoyable to watch. It does become a little incoherent as the story hurtles onwards, but the end result remains a hypnotic and intelligent piece of sci-fi.
See also: why A Scanner Darkly deserves a second look.
7. Waking Life (2001)
Much like his debut Slacker, Waking Life sees Linklater eschewing any form of conventional plot and instead delivering a dreamy and sprawling series of philosophical ramblings from an ever-changing cast of characters. The big difference this time out was that this time, the director debuted the rotoscope animated technique he would go on to hone with A Scanner Darkly. These hypnotic images give the whole film a surreal feel, and while some of the musings may go over your head a little bit, there's always another one shortly after that might grab your attention.
Loosely speaking, the film is based on the concept of dreams and how they relate to real life. The film has what could be called a central protagonist, played by Wiley Wiggins, who appears to be experiencing a lucid dream of his own as he flits from person to person soaking up what they have to say about dreams and life in general.  This is Linklater at his most inquisitive, as he encourages us to free our minds and go on a philosophical journey of discovery with him.  If you want to see a movie that covers existentialism, metaphysics, free will and the film theory of Andre Bazin, then this is the film for you.  If you fancy an easy going light-hearted romp, it emphatically is not.
One highlight for Linklater fans is a section where Ethan Hawke and Julie Delpy reprise their roles from Before Sunrise for a brief scene where they lie in bed sharing a typically thoughtful debate.   It certainly isn't a film for everyone, but if you fancy a challenging and thought-provoking movie that is more to be experienced than enjoyed, than it is well worth a watch. 
6. Tape (2001)
After getting his fingers burned slightly by the lukewarm reception to The Newton Boys, Linklater went away and made two distinctly un-Hollywood microbudget movies. The first was the animated dreamscape that was Waking Life, the second was this intriguing psychodrama starring Ethan Hawke, Robert Sean Leonard and Uma Thurman. Based on a play by the same name, it was set entirely in the close confines of a seedy motel room. 
Linklater's previous attempt at adapting a stage play was the sub-par Suburbia which proved to be distinctly unimpressive, with the end product feeling incredibly stagey and the characters far too melodramatic and unbelievable. This time out though, Linklater delivers an intense and powerful movie which benefits from all three leads giving top draw performances.
Hawke stars as Vince, a drug dealing slacker who has travelled to Lansing, Michigan to attend the premiere of his friend's new movie. Said friend Jon (Leonard) arrives at Vince's motel room and the pair start catching up and reminiscing about old times. Things soon start to get a little agitated however and a dark secret from their past is brought up and it becomes clear that Vince has an ulterior motive in mind. The pending arrival of Amy (Thurman), a girl who Vince used to date and who Jon once slept with, holds the key to their increasingly volatile debate. 
The limited confines of a motel room is maximised well by Linklater to create an oppressive atmosphere heightened by the increasingly desperate characters. The film also marks the director's first experiment with digital cameras, which were at this time still something of a novelty.  Tape is a tense and gripping little novelty piece that is well worth seeking out.
5. Bernie (2011)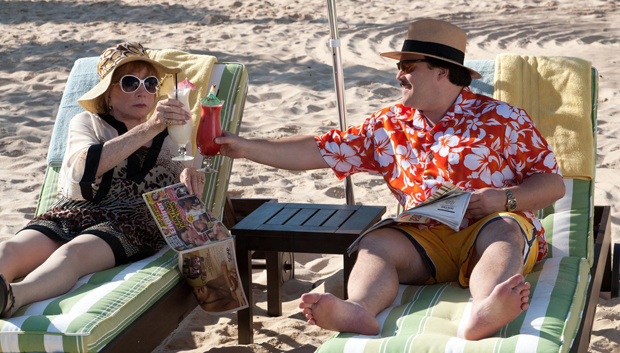 Another distinctly different Linklater movie here, which sees him tackle a real life crime drama and lace it with moments of deeply dark humour. It could be classed as a comedy of sorts, but the moments of humour are almost unintentional as you find yourself laughing at the absurdity of the situation rather than any choice lines. It also features a remarkably restrained performance from Jack Black who was nominated for a Golden Globe for his role as the titular Bernie. Despite positive reviews upon release, the film has slipped under the radar somewhat, and remains something of an undiscovered gem.
The film is based on the true events which unfolded in a small Texan town called Carthage, and involved a popular local mortician's assistant known as Bernie Tiede (Jack Black). The story was first reported in a magazine article Midnight in the Garden of Texas by one Skip Hollandsworth, who co-wrote this screenplay along with Linklater. Bernie befriended an elderly widow called Marjorie Nugent (here played by Shirley MacLaine), a cold and mean woman disliked by most of the town. The two became inseparable, and Marjorie began to put great demands on Bernie, monopolising his time and abusing his kindly nature.
After Marjorie pushes him too far one day, Bernie murders the widow and hides her body. He then uses her fortune to help out local businesses and townsfolk, which raises the suspicions of the deceased woman's stockbroker. Eventually, Bernie is rumbled and arrested, and District Attorney Buck Davidson (Matthew McConaughey) plans to charge him with first degree murder. Bernie's popularity is such that Buck is forced to request a change of venue for the murder trial, as he fears Bernie wouldn't get a fair trial in his beloved Carthage.
It's a unique and memorable movie, which benefits greatly from Linklater's decision to combine interviews with some real-life Carthage townsfolk – whose praise of Bernie is remarkable – with fictionalised recreations of real life events. Black is outstanding as Bernie, a one-of-a-kind character whose personality I can't really do justice to here. He's a gentle, kind and considerate sort who is noticeably camp in many of his mannerisms. Bernie's sexuality is briefly touched on in the film, but in many ways he is painted as being something of an asexual character whose relationship with Marjorie appears to be purely platonic. 
It's strange to come out of a movie siding with a convicted murderer, but there's just something about Bernie and Linklater's storytelling that sweeps you up and plants you squarely on his side.  As he does so often, the director embraces small-town suburban life, and once more returns to his native Texas for inspiration. It's surreal to see how much support and sympathy remains for Bernie among the townsfolk he touched so dearly in this wonderfully morally ambiguous piece.
4. School Of Rock (2003)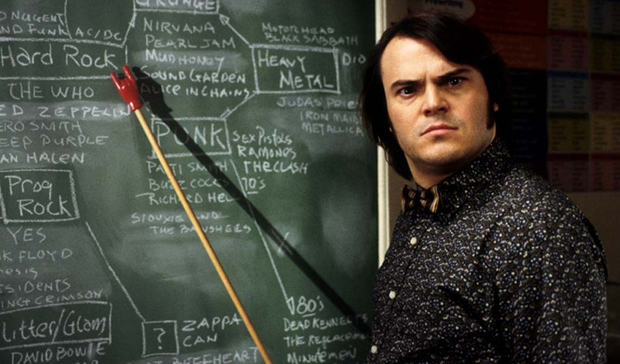 Linklater's previous foray into major Hollywood studio fair was the commercially disappointing The Newton Boys. After making the low-budget and personal movies Waking Life and Tape, he returned to the world of commercial studio pictures with School Of Rock. It's arguably the director's most family friendly movie to date, and also one of the least Linklater-esque in terms of tone and structure. There's no generational angst or ostentatious philosophical musing, just a pumping rock soundtrack and unabashed fun.
The film revolves around Jack Black's Dewey Finn, a would-be rock star who, after being thrown out of his own band, decides to pose as his roommate and take a substitute teaching gig at a local private school. Once there, he initially plans to just coast by and hope nobody catches on that he isn't a real teacher, but once he learns the class includes some seriously gifted musicians, he decides to form a new band and lead them into a local battle of the bands competition.
Black's career has tailed off slightly of late, but after his scene-stealing turn in High Fidelity, this was his career highpoint. Throwing himself into the role of a wannabe rock star with typical exuberance, Black anchors the film brilliantly, and perfectly complements the young cast. The talented kids, who all play their own instruments, rise to the task admirably, and while there's never any doubt as to where the ending is heading, it's pulled off in fine feel-good fashion by Linklater and the cast.
School Of Rock doesn't break any new ground, but as far as fun family-friendly movies go, it's an oft-overlooked, funny and re-watchable comedy.
3. Before Sunset (2004)
It's always dangerous for a director to return to a cherished movie further down the line. For every Terminator 2, there are several Crystal Skulls. Linklater and his two leads from Before Sunrise, Ethan Hawke and Julie Delpy, had been kicking around the idea of a sequel to the successful original for several years after its release.
After a distinct lack of funding, the sequel languished in limbo as the trio went off and continued with other projects. Some nine years later, after plans for a bigger budget, more traditional romantic drama were scaled down, a follow up was filmed, and much to the relief of fans everywhere, it more than lived up to the weight of expectation and is even considered in some circles to be superior to the original.
Now if you haven't seen the original Before Sunrise, you may want to skip this next paragraph as there are some spoilers afoot for the end of that movie. Before Sunrise's conclusion sees the star-crossed lovers vowing to meet exactly six months later, but in an act of true faith they do so without exchanging numbers or addresses. Before Sunset takes up the story some nine years later and Jesse is promoting his new book in Paris, a book which is clearly influenced by his rendezvous with Celine years earlier. Celine arrives at the small bookstore where he is talking, and the two decide to go for a wander around Paris to reconnect. It turns out they never did meet up as planned, for reasons I won't go into here, and both went on with their lives for better or for worse.
The pair discuss what they have been up to the nine years since they saw each other last, and we get a definite sense of regret and of missed opportunity from them both. Linklater once again allows the dialogue to speak for itself and uses extensive steady cam shots to track his leads as the meander about Paris. As time ticks away and they face leaving each other once more, the tone darkens slightly, and talk turns to what could have been. The characters are older now and their lives don't stretch out ahead of them like perhaps they once did, thus major life decisions begin to take on an even greater meaning. Linklater captures the sense of romance and of two souls who should really have been together perfectly, and the deliberately ambiguous ending is a directorial masterstroke.
2. Dazed And Confused (1993)
After the success of Slacker, this coming-of-age comedy was Linklater's first movie for a major studio. While it didn't prove a massive hit at the box office, it went on to become a cult favourite on video and is regarded as doing for the 1970s what George Lucas' American Graffiti did for the 1950s. Set in 1976 on the final day of school in a mid-sized Texan town, the film follows a similar tack to Slacker, in that Linklater follows a cross-section of characters whose stories intersect over the course of the movie.
Unlike Slacker, though, there is a small semblance of a plot running through it all. Hence we witness scared freshmen dodging brutal paddlings at the hands of school seniors, timid nerds struggling to come out of their shells and a star football player facing pressure to ditch his stoner friends. Linklater ties all these threads together into a nostalgic story which avoids clichés and encapsulates that sense of trepidation and excitement that greeted the start of summer holidays, and for some of the characters, an end to their school days.
The psychedelic rock soundtrack is superb throughout, the script was filled with choice one-liners, and the young cast includes some soon-to-be major stars just before they got their big breaks. Ben Affleck and Matthew McConaughey both put in memorable turns as a bullying asshole and laid-back elder statesman respectively. On top of these two, the likes of Milla Jovovich, Parker Posey, Jason London and Cole Hauser also stand out.
Far from being a mere stoner movie, Dazed And Confused is a heartfelt and funny ode to youthful exuberance that captures a sense of teenage life in small town America in the mid 1970s perfectly.
1. Before Sunrise (1995)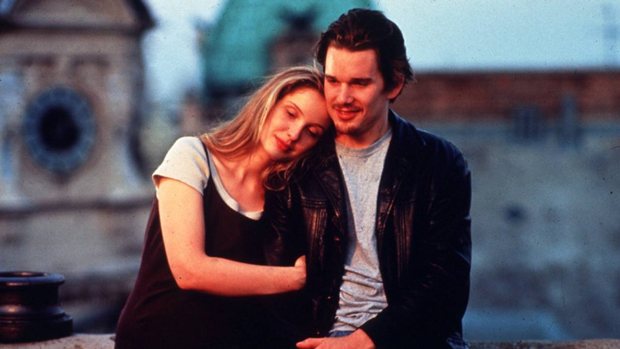 Linklater's story of two young travellers who meet on a crowded train and decide to spend the evening taking in the sights of Vienna, manages to avoid the traditional romantic movie clichés and in doing so, comes across as a refreshingly honest and thoroughly captivating love story. Ethan Hawke and Julie Delpy play the two leads, Jesse and Celine, and both actors deliver note-perfect performances as a couple who form an instant bond and decide to make the most of every possible minute they can spend together. They wander the picture-postcard streets of Vienna sharing discussions on love, life and death like the idealistic romantics they both are. 
It centres on a series of conversations between two people, and in this regard, it's a stripped down and no-frills movie. The focus is purely on this young couple and their blossoming romance. Yet somehow, despite this minimalist composition, it doesn't seem to drag or get boring at any stage. Linklater avoids using soppy love songs or a montage chronicling the pair falling in love; rather, he shows you those moments in all their glory. The poignant and ambiguous ending left one of the great love stories of the 90s up in the air, and paved the way for the equally glorious sequel.