News
Linda Hamilton Didn't Want to Work with Arnold Schwarzenegger on The Terminator in 1984
Linda Hamilton reveals she didn't want to work with Arnold Schwarzenegger when he was first suggested for The Terminator.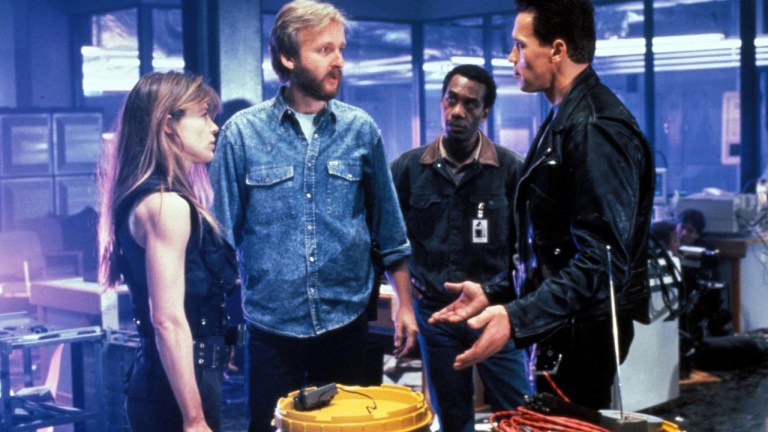 As it turns out, maybe there is a reason Sarah Connor was so convincing when she ran from the T-800 in the original 1984 The Terminator. At least that is one way to view Linda Hamilton's confession on The Graham Norton Show that she initially didn't want to work with Arnold Schwarzenegger.
The news came when the pair appeared on the British television talk show to promote their long overdue onscreen reunion in Terminator: Dark Fate. As Norton reveals in the exclusive clip below, Linda Hamilton had major reservations about working with "the Austrian Oak," as Schwarzenegger was known at the time.
"Yeah, not at all," Hamilton said about whether she wanted to work with the man who would become the T-800. "Only because I was a snotty New York actress, you know? You move from New York, you're training with Lee Strasberg and 'you can't go to LA, it'll ruin you. You can't do LA movies, they suck.' I mean, New York is tough."
So when producers began throwing around the idea of Schwarzenegger for the role of the T-800, Hamilton hesitated about the body builder who'd only just transitioned to serious acting with John Milius' Conan the Barbarian.
"People are very excited, and I was like, 'I don't know,'" Hamilton recalled. "'I'm going to see for myself.' I actually went to set to see him on set."
It is unclear whether the set Hamilton visited Schwarzenegger on was Milius' paean to hunky pulp violence or its sequel, Conan the Destroyer, but either way, it must have impressed her—to legendary effect given how iconic both became for their roles. As we wrote in our Terminator: Dark Fate review, it is the history both actors bring to their characters that makes the new installment the only Terminator sequel to matter since 1991.
… Still, as you can see in the clip, it still stings 30 years later when Schwarzenegger found out, "You were hesitating working with me?!"
The full interview with Schwarzenegger and Hamilton on Graham Norton when the episode airs tomorrow at 11pm on BBC America. Terminator: Dark Fate, meanwhile, opens on Friday, Nov. 1.
David Crow is the Film Section Editor at Den of Geek. He's also a member of the Online Film Critics Society. Read more of his work here. You can follow him on Twitter @DCrowsNest.