News
The Ten best, worst, and most underrated movies of John Carpenter
Ryan looks back over the long career of John Carpenter, and picks out the best, worst and most underappreciated movies in his back catalogue…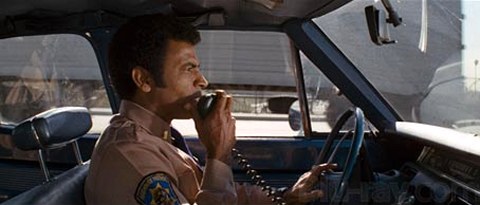 Carpenter's low budget siege movie mixed elements of the Western genre and elements of George Romero's Night Of The Living Dead to create a film of steadily building suspense. An almost unbearably slow build up gives way to a spectacularly violent finale, as a beleaguered collection of cops and criminals struggle to defend a police precinct under attack from an army of faceless gangsters.
Made infamous for its ice cream truck shooting, a scene which establishes the vicious nature of the movie's antagonists with stone cold economy. When the main villain unflinchingly guns down a little girl with pigtails, you know he, and the director, really mean business.
The 2005 remake entirely lacked the original's icy edge.
Halloween (1978)
A film that popularised an entire subgenre of slasher horror, Carpenter's Halloween inspired a legion of increasingly bloody homages and rip-offs which frequently failed to recreate the original's atmosphere and suspense.
By modern standards, Halloween is a measured and almost bloodless continuation of the Hitchcock's Psycho, with Jamie Lee Curtis's straight-laced babysitter and her friends suffering at the hands (or knife) of Tony Moran's serial killer in a William Shatner mask.
Donald Pleasance gives a typically memorable performance as the psychologist and harbinger of doom, Doctor Sam Loomis, and Carpenter's direction throughout is assured, beginning the film with a striking first-person murder sequence, and investing almost every scene that follows with an air of prowling menace.
Escape From New York (1981)
Carpenter created a cult hit with this dystopian science fiction actioner. In the aftermath of a planet-ravaging World War III, Manhattan Island has been turned into a colossal maximum security prison. When the President's private plane is crashed into the city by hijackers, Snake Plissken (Kurt Russell) is sent, with miniature bombs implanted in his neck, as an unwilling rescuer.
While Carpenter and co-writer Nick Castle's story never really takes off as you'd hope, Escape From New York remains a sterling entry in the director's canon, with an ingenious premise, entertaining performances from Russell as the laconic hero, and a superb supporting cast, including Lee Van Cleef, Ernest Borgnine, Isaac Hayes and Donald Pleasance as the cowardly, Nixon-inspired President.
The Thing (1982)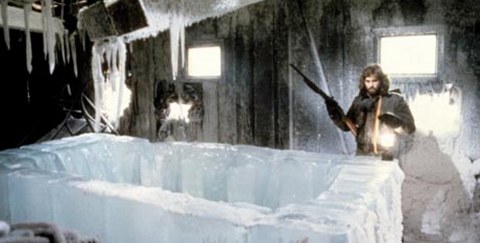 Arguably the best film of Carpenter's career to date, The Thing reworked John W. Campbell's science fiction short story Who Goes There (originally brought to the screen in 1951's The Thing From Another World) to spectacular and bloody effect.
As the residents of an Antarctic research station are menaced by a malevolent, shape-shifting alien, the creeping sense of panic and paranoia escalates with every gory and unexpected death.
An all-male ensemble cast headed up by Kurt Russell convey the economical script's escalating atmosphere of doom perfectly, but Rob Bottin's incredible special effects are the film's real stars. The alien's horrific transformation sequences become increasingly outlandish as the narrative plays out, culminating in a defibrillation scene which, once watched, will never be forgotten.
THE WORST
Prince Of Darkness (1987)
Not a terrible film by any stretch of the imagination, but certainly one of Carpenter's lesser works, with an uneven script and a daft premise involving a thousand-year-old flask of goo that turns out to be the glowing essence of Satan.
Not quite deserving of the critical panning it received on release (the Washington Post suggested the film should be "shut up in a canister for 7 million years"), it remains one of Carpenter's weaker films, and even Donald Pleasance's appearance couldn't save Prince Of Darkness from mediocrity.
Memoirs Of An Invisible Man (1992)
Carpenter turned to comedy with Memoirs, adapted from the novel of the same name by H. F. Saint. Chevy Chase stars in the lead role of Nick, a businessman who is turned invisible after an experiment goes awry.
Then-impressive special effects and the performances of Chase and love interest Daryl Hannah didn't prevent the jokes and espionage plot from falling flat.
Village Of The Damned (1995)
An updating of the 1960 movie of the same name, itself an adaptation of John Wyndham's classic novel of middle class paranoia The Midwich Cuckoos, Carpenter's Village Of The Damned was seriously marred by bad acting and bad wigs.
Christopher Reeve stars as a small town doctor whose female patients give birth to a brood of identical offspring with glowing eyes.
Mysteriously lacking the directorial panache of his 80s work, Village Of The Damned lacked the suspense of the British 1960 version, and is notable only for a couple of surprisingly grim deaths and Carpenter's typically brooding theme.
Ghosts Of Mars (2001)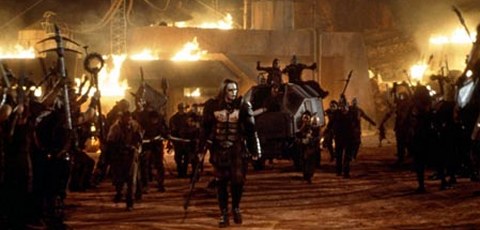 Easily Carpenter's worst movie, Ghosts Of Mars makes Village Of The Damned look like The Thing by comparison.
Species star Natasha Henstridge heads up a B-movie cast including Ice Cube and Jason Statham, and the siege premise, where Henstridge defends a Martian colony from a horde of zombie-like possessed miners, is an unsatisfying reworking of Assault On Precinct Thirteen.
THE MOST UNDERRATED
They Live (1988)
Made on a comparatively small budget of $3 million, They Live proved to be yet another commercial failure for Carpenter. While it more than made its money back, its returns were decidedly unremarkable, particularly for a film that was well received by many critics.
An action-packed and very funny satire on television and big business, They Live introduced professional wrestler Roddy Piper in the lead role as a down-on-his-luck drifter who stumbles upon an alien conspiracy to enslave mankind through subliminal messages in advertising.
Filled with wilfully awful dialogue, bad acting and plot holes, They Live is nevertheless one of Carpenter's better films of the late 80s, and deserves rediscovery, if only for the ridiculously protracted fight scene between Piper and Keith David.
In The Mouth Of Madness (1994)
Sam Neill starred in this homage to the work of Stephen King and H. P. Lovecraft, with a brisk horror tale about a private investigator who finds himself trapped in the nightmare world of a missing horror novelist's latest work.
On a comparatively low budget, Carpenter creates a movie that recreates the atmosphere of Lovecraft's stories more faithfully than most direct adaptations have achieved, and the director successfully crafts several moments of genuine unease.
While not Carpenter's best work, Madness marked something of a return to form for the director after the failure of Memoirs Of An Invisible Man.
Sadly, Madness' reviews were mixed (even Roger Ebert, who frequently rated Carpenter's movies highly, only awarded it with two stars), and the film made a meagre $8 million at the box office. A pity, as this is clever and hugely underappreciated entry in the director's canon, with a premise that even appeared to influence Remedy's recent horror videogame Alan Wake.