Features
The successful career paths of 7 Hollywood child stars
With the arrival of Spring Breakers imminent, Nick looks at seven former child stars who've gone on to enjoy film careers as grown-ups...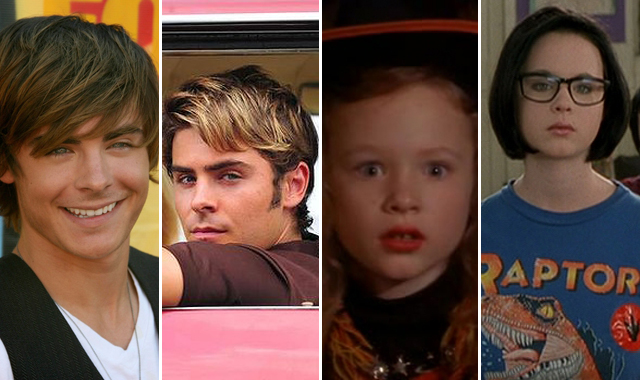 Making a name for yourself while young is definitely an appealing way to get into the acting business, for pushy parents and wannabe stars alike. The pros are obvious – fame and fortune at a young age, established links with the industry, and an early chance to make your mark. But for many, being a child star is the only thing they know, and once adulthood comes around, there goes the career.
Options can become limited once you've gone past your cute sell by date (just ask Macaulay Culkin), so is it any wonder that Vanessa Hudgens, Selena Gomez and Ashley Benson have decided to explode their child star image by starring in boundary pushing and very adult Spring Breakers? Going against type has paid off spectacularly for them, as Spring Breakers has already become one of 2013's must-see movies. But what of other former child and teen idols? Here's a quick look at how they chose to leave their squeaky clean image behind, and begin new life as respected (or not) adult actor.
Zac Efron (b. 1987)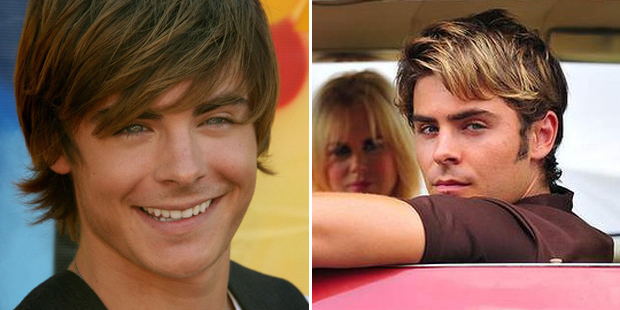 The new role model for Disney stars who want to be taken seriously. Efron made his name in 2006 in the first of the unstoppable High School Musical films (alongside Hudgens) and earned the Teen Choice Breakout Star award, of which there is no higher accolade from youngsters. However, it was clear that Efron desired more than the everlasting devotion of teens and sought to spread his wings a bit, first with a role in the 2007 film version of Hairspray.
While not exactly straying too far from the formula, he followed that up with 2009's teen body swap comedy 17 Again (much better than it should be) and hosting duties on Saturday Night Live, and a very amusing Funny Or Die skit entitled Zac Efron's Pool Party. But this wasn't quite enough to push him away from his teen idol status. For that, he needed The Paperboy (2012), Lee Daniels' follow-up to Precious. And he needed Nicole Kidman to wee on him (in the film anyway). Mission accomplished, Zac: you're a bona fide 'real' actor now.
Joseph Gordon-Levitt (b. 1981)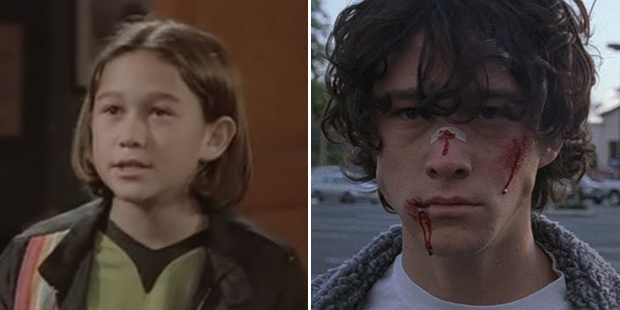 Famous as the sweet mop-topped teen Tommy from 3rd Rock From The Sun (1996 onwards), viewers back in the 90s would have little idea that the boy who graced the pages of teen magazines but often shunned the limelight would become JGL – Hollywood darling.
Taking his first steps into the film world via roles as a loveable loser in 10 Things I Hate About You (1999) didn't really change public opinion about him, so off he went to college for a bit, studied French Poetry, and then decided to return to acting, except this time with a stated desire to be 'in good movies'. This led him to take on the part of the mentally disturbed violent teen Lyle in 2001's Manic, a role which reshaped his career. Angry and disaffected, it showed there was far more than a decent ability to deliver a scripted one-liner.
Following that up a few years later with his breakout turn in high-school noir Brick (2004), as the genuinely dangerous and charismatic Brendan, suddenly it was no longer a case of 'look at Tommy from 3rd Rock', but rather, 'what's JGL going to do next?' Probably play Batman if Christian Bale doesn't fancy it is the answer there.
Thora Birch (b. 1982)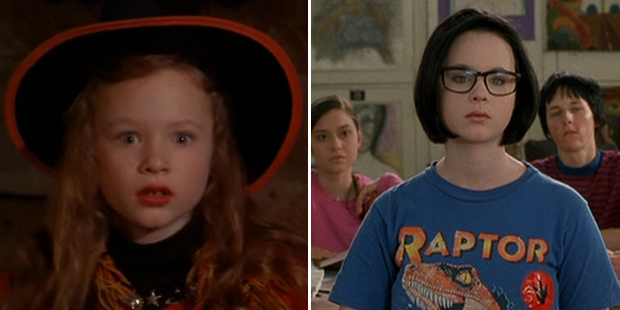 A child star of adverts, Thora Birch seamlessly transitioned into child roles in films, landing a run which included Paradise (1991), All I Want For Christmas (1991), Hocus Pocus (1993), and a recurring role as Jack Ryan's daughter in Patriot Games (1992) and Clear & Present Danger (1994). So far, so wholesome. So it was something of a pleasant surprise when she astounded critics with a magnificent turn as the alienated and disaffected Jane Burnham in American Beauty (1999), outshining the mighty Kevin Spacey with a part played with restraint and intelligence.
She followed that up two years later with an even better performance in Ghost World (2001), as trapped teenager Enid, making sure the audience feels her adolescent pain while maintaining a healthy dose of wry observation. However, in the fickle world of film, a successful child career followed by two breakout adult roles does not equal guaranteed mainstream work, as Birch has sadly slipped down the pecking order and into DTV movies (and being fired from an off-Broadway revival of Dracula: a low-point in anyone's book).
Josh Brolin (b. 1968)
Pretty much everyone who starred in The Goonies (1985) faced an uphill battle to establish themselves beyond that film. It's a microcosm of the child star dilemma – famous for being them, and not cared about if they try to be anything else.
Josh Brolin could have easily ended up being nothing more than a 'what happened to…' story as he followed up his role as Brand Walsh with the horrible skating film Thrashin'. But luckily for him, he landed a part as the dangerous, roguish, but well-meaning Wild Bill Hickok in the 1989 ABC series The Young Riders – a character that obliterated his past as a Goonie and paved the way for critical adulation nearly two decades later in No Country For Old Men (2007). Brolin's is definitely the way to do it, as it's always a surprise to find out about his former child star status. No jokes about Brolin – that's how much I respect him.
Lindsay Lohan (1986)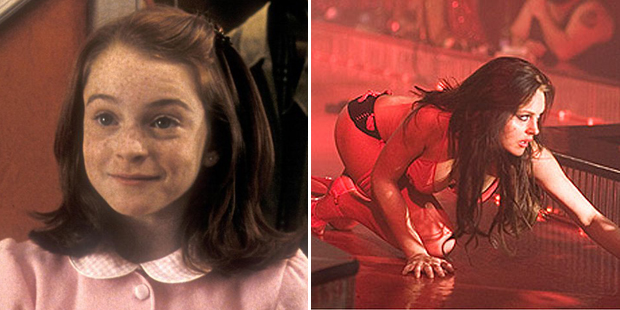 We know, it's an obvious one – but to talk about child stars who try to change their image without mentioning LiLo seems a bit remiss. Lohan became the child star with her role in Disney's The Parent Trap (1998), then landed another hit with Freaky Friday (2003) followed by a squeaky clean turn in Herbie: Fully Loaded (2005). If that wasn't enough, she seemed to make a transition into more edgy roles via Mean Girls (2004), but that that obviously wasn't enough for Lohan, who definitely wanted to shed her child star image.
If a litany of arrests over drink and drugs wasn't enough to convince everyone she was now an adult, she decided to shock everyone with a grown-up film part as a stripper. While a tried and tested method for other former teen stars (Elizabeth Berkley, Jessica Biel), LiLo chose I Know Who Killed Me (2007) to show off her moves. It's one of the worst films of all time. Recently she was arrested in New York for apparently getting into a bar fight over Max George from The Wanted. Which is as amazing as it is ridiculous. Good job she's got The Canyons to rely on later this year…
Kieran Culkin (b. 1982)
Maybe he learnt to avoid the pitfalls from watching his older brother's failure to turn world domination as a child into a meaningful career. While never quite as mega-famous as a kid, Kieran was still pretty well known from roles in Home Alone (1990), and Father Of The Bride (1991). Turning adorable into edgy requires a powerhouse performance in a film which gets noticed, and Kieran managed that with Igby Goes Down (2002), channelling bored and disaffected into critical gold.
Firmly establishing him as a new talent to watch, Culkin promptly disappeared for the best part of a decade before re-emerging as a comic talent in Scott Pilgrim Vs The World (2010), pretty much stealing the film as Scott's gay best friend and roommate Wallace. Let's hope he sticks around this time.
Alyssa Milano (b. 1972)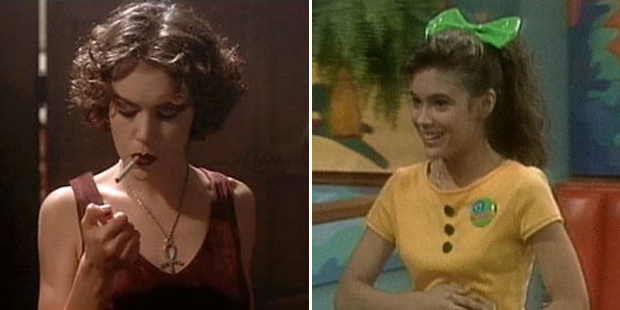 Big in the States but unknown in the UK, 80s sitcom Who's The Boss launched a tiny Alyssa Milano into stardom, playing smart good-girl Samantha Micelli. This led to her starring as Arnie's kidnapped daughter in 1985's Commando (a strong candidate for Arnie's finest action movie) and cementing her place as the nation's favourite screen daughter. So what to do when your cash cow comes to an end?
Facing the numbing prospect of going back to school, Milano instead decided to star in several B-movies which could definitely be described as 'erotic thrillers', including Embrace Of The Vampire, Deadly Sins (both 1995), and the franchise that keeps on giving child stars adult roles, 1996's Poison Ivy II (Drew Barrymore had used the original Poison Ivy to reinvent herself). It's no wonder she decided to head back into the safe embrace of a network show after that, with the role of witchy Phoebe Halliwell in Charmed, where she spent the next decade becoming a powerful player in the entertainment industry, and making sure all her future roles had a no-nudity clause.
Honourable Mentions
Anna Chlumsky: From super cute kid in Uncle Buck and the eponymous girl in My Girl, to spouting 'fuck-a-deedoo-dah, fuck-a-dee-ay!' in Veep.
Elijah Wood: From Thora Birch's cute co-star in Paradise, to getting his finger bitten off as a Ring-corrupted Frodo in The Lord Of The Rings.
Spencer Treat Clark: From Bruce Willis' adoring son in Unbreakable to pot-smoking hill-billy with the family from hell in the remake of Last House On The Left.
Christian Bale: From scared war child Jim Graham in Empire Of The Sun, to psychotic Wall Street killer Patrick Bateman in American Psycho.
Emily Browning: From the orphan child who Jim Carrey creepily tries to marry in Lemony Snicket's A Series of Unfortunate Events to sedated sex worker in the disturbing Sleeping Beauty.
Christina Ricci: From the scene-stealing Wednesday Addams, to several impressive movies, and the TV show Pan Am.