News
The Strangers: Prey at Night Trailer: Christina Hendricks Headlines Horror Sequel
Horror sequel The Strangers: Prey at Night stars Christina Hendricks as a woman whose family is terrorized by masked misfits.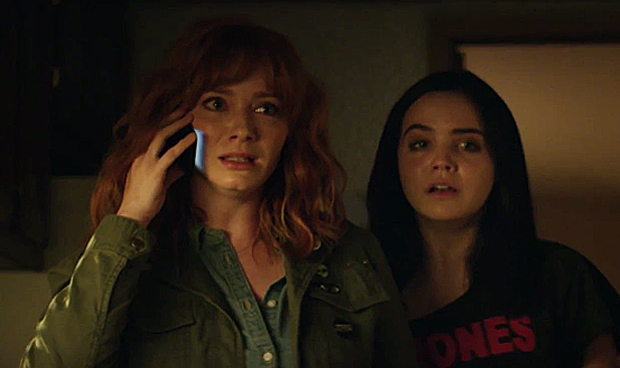 The Strangers arrived in 2008 as an insular, tonally-terrifying, horror film, centering on a young couple (Liv Tyler and Scott Speedman,) who are stalked in her remotely-located childhood summer home by three masked assailants. While it divided audiences, the film's back-to-basics plot on a microscopic $9 million budget proved to be a successful formula, grossing $82.39 million worldwide.
Now, nearly a decade later, after having crossed major dilatory hurdles, the long-awaited sequel, The Strangers: Prey at Night, is nigh.
The Strangers: Prey at Night Trailer
Here's the new The Stranger: Prey at Night trailer, ready to wean you off ever vacationing in a remote location of any kind.
And here's the previous trailer, which dropped back in November.
The Strangers: Prey at Night debut trailer taps the spirit of the original film, expanding its setting to trailer park, where, once again, a family find themselves the fixated target of three masked maniacs. This time, however, the ordeal is suffered by Cindy (Christina Hendricks), husband Luke (Lewis Pullman) and daughter Kinsey (Bailee Madison). The modus operandi of the masked trio remains the same, albeit with a bit more panache – if terrorizing a teenage girl by blasting Tiffany's 1987 hit cover of "I Think We're Alone Now" on the radio meets that qualification. However, the clear takeaway moment of this trailer lies in a dark sewer drain scene that might just give Pennywise the Clown a run for his money.
The Strangers: Prey at Night Details
Christina Hendricks serves as the star. After her breakthrough role in the 2007-2015 run of AMC's Mad Men, she's fielded an eclectic variety of roles on TV in Hap and Leonard, Another Period and Tin Star, as well as films Fist Fight, The Neon Demon and Zoolander 2.
Lewis Pullman (Battle of the Sexes, Aftermath), Bailee Madison (Good Witch, The Fosters) co-star, along with Damien Maffei, Emmy Bellomy and Lea Enslin, who play the masked maniacs this time around.
Johannes Roberts steps into the director's chair, working off a script by original film writer/director Bryan Bertino, as well as Ben Ketai. Roberts has been behind the camera for horror films such as 47 Meters Down, The Other Side of the Door, Storage 24 and F.
The Strangers: Prey at Night Release Date
The Strangers: Prey at Night will stalk its way to theaters on March 9, 2018.