News
The Steve Guttenberg ready reckoner
The star of Police Academy, Cocoon, Short Circuit and more joins us in the Ready Reckoner Chamber...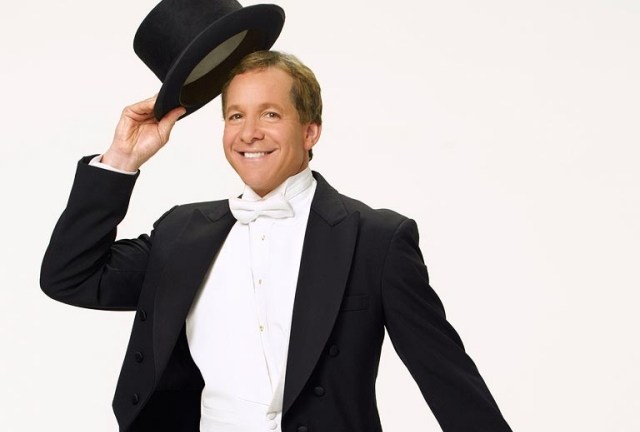 In celebration of the great man's decision to come to Britain to do panto, may we present out tour of his prominent bodies of work (ie the stuff that we stood a sporting chance of seeing). Mr Guttenberg, make yourself comfortable…
Can't Stop The Music
It's the Village People movie. And yes, I have watched it. And no, I don't want to talk about it.
Diner
Brilliant Barry Levinson film, with Guttenberg part of a lively, eminently watchable ensemble (including a great turn from Mickey Rourke).
Police Academy
Steve Guttenberg's breakthrough role, as the lead in a company of modern day Keystone Cops. There are moments of pure genius in Police Academy, although retrospect does hurt it a little. The blowjob gag is untouched, of course, and as Carey Mahoney, Guttenberg bags himself a role that'd bring home the bacon for years to come…
Police Academy 2: Their First Assignment
Now I'm not overkeen to get into a bitchfest about the decline and bludgeoning of the Police Academy franchise. So let's leave it at the fact that number two wasn't the worst of the sequels, but it was very content to re-run all of the same jokes again.
Cocoon
A three star movie, but one I could watch over and over again. Steve Guttenberg lands himself a good but tricky role, given the masterclass of senior acting talent that he shares the screen with. Yet he acquits himself well, and earns himself another sequel.
Police Academy 3: Back In Training
If I had to pick one of the Police Academy sequels to watch, this'd probably be it. The cast list was refreshed by having the recruits bring through another group of hopeless police officers, and while the film still lacks ambition, it's the last Police Academy movie to get a score this high.
Short Circuit
This is more like it. Again, my head can't give the film more than three stars, but my heart would gladly add at least one to that total. Sharing the screen with Ally Sheedy and a robot, to those of us of a certain age at the time, sounded like borderline paradise, and Short Circuit remains a hoot. Heck, they've even churned it out in hi-def. Notably, Guttenberg wasn't around for the sequel this time.Police Academy 4: Citizens On Patrol
Guttenberg's last Police Academy film. Should have been the last Police Academy film.
Three Men And A Baby
Leonard Nimoy's remake of a French comedy is at its best when the trio of Ted Danson, Tom Selleck and the man Guttenberg are sparring on screen. It's predictable stuff, was a huge hit, and I happily sat through it again when it popped up on telly the other week. Can't be bad.
High Spirits
Had to take advice on this one, as I can barely remember it. General consensus is that it's a fine, three star movie.
Cocoon: The Return
Sod it, this is having three stars as well. The first film in reverse, and to hell with the consequences, it's a fine follow-up in this writer's view.
Three Men And A Little Lady
Hmmm. A few too many English stereotypes, a few too, er, few gags, a few too many mawkish moments, and it all adds up to a diluted sequel.
Home For The Holidays
Jodie Foster steps behind the camera for this perfectly enjoyable, slight comedy, that gives a serviceable role to the great man Guttenberg. An easy holiday film.
The 90sNow I'm not going to sit here and lie to you. Like many of your good selves, myself and Mr Guttenberg parted ways a little during the 90s, courtesy of films that didn't even come within spitting distance of my local cinema. So much though I'm sure that films such as Casper: A Spirited Beginning, It Takes Two, Overdrive and The Boyfriend School were wonderful, I was never afforded the opportunity to find out. However, in more recent times, we can still squeeze in a mention for…
Veronica Mars
The fun teen sleuth TV show wisely brought in Mr G for eight episodes, and to be fair, it looked like he was having a blast doing it. A shame the show got the can after three series, because there was plenty more they could have done with it…
Not seen:Bad Medicine, The Bedroom Window, Don't Tell Her It's Me, Surrender and his recent DTV fodder. Also not seen: Dancing With The Stars. For obvious reasons.
Agree? Disagree? Head to the comments…!