News
The Spy Who Dumped Me: Susanna Fogel on Directing Female-Driven Action
Susanna Fogel reflects on helming emotional and physical action of The Spy Who Dumped Me, an spy thriller that doesn't generalize gender.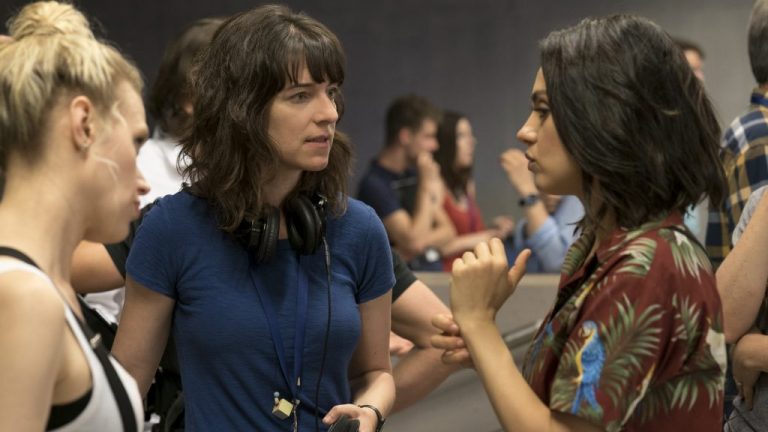 In some ways, The Spy Who Dumped Me is an unexpected jump for director Susanna Fogel's career. Her debut feature, the indie Life Partnersstarring Leighton Meester and Gillian Jacobs, is a character-driven story about what happens to two codependent female friends when one of them enters a serious romantic relationship. In other ways, the career evolution makes perfect sense. Both are films that have a female friendship at their nucleus, prioritizing the exploration and development of that relationship above all else in a way that is a rarity in big budget fare in particular.
"It's been increasingly hard to make small stories about female friendship," Fogel told Den of Geek of her desire to pair a female friendship comedy with the spy genre. "And, definitely, those stories don't have any shot of getting a theatrical release. So if you're a filmmaker who grew up wanting to make a movie for people to have that female experience of sitting in the theater together, it's hard to do unless you can compete with the bigger spectacles that are being offered to them."
Fogel also just loves action movies as a viewer, so taking The Spy Who Dumped Me directing gig was an exercise in "deciding to combine my love as a consumer for those movies and my passion for these smaller, more intimate stories."
It wasn't just Fogel's enthusiasm for action movies that made her a good fit for the job. The director's previous experience helming a film that centers female friendship made her an ideal candidate, despite her lack of previous action directing experience.
"At first it wasn't totally obvious to me that I would direct it, in the very beginning of writing the script," said Fogel. "But then, as [co-scripter David Iserson] and I were writing it, it felt impossible for us to think of a director, an established action director, who could capture the nuances of the friendship between the women and the zeitgeist for women in their 30s, who are settling down later and really looking to their friends as their family."
"It felt like such a specific story to tell," Fogel continued. "And a story that you couldn't really enlist a middle-aged male action director to tell. That learning curve would be impossibly steep, whereas maybe learning how to work with a stunt coordinator would be doable. So it seemed more important to us, and more vital, that those details got really well executed and specific."
The perspective is a vital counterpoint to the frequently-touted argument that women (and other underrepresented identities) aren't hired for the biggest movies in Hollywood, because they don't have the necessary experience… As if male directors are born into this world knowing how to direct action movies rather than given opportunities to learn, develop, and prove those skills.
Fogel points out that while she had never directed physical action before The Spy Who Dumped Me, Life Partners included a lot of emotional action, experience that made her especially qualified for directing certain elements in the film. Past that, Fogel hired people with expertise she could rely in the areas she knew less about—namely, the stunt work required for a film that finds friends Audrey (Mila Kunis) and Morgan (Kate McKinnon) thrown into a major international spy conspiracy… to both hilarious and action-driven results.
Prior to beginning the production on her action debut, Fogel said, "I was constantly reading books about how to direct, and asking directors, 'How do you do it? And when I finally actually started doing the work, it seemed like you have to be decisive, and have an opinion. But also you have to be a good collaborator and hire the right people to shore up whatever your skill set is. So that was a big part of it too: If you can figure out what you want your movie to be, someone can help you figure out how to get it there."
Fogel hired Gary Powell, a man whose previous work includes Casino Royale and Jason Bourne, as stunt director.
"For the stunt stuff or the action stuff, it was like, 'Let's pick somebody who's done the kinds of movies that have good action,'" said Fogel. "And then that person… their whole job is to tell me how to rig a car, or something that I wouldn't have known and still don't really know because I can get right up to the point where I have to do the technical stuff and I'm like, 'You're the expert. You do that.'" The trick simply might be "just picking the right team."
Fogel gushed about working with Powell, who comes from a family of stunt performers. His father was Roger Moore's stunt double, his brother is a stunt coordinator, and he met his wife on a set where they were both doing stunt work.
"I found that I had a lot of opinions on what I wanted when he and I would talk," said Fogel of their working relationship. "We planned everything together. It really felt collaborative in that way. And that felt really great. It felt like I participated creatively, but then also was able to trust him with some of the execution."
Kunis, who has been working consistently since she was 14 and first landed her role as Jackie Burkhart on That 70s Show, had never worked with a female film director before The Spy Who Dumped Me, something Fogel said the actress mentioned during their first rehearsal in Budapest.
"We're in my apartment," Fogel recounted. "I had the two of them reading through. And I said something really decisive like, 'Okay, we're going to wrap up right now. Then tomorrow come in with this and this… And I just gave them this whole breakdown. And she was like, 'I've never worked with a woman before. This is awesome!' I was like, 'Well, you know. Men can be organized too.' But, anyway, it was my unabashed Type-A personality. She was like, 'I love this.'"
Read the Den of Geek SDCC 2018 Special Edition Magazine Here!
As a female director, Fogel recognizes just how frustrating it can be to have assumptions made about your skillset or personality based entirely on one of your identities, thoughtfully adding: "I don't know how much of that is a woman thing, and how much of that is the roles that [Mila]'s played in these other movies, and what's expected of her, and whether she's playing the girlfriend or whether she's front and center of the movie. So, it's hard to tell, in the chicken-and-egg, what made it feel different to her."
This is an important distinction, but one that seems inexplicably intertwined with Fogel's identity and experiences as a woman. Male directors and writers tend to center men's stories and perspectives, pushing female experience to the sidelines and often subjugating and simplifying it to a romantic role. If we only have men directing our biggest Hollywood stories, then we get a much narrower perspective of the female experience, and actresses like Kunis tend to get the same kind of roles.
In The Spy Who Dumped Me, Kunis' Audrey may be somebody's girlfriend (or, more accurately, freshly ex-girlfriend), but this is far from her only identity. She is a video game player, an unexpectedly competent accidental spy, an American tourist in Europe, a Trader Joe's employee, and, most importantly, a supportive best friend to McKinnon's Morgan. 
Some of those identities are more important than others, but Audrey doesn't have to be completely defined by any one of them in the same way that female characters in spy films or action comedies so often are. She is the protagonist of her own story and, in a sea of summer fare that will no doubt feature far too many simplistic women characters forced into romantic subplots, The Spy Who Dumped Me shines with so many of the colors (including sparkly sequins) of the female experience.
The Spy Who Dumped Me also stars Justin Theroux, Sam Heughan, Gillian Anderson, Hasan Minhaj, Ivanna Sakhno, Fred Melamed, Kev Adams, and Olafur Darri Olafsson, and hits theaters on Aug. 3.