News
The Spoiler-y Movie Trailers of Summer 2015
Jurassic World, Terminator Genisys and Ant-Man each drop notable spoilers in their promos. Did they affect the films, though?
Spoilers for Ant-Man, Terminator: Genisys and Jurassic World lie ahead…
Ever since I sat through the incredibly spoiler-y trailer for Robert Zemeckis' solid 2000 thriller What Lies Beneath, I've had a growing sense of caution towards movie trailers. That in the increasingly competitive crush to get money off you for a cinema ticket, the marketing campaigns for blockbuster – and non-blockbuster movies – are willing to reveal more and more footage from the film concerned. Often to the detriment of the movie itself.
For a long time, it was comedies that were the worst offenders for this, and they're still hardly off the hook. After all, comedy movie after comedy movie stuck all the best jokes in the trailer, and left nothing to enjoy fresh in the feature itself. I still remember the trailer for Your Highness pretty much leaving me counting down to the film's release, only to find that there was not one chortle at all that I hadn't seen before I watched the finished movie.
This summer, though, we've had three big movies – Ant-Man, Terminator: Genisys and Jurassic World – where not only have major moments from the respective films been revealed, but the directors concerned have subsequently had their say so. So: did the trailers concerned spoil the films, and go to far? Appreciating that this is a subjective piece, let's look at them one at a time.
This feature will commence in earnest after a brief appearance from Daphne the spoiler squirrel…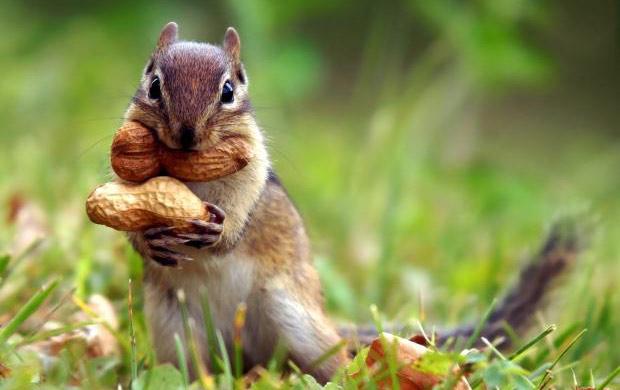 Jurassic World
The hit of the summer, Colin Trevorrow's Jurassic World has thus far grossed over $1.5 billion at the global box office. As is the current trend, the film had three main trailers, but it was the first that introduced the image of Chris Pratt on his motorbike, with velociraptors running alongside him. The reaction of many of us: weren't they the dinosaurs that killed lots of people in the first three films?
Yes they were. Viewed in context, the scene makes sense, but removed from that, it felt jarring, and odd. Trevorrow agreed. Speaking to IGN, he said that putting the scene in the trailer without giving it due context was "bananas", and that "there really is a very natural bit of conflict between a filmmaker wanting an audience to be brought slowly into a film and to be eased into an accepting an image like that."
Furthermore, "if you're introducing a new set of rules, to just show people snippets of something without them understanding the set of rules that define the movie can be challenging for an audience. Suspension of disbelief has to be earned." The full interview with IGN is here.
Did it hurt the film?
A little, but Universal will reckon that's solid collateral damage given the huge amounts of money that the movie made. Truth be told, the structure of the movie was such that major narrative twists were never going to be the main attraction. If you're like me, though, you still sat there watching the film, knowing that the raptor moment was coming, and it couldn't help but take a little bit of the impact off it. Films are supposed to surprise you, not be spotter games for things you've seen in the trailer.
Terminator Genisys
In the run-up to the release of Terminator Genisys, it felt as though Paramount was emptying pretty much every cupboard it could find to help promote its expensive new franchise reboot. At one stage, James Cameron proved he's a better filmmaker than film critic, by giving a ringing endorsement to the film.
The initial trailer for Terminator Genisys had gone down well, too. But then came the promo which revealed – and there's no way around this – a huge spoiler for the movie. The kind of massive story twist that could potentially turn the narrative on its head, and take the film off in a different direction.
It's the moment where it's revealed that Jason Clarke's John Connor has been sent back. Or, more to the point, he hasn't, because he's a Terminator. A proper twist, pissed away in the pursuit of box office dollars.
Director Alan Taylor, who'd proven on Thor: The Dark World that he wasn't afraid to veer away from the party line in junket interviews, was not happy. Chatting to Uproxx, Taylor admitted "I had a few heads up and a few unpleasant conversations" when he was informed about the content of the trailer.
"I certainly directed those scenes with the intention that no one would know," he said. "I know there was kind of a challenging calculus going on in the heads of those who market this thing to decide that this was the right thing to do. I think they felt like they had to send a strong message to a very wary audience that there was something new, that this was going to new territory. They were concerned that people were misperceiving this as kind of a reboot, and none of us wanted to reboot two perfect movies by James Cameron. I think they felt they had to do something game-changing in how the film was being perceived."
To be fair, DreamWorks' How To Train Your Dragon 2 gave away a sizeable spoiler in its first trailer, but it turned out it had further surprises down the line. It's still something I'd rather have not known in advance, but at least there was something else. It's hard to argue that was the case with Terminator Genisys.
Did it hurt the film?
Very much, I'd argue. If you'd seen the trailer concerned, then as soon as John Connor was introduced, you're sat there waiting for the twist. And when it came, you sit there hoping that there's something else, another narrative turn that could at least justify giving this one away. It never came.
What's more, I'm not convinced the reveal helped with the marketing either. Terminator Genisys still hasn't broken $300 million worldwide at the time of writing…
Ant-Man
One of the big surprises in Peyton Reed's Ant-Man movie was the appearance of Anthony Mackie as Falcon, guarding an Avengers facility in the movie. You can argue, as my colleague did, that he was one of the lower cost Avengers to recruit into the movie, but still: it was a fun sequence, and a nice cameo.
That's assuming, of course, that you hadn't seem the TV spots that had already let the proverbial cat out of the bag. Interestingly, this wasn't a moment given away in the trailers, rather the later television promotion spots.
That said, director Peyton Reed seemed more relaxed about it. Chatting to us ahead of the film's release, he said that the inclusion of Falcon in the promos "was something that we discussed, a lot. And I have a love-hate relationship with spoilers. As a filmmaker you want to sort-of protect these secrets, because you just want an audience to have a sense of discovery when they're watching the movie."
"At the same time, there's so many movies coming out, all the time, particularly the summer. It's such a crowded marketplace – you want to give an audience every reason in the world to go see the movie. Falcon was something that we talked about a lot, about keeping secret for a while. But then, I think the decision came down about 'let's just, sort of, sneak him out there a little closer to the time.'"
So: it seemed that the plan was to reveal Falcon in advance all along.
Did it hurt the film?
It didn't hurt the film, as the scene in question felt a little bit aside from it anyway. But it certainly hurt the surprise. I remember the whoop of glee when Captain America suddenly turned up in Thor: The Dark World. The idealist in me would still like surprises like that saved for opening night. We're hardly talking a Terminator-grade spoiler, though…
Inside Out
Just to provide a counterpoint, I can't help but salute the promotional campaign for Pixar's Inside Out. Here, the trailers explained the concept, and put across one particularly funny scene from the movie. But they left the main themes pretty much alone, and so – and this is far rarer a feeling than it should be – watching the second half of the movie in particular left me with a sense that I really didn't know what was going to happen next.
Inside Out has currently grossed over $300 million at the US box office alone. It does show that there's an alternative to just revealing pretty much everything, and trying to get us all through the door…