News
The Sisters Brothers Cast, Trailer, Release Date & Everything to Know
Joaquin Phoenix, John C. Reilly and Jake Gyllenhaal are just some of the notable names in the dark Western comedy, The Sisters Brothers.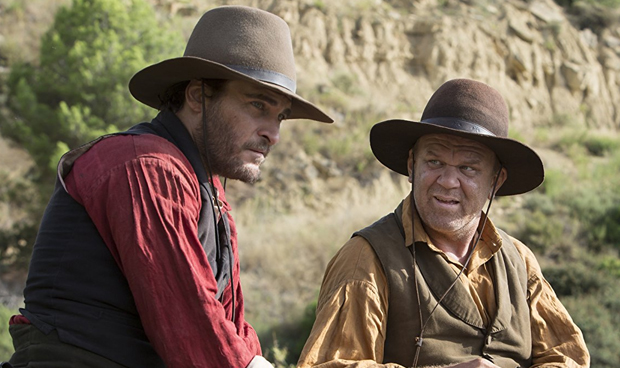 The Sisters Brothers is an upcoming wacky Western that, by its very title, isn't hiding its comedic leanings. However, the movie, adapting the 2011 novel of the same name by Patrick deWitt, isn't entirely dominated by folly, carrying a tinge of darkness, and it's also showcasing quite the cast.
Indeed, names like Joaquin Phoenix, John C. Reilly, Jake Gyllenhaal, Riz Ahmed, Carol Kane and Rutger Hauer embody an intriguing ensemble. Here's what you need to know.
The Sisters Brother Cast
The film is the brainchild of French filmmaker Jacques Audiard (Dheepan, Rust and Bone), who occupied the director's chair working off a script he co-wrote with Thomas Bidegain (coincidentally, the director of 2015's Les Cowboys, in which John C. Reilly actually appeared).
Comedy star and Wreck-It Ralph voicer, John C. Reilly, also happened to be a major force in the film's beginnings, since he acquired the film rights way back in 2011, with intent to play one of the Sisters brothers. Now, several years later, he is credited as a producer on the film.
In the film Reilly plays Eli Sisters, brother to Joaqin Phoenix's Charlie Sisters. The pair live in 1851 Oregon as not necessarily the quickest guns for hire. They're services are still acquired, however, by Rutger Hauer who plays a mean sofabitch boss who wants them to assassinate an eccentric inventor played by Riz Ahmed. also wins for having the best name in the film, Herman Kermit Warm. Luckily for Herman Kermit, the siblings, as well as Jake Gyllenhaal as the enigmatic Morris, take a shine to him, literally and figuratively. That's because he's developed a chemical concoction that will cause all the gold in a nearby river to illuminate for easy picking; a fantastical idea that's especially attractive, seeing as it's still the time of the Gold Rush. Consequently, the Sisters brothers, at their own peril, abandon their assignment to pan for golden prospects.
With a cast and set-up like that, we're all in.
further reading: The Must See Movies of 2018
The Sisters Brothers Trailer
The Sisters Brothers Release Date
The Sisters Brothers hasn't set a specific release date. However, it is teasing a premiere for sometime this fall.
Joseph Baxter is a contributor for Den of Geek and Syfy Wire. You can find his work here. Follow him on Twitter @josbaxter.