News
The Silence Trailer Shows Sabrina's Kiernan Shipka in a Batty Apocalypse
Netflix movie The Silence showcases a family's struggle to survive in a world overrun by carnivorous bats.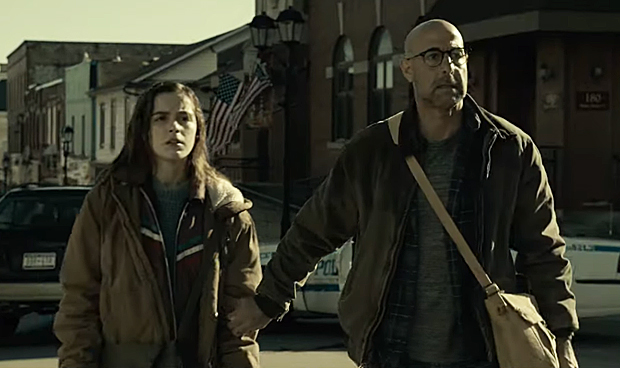 The Silence may be coming to the Netflix table with a horror premise that's likely to evoke accusations of derivativeness, since it appears to be amalgam of two recent genre successes in A Quiet Place and Bird Box. However, the film has a bit of an alibi, since it's based on the acclaimed 2015 novel of the same name by British horror novelist Tim Lebbon; meaning that, in the very least, its story pre-dates the zeitgeist explosion of those two films.
Regardless, The Silence showcases the ordeal of a family struggling to survive the onset of an apocalypse scenario in which the world is under attack by bat creatures; a survival scenario that – due to the sensitive, sonar-based hearing of bats – necessitates silence at all times, lest one gets engulfed by a proverbial Batnado (a concept that Syfy probably already has trademarked).
The film stars Kiernan Shipka, as our Batpocalypse savior, the former Mad Men child actress, who's already found a platform with Netflix as the star of its franchise revival series, Chilling Adventures of Sabrina. Additionally, Stanley Tucci co-stars as her character's embattled father.
The Silence Netflix Trailer
The trailer for The Silence is here, depicting an apocalypse scenario that, notwithstanding the ruthless swarms of carnivorous bats – is racket-free.
As the official synopsis reveals:
When the world is under attack from terrifying creatures who hunt their human prey by sound, 16-year old Ally Andrews (Kiernan Shipka), who lost her hearing at 13, and her family seek refuge in a remote haven. But they discover a sinister cult who are eager to exploit Ally's heightened senses.
The Silence Netflix Release Date
The Silence premieres on Netflix on April 12.
The Silence Netflix Details
The Silence was directed by John R. Leonetti, helmer of horror films such as 2014's (The Conjuring spinoff) Annabelle, as well as 2016's Wolves at the Door, and decades earlier – in a CV entry he might want to forget – notorious 1997 video game movie sequel Mortal Kombat: Annihilation. He works off a screenplay adapting Tim Lebbon's novel by sibling scribes Carey and Shane Van Dyke (The Sacred, Chernobyl Diaries).
Joining Shipka in the cast are Stanley Tucci, (Shipka's Sabrina co-star,) Miranda Otto, John Corbett, Kate Trotter and Kyle Breitkopf.
Joseph Baxter is a contributor for Den of Geek and Syfy Wire. You can find his work here. Follow him on Twitter @josbaxter.