News
The Shape of Water: New Trailer
The new trailer for Guillermo del Toro's The Shape of Water will make you wish you could fall in love with a fish man.
Guillermo del Toro has never been shy about exploring the truly weird in his films, from a magical faun in Pan's Labyrinth to the Corman-inspired haunted house in Crimson Peak. His next film, The Shape of Water, sounds like the auteur's strangest film yet. 
Here's everything we know about the film so far:
The Shape of Water Trailer
A new trailer has arrived for The Shape of Water! Check it out below:
You can check out the first trailer below:
The Shape of Water Release Date
The Shape of Water will arrive in theaters on December 8, 2017.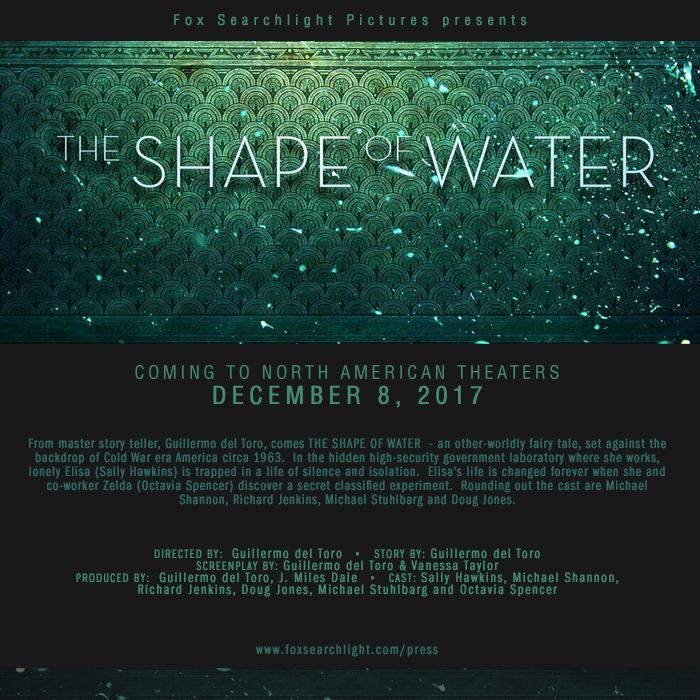 The Shape of Water Story
Here's the official synopsis for the film:
From master story teller Guillermo del Toro, comes The Shape of Water – an other-worldly fairy tale, set against the backdrop of Cold War era America circa 1963. In the hidden high-security government laboratory where she works, lonely Elisa (Sally Hawkins) is trapped in a life of silence and isolation. Elisa's life is changed forver when she and co-worker Zelda (Octavia Spencer) discover a secret classified experiment. Rounding out the cast are Michael Shannon, Richard Jenkins, Michael Stuhlbarg and Doug Jones.
Frequent del Toro collaborator Doug Jones, who played Abe Sapien in the Hellboy movies and The Pale Man in Pan's Labyrinth (shudder), talked to Collider about the upcoming movie, sharing a few details about the character he plays and the plot of the film. Jones should feel right at home in The Shape of Water, as he's once again playing a fish man.
Says Jones:
It's a 1963 drama—it's not a sci-fi [film], it's not a genre film, but I am a creature in it. I'm a fish man that's kind of a one-off. I'm an enigma, nobody knows where I came from; I'm the last of my species so I'm like a natural anomaly. And I'm being studied and tested in a U.S. government facility in 1963, so the Russian Cold War is on, the race for space is on, so there's all that backdrop and that undercurrent. I'm being tested for how can they use me for advantages in military or space travel, or my technology—can we make this usable for humans? So they're trying to keep me a secret from the Russians.
Del Toro has often set his films in eras of upheaval, such as the Spanish Civil War, which is the backdrop for both The Devil's Backbone and Pan's Labyrinth. This is the first time the director will explore the Cold War.
Also, it's worth noting that Jones' fish man character in The Shape of Water isn't unlike Abe Sapien. The Hellboy character also comes from an unknown origin and appears to be the only member of his specieis. Perhaps del Toro felt that he still had stories to tell with the character, but couldn't due to his failed attempts to get Hellboy 3 off the ground. It seems that del Toro just decided to make up his own fish man instead. 
Jones also revealed that the film is actually a love story between the fish man and a cleaning lady at the government facility. Says Jones: "Meanwhile, there's a love story that brews out of it, and that would be the cleaning lady played by Sally Hawkins. She comes and finds me, has sympathy on me, and then that's the story that you're really gonna follow with this whole backdrop."
The actor gave the film some very high praise, saying, "It is artfully and beautifully [made]—if this doesn't end up with Guillermo back at the Oscars, I will be surprised. I will be very surprised." We're always happy to see Mr. del Toro win some awards.
The Shape of Water Cast
The film stars Sally Hawkins, Michael Shannon, Richard Jenkins, Doug Jones, Michael Stuhlbarg, and Octavia Spencer.