News
The Selling Short of Inside Out
Why is such an individual family film as Inside Out being used to sell broadband and sandwiches, even while the movie is in cinemas?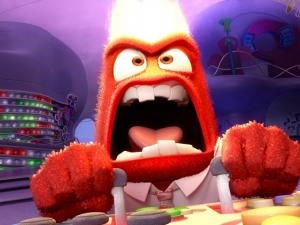 Sometimes, it's nice to live in the unrealistic world of my head. When I watched Pixar's latest movie, Inside Out, there were so many things I loved about it, it was hard to organize them all, but I managed to come to the film relatively fresh, meeting the characters in their natural environment.
One thing I particularly cherished too was just how standalone it all felt. That there was no sequel being set up, and that a group of characters (and characteristics) that I'd rooted for over 90 minutes were left within the walls of the movie. Notwithstanding that Inside Out is a big Disney blockbuster, it felt utterly contained. That it's gone on to take over $600 million at the worldwide box office is something worth celebrating, too. An intelligent family film, that doesn't talk down to its audience, and has something to say. Wonderful.
But I've just come back from taking one of my kids to see a not very well dubbed screening of Dr. Procter's Fart Powder (a film about wind with not enough good jokes, in case you were wondering. Not quite sure how that's possible, but there you go). Beforehand, in the never-ending stream of adverts, were two commercials that featured Inside Out characters, and the Inside Out world. 
I like being naive sometimes. I'd expect the Minions to turn up flogging anything, and had reconciled myself to the fact that George Lucas, pre-selling his empire to Disney, would occasionally need to top up his coffers by loaning out Yoda to British Telecom.
But there's something that feels oddly wrong about Inside Out being used to sell Sky Broadband and Subway's food.
It seems, to me, to fly in the face of what the film existed for. Granted, it's hardly selling an anti-commercial message, but I get the sense already that Inside Out is a film that's going to be important to a lot of people for a very long time. And one of the things I really admired about John Lasseter when he became Chief Creative Officer of Walt Disney Animation Studios on top of his Pixar job was that he shut down the piss-poor straight to DVD sequels. That he protected the films, the stories, and what they meant to people.
I can't help but wonder, then, if the decision to create special Inside Out sequences specifically for Sky and for Subway ever crossed his desks. I don't blame the companies in question for asking the question, and I'm sure it's cost them both a few quid to get their ads made. But still: it can't help but feel that Inside Out is selling out just a little.
When co-directors Pete Docter and Ronnie del Carmen first came up with the story, was the idea anywhere along the lines that they might help some British customers choose a different broadband provider? Or nudge us in the direction of a foot long sub? I'd be amazed if it was.
Subway, to be fair, still reigns supreme when it comes to one of the more inappropriate movie tie-ins of late. Its decision to launch special meals with The Hunger Games branding – a series where a generous proportion of the population is starved, and trying anything just to survive – beggared belief at the time.
With Inside Out though, it's not that there's anything outright inappropriate. It just feels wrong. I say that appreciating that it's not the first time Pixar characters have been used to sell other people's wares (and there's certainly logic in using the cast of Toy Story for such endeavours, but at least that didn't happen until the films were out). But I just felt that Inside Out was worth ring-fencing, especially for those who haven't seen the movie. Isn't it best to meet such cherishable creations in the film, rather than a sandwich commercial? 
Does Disney really need that bit of extra cash?
As I said, it's my naive brain at work there, and it won't damage the movie for me. I just thought someone in Pixar and/or Disney might have been tempted to call this one off-limits. It seems nobody did.