News
The Report: Trailer, Cast, Release Date
Adam Driver stars as the Staffer poised with investigating accusations of CIA torture following 9/11.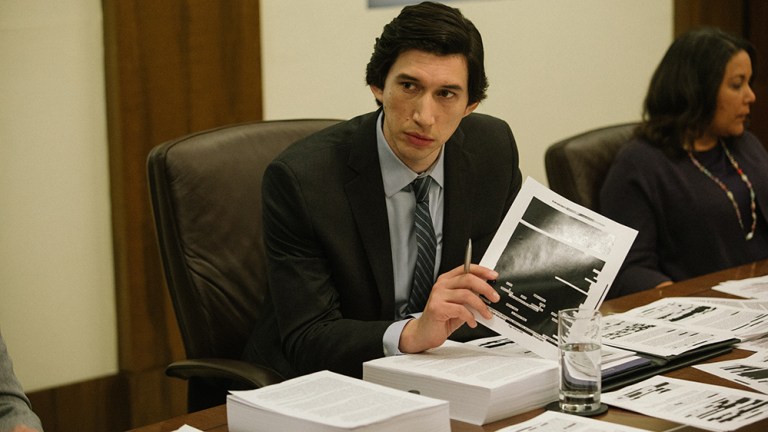 If we can't make more plain current events, then we can at least try to use the gift of hindsight to tell important stories about then and, by effect, now. This is what The Report, an upcoming political drama from writer/director Scott Z. Burns (screenwriter for films like The Bourne Ulimatum and the upcoming Bond flick No Time to Die) with some Oscar buzz, seems poised to do, telling the story of the 2014 Senate Torture Report.
read more: Official Secrets Review
The film follows staffer Daniel Jones (played by Adam Driver) and the Senate Intelligence Committee as they investigate accusations of torture by the CIA following the events of September 11th.
The Report Trailer
We have the first teaser trailer for The Report. Check it out…
Here's the full synopsis from Amazon Prime:
The Report is a riveting thriller based on actual events. Idealistic staffer Daniel J. Jones (Adam Driver) is tasked by his boss Senator Dianne Feinstein (Annette Bening) to lead an investigation of the CIA's Detention and Interrogation Program, which was created in the aftermath of 9/11. Jones' relentless pursuit of the truth leads to explosive findings that uncover the lengths to which the nation's top intelligence agency went to destroy evidence, subvert the law, and hide a brutal secret from the American public. 
The Report Cast
This cast is… very good. It includes: Adam Driver, Annette Bening, and Jon Hamm. It also includes: Sarah Goldberg, Michael C. Hall, Douglas Hodge, Fajer Kaisi, Ted Levine, Jennifer Morrison, Tim Blake Nelson, Linda Powell, Matthew Rhys, T. Ryder Smith, Corey Stoll, and Maura Tierney.
The Report Release Date
The Report is set to hit theaters on November 15th and Amazon Prime on November 29th.
Read and download the Den of Geek SDCC 2019 Special Edition Magazine right here!