News
The proudest action movie moments of The Expendables
Jason Statham, Sylvester Stallone, Antonio Banderas, and Wesley Snipes on their best action moments on screen...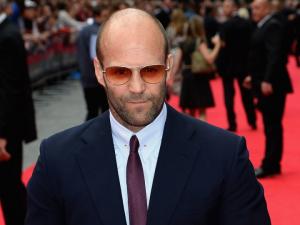 Last week, we toddled along to the press conference for The Expendables III, mainly to enjoy the sight of many of our action heroes sat in a line. We've been to press conferences for each of the films. and once again, Sylvester Stallone fielded the majority of the queries (although that obviously defies logic here at Den Of Geek when Jason Statham is sat in the same room as us).
Alongside Stallone and The Statham were Wesley Snipes, who breezily quipped his way through any question sent his way, Antonio Banderas (who we'll have a full interview with soon), producer Avi Lerner and newcomer/Twilight alumni Kellan Lutz.
Of interest among the usual array of questions that vary from good to weird? Well, when asked if the toned down violence was intentional Sly answered that they "wanted to hit a broader audience and because of our predecessors – looking at the Bourne's and James Bond – we thought they're pretty violent films, they're extremely graphic without pushing it. Of course when we do the DVD then you'll see the next eighty frames and say 'Oh there it is!'"
He added that "I thought also the amount of violence or warfare in this movie, if it was graphic after a while it would be nauseating, it would be almost too much. Even though I personally enjoy it, I just think it would be pushing the envelope and also would diminish the humour".
So fingers crossed that we do get an uncut version on the home release version, as he also discussed the franchise as an ongoing experiment which explains the bold move to cut the violence even more, drawing comparisons to The Avengers and how he'd like to see various spin offs "Ideally I would love to see some of these characters, like Antonio and the young Expendables go off and do their own movies. I know that may be a pipe dream and then you come together for the big festival of violence, or the great challenge of whoever the villain is, but that would be the ideal."
The Expendabelles came up a few times, and Stallone mentioned that they weren't just going to rely on actresses for the cast, as the physicality required would mean hiring more athletes and fighters along the lines of The Expendables 3's Ronda Rousey and joked "are The Expendabelles really part of a divorce with Barney and say Sigourney Weaver, who's my wife? Has she inherited half The Expendables – so I lost the house and my mercenaries!"
Avi Lerner did say the script was nearly finished and that filming should start next year, once they've decided who to cast from the old school female action stars . Linda Hamilton, please.
It seems the key to a press conference is to ask one question that the entire panel can answer. Usually, the room of journalists around you will all mainly focus their attention towards the biggest star in the room, so with that in mind (and with an agenda to building up our Statham database) we asked this: You've had a lot of action in your combined careers, do you have a favourite moment – be it a fight, a stunt scene, or a car chase, that you're really proud of and that stands out from any of the films you've done?
Kellan Lutz: Honestly being a part of this movie as to date I've done only a few action movies, though I love doing action movies, but the one that stands out is when all of us where in the helicopter, you know we have Sly running – I'm not going to give the end of the movie away or anything – but just having everyone who I'd grew up watching in the helicopter together just cracking jokes and Victor Ortiz farting and you're locked in, harnessed in so you can't fall out and so you're just imprisoned by the gas! [laughs]
Antonio Banderas: [Stallone interjects with "Something from Shrek!" to which Banderas replied "Those stunts are tough you know!"] But no, I'm proud of anything that has to do with horses and sword fighting. In Zorro I put a lot of interest and time into those things, so I'm proud of that actually.
Sylvester Stallone: I've been lucky, I've had so many interesting ones, from falling through trees in First Blood – doing the last third of the tree and getting wiped out! [laughs] I'm really proud of – matter of fact I filmed it in slow motion, because I didn't know if I was going to get murdered or killed on it. In Rambo III there was no CGI and one is where you almost get hit by a helicopter, literally on horseback and the second one is playing the buzkashi game, where it's a real game and you play with the body of a dead goat, it's an Afghan game and that was done for real.
But overall I would say dealing with Dolph Lundgren in Rocky IV, that was brutal, I mean really brutal. He was so unbelievably powerful, it's hard to describe. I mean he almost killed me. Hanging from – in Cliffhanger – was absolutely amazing, because I hate heights and at four thousand feet you think 'How did they talk me into this? I don't like being in cowboy boots, even that's too high! What am I doing here?'
But the idea of sustaining a fifteen round fight and you know that it took six months, so it's really one long stunt, that is what I'm proud of, because I know I could never even come close to doing that again today, so thanks Dolph, for the injuries!
Jason Statham: You do a lot of different things, like running jetskis and… I think one that sticks in my memory would possibly be having a fist fight outside a helicopter, standing on the skids on a movie called Crank – I think that was quite adrenaline fuelled! It was a pretty scary moment, because we actually took off from the top of a tall building there was no adjustment to leaving the ground, because if you're leaving from the ground you can adjust and get used to it, but we took off from a building that was already two thousand feet in the air, so as you get on the edge you get a serious rush. I think that one sticks in my mind – I'll never forget that day.
Wesley Snipes: Yeah I think I recall one of the most memorable stunts was wearing fourteen inch, size three inch heels with John Leguizamo in To Wong Foo and running down the street! ["That was pretty hairy!" Stallone chimed in] It was rough man, it took a lot. It took a lot. That was a rough one!
Action legends, thank you very much!