News
The Promise Trailer Has Christian Bale & Oscar Isaac Witness the Armenian Genocide
The Promise is a new historic epic set in the backdrop of the Armenian Genocide, and features Oscar Isaac and Christian Bale.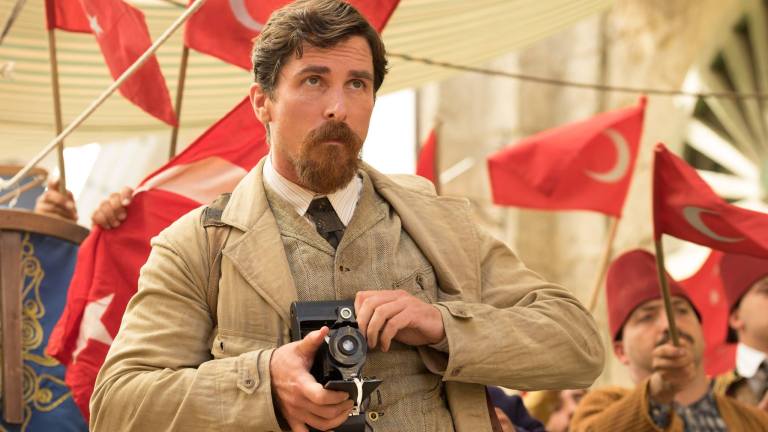 The Armenian Genocide is arguably the earliest case of ethnic cleansing in modern history (and is the event that spurred the invention of the word "genocide" to boot). Beginning in World War I, and continuing well after it, the Ottoman Empire orchestrated the systematic mass murder of Armenian Christians through military conscription, work camps, death marches, and more. But it began in 1914 with the rounding up of Armenian intellectuals.
Thus it is a potent backdrop for any attempt at dramatic fiction, which The Promise offers a grand attempt at, presenting a war epic and melodrama in the vein of how Hollywood storytellers once depicted the Second World War as fertile ground for narratives.
In The Promise, it is 1914 and the Great War looms as Constantinople, once a multicultural golden city on the Bosporus, has descended into chaos. In this context, Michael Boghosian (Oscar Isaac) arrives in the city as a medical student determined to learn new cutting edge techniques for his Southern Turkey home village, where Turkish Muslims and Armenian Christians live in peace. Meanwhile, photojournalist Chris Myers (Christian Bale) is also documenting the political upheaval in the area while also falling in love with Ana (Charlotte le Bon), an Armenian artist he has traveled with from Paris as they reach her native land.
Naturally, a love triangle is sparked when Michael meets Ana, but the problems of three little people might not amount to a hill of beans in this crazy world, because the Turks are simultaneously forming an alliance with Germany, which leads to the Ottoman Empire to begin targeting its own ethnic minorities… including the Armenian Christians of which Michael and Ana are counted amongst.
As the logline says, "promises are made and promises are broken."
The picture is written and directed by Terry George who has had success in documenting through narrative cinema other grim occurrences of 20th century genocide, as seen in 2004's Hotel Rwanda. The Promise, meanwhile, opens April 21, 2017.