News
The Post: Trailer for Stephen Spielberg Pentagon Papers Movie
Steven Spielberg, Tom Hanks, and Meryl Streep make an impressive triumvirate for The Post, a film about the Pentagon Papers scandal.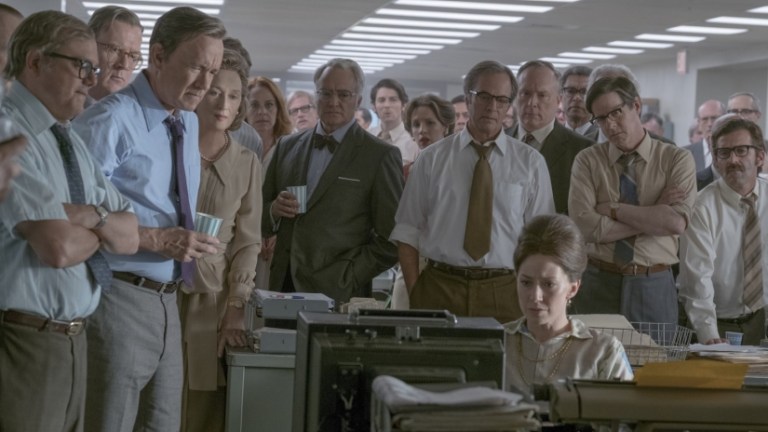 We are certainly living in a period now where folks are looking to the press for both renewed hope and relentless despair. And in a Hollywood climate where the most profound heights of investigative journalism can lead to Oscar gold, such as with 2015's quietly powerful Spotlight, it seems almost inevitable that studios might look to other stories wherein the fourth estate shined a light on the corruption or overreach of those in power. Throw in names like Steven Spielberg, Tom Hanks, and Meryl Streep, all of whom have a combined nine Oscars between them, and you have an intense spotlight on a project all its own.
The Post is Spielberg's new film about the infamous Pentagon Papers scandal that rocked the United States in 1971, and was yet another major tipping point in the public's loss of faith in the United States government and the Vietnam War. In the film adaptation of this harrowing American moment, Tom Hanks will play The Washington Post editor Ben Bradlee while Meryl Streep will embody Kay Graham, the publisher of The Post.
Watch the trailer here:
The script is by Liz Hannah, and the movie is being produced by Amy Pascal, through her Pascal Pictures Production Company, Spielberg, and Kristie Macosko Krieger. The movie is also being co-financed by Spielberg's Amblin Entertainment and 20th Century Fox.
Of course, in the history of the Pentagon Papers, it's very curious that the subject of the film will be The Washington Post. Indeed, the first publication to print anything regarding the fabled "papers," which were a detailed Defense Department history of United States involvement in Vietnam, beginning in 1945 and leading all the way to 1967, was The New York Times. The Times published three stories based on leaks from U.S. military analyst Daniel Ellsberg. However, after a court injunction gained by the administration of President Richard Nixon to gag The Times from printing more stories was implemented, The Washington Post then picked up the baton and continued running stories about the Pentagon Papers.
Perhaps a film about a press that has already being attacked and intimidated by a White House then choosing to remain vigilant is a story Spielberg wants to tell these days?
The Post Release Date
They're not wasting any time with this one, as 20th Century Fox has confirmed that Post will be released on December 22, 2017.