News
The Polka King Trailer: Jack Black is a Polka Ponzi Pusher in Netflix Movie
Jack Black stars in Netflix movie The Polka King, a fact-based comedy about a musician who defrauds his fans in a Ponzi scheme.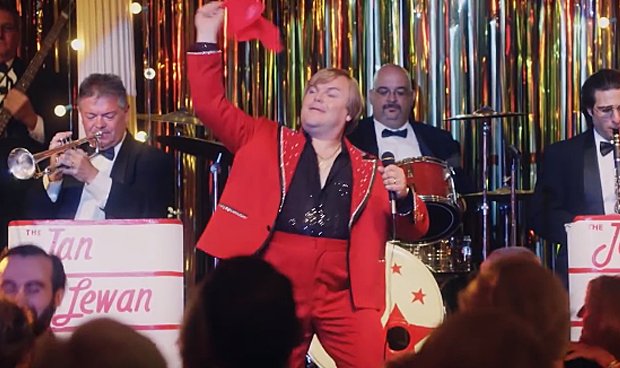 The Polka King, the next cinematic comedy from Jack Black, won't require a trip to theaters, since it's bound for Netflix. However, unlike his signature roles in 2003's School of Rock, 2006's Nacho Libre, or as Po in the hit Kung Fu Panda animated features, Black is performing a comedic caricature of a real person in Jan Lewan, a notorious figure in the annals of the Pennsylvania Polka world, who exploited his adoring (elderly) fans with a financial boondoggle.
The Polka King Trailer
The over-the-top exuberance of Jack Black's Jan Lewan is the clear focus of The Polka King trailer. The character's onstage energy complements what's shown as a hard-driving entrepreneurial aim, embracing any franchising venture that will brandish his name on the front. However, that same drive has Lewan putting the American Dream through a nightmarish lens, taking advantage of the community-based fandom behind his success to inveigle investment in what amounts to a classic Ponzi scheme.
Consequently, Lewan's operation attracts the attention of the government and – with the money nowhere to be found – the Polka pusher finds himself over $200,000 in the red; something that quickly deflates the air in Lewan's proverbial accordion, ripping apart his family – namely wife (Jenny Slate) and mother (Jacki Weaver) – and transforming him from esteemed polka paean to pariah.  
Along with star Jack Black, Jenny Slate and Jacki Weaver, the cast also consists of Jason Schwartzman, Vanessa Bayer, Willie Garson and J.B. Smoove.
The Polka King Details
The Polka King sports dual directors in Wallace Wolodarsky (Seeing Other People, Sorority Boys) and Maya Forbes (Infinitely Polar Bear). The duo also wrote the script, which is based on Joshua Brown and John Mikulak's 2009 documentary The Man Who Would Be Polka King.  
The Polka King Release Date
The Polka King gets ready to showcase the downfall a purloining Pennsylvania polka man when it hits Netflix on January 12.