News
The Outsider Trailer: Jared Leto Joins the Yakuza in Netflix Movie
Netflix movie The Outsider puts Jared Leto in post-WWII Japan, forced to join the Yakuza.
The Outsider is yet another display of Netflix's star-drawing might, serving as an original film for the streaming giant that's headlined by the enigmatic Oscar winning actor, Jared Leto. Moreover, the film showcases an intriguing premise, thrusting Leto into the backdrop of post-World War II Japan as an American exile living amongst the famous crime syndicate known as the Yakuza.
The Outsider Trailer
"To become a Yakuza is a choice. – You trade one type of family for another."
The Outsider trailer previews a tale in which its protagonist is lost, weighed down by disillusionment and pulled between two civilizations that he doesn't quite understand.
Set in Japan during a post-War era when the consequences of the bomb and V-J Day are still substantive, the story centers on Nick Lowell (Jared Leto), a U.S. Army deserter who was captured by the Japanese in a detention that doesn't seem to be affected too much by the end of the war. However, Nick's captors must see some kind of spark in the man, since, for some reason, he's given an opportunity to earn his freedom through membership in the Yakuza. – Judging by what we see in the trailer, Nick fully embraces the allure of the Japanese criminal underworld.
The film co-stars Rory Cochrane (Black Mass, Argo), Emile Hirsch (Milk, Speed Racer) and Tadanobu Asano (the Thor series, Battleship).
The Outsider Release Date
The Outsider makes its premiere on Netflix on March 9.
…Here's the official poster.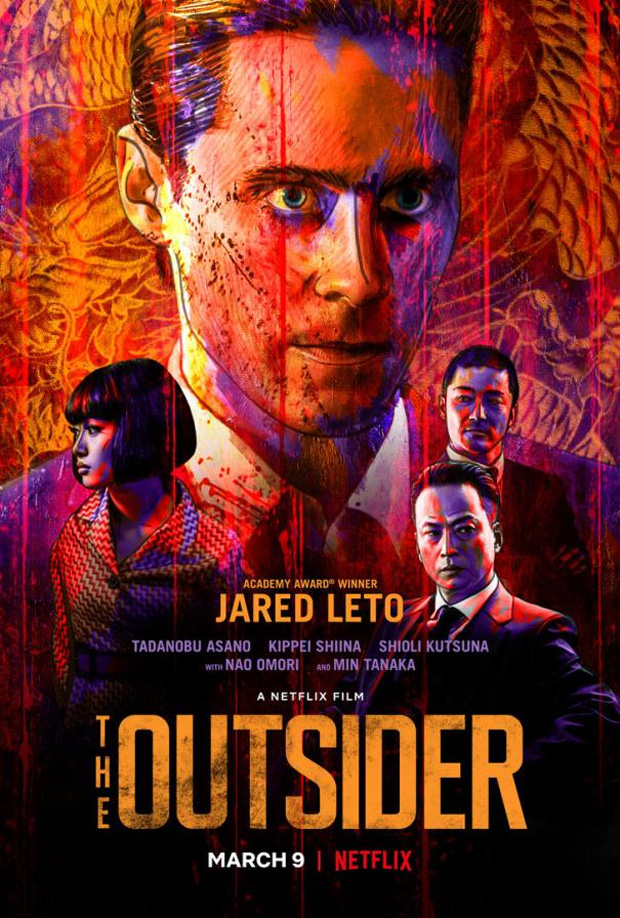 The Outsider Details
Serving as director for The Outsider is Martin Zandvliet, who made a compelling impression with his 2015 Danish-German film Land of Mine, which depicted the World War II ordeal of German POWs forced by the Danish to clear mine fields with their bare hands. Zandvliet works off a script by Andrew Baldwin, whose Idris Elba-starring feature debut, The Take, arrived in 2017. Baldwin is also attached to the script for the Jeremy Renner-starring Bourne film franchise spinoff/sequel project.
For Jared Leto, a veteran actor known for picking his projects carefully, The Outsider appears to be another chameleonic run, coming off his role in 2017's Blade Runner 2049, as well as his memorably controversial appearance as iconic DC Comics villain the Joker in 2016's Suicide Squad, with prospects of DC movie universe returns alongside Margot Robbie's Harley Quinn in Gotham City Sirens and Suicide Squad 2 still up in the air.